A U.S. Navy rescue crew from San Diego has joined the international search effort for a Argentine submarine and its 44 crew members missing for several days beneath the stormy southern Atlantic Ocean.
Navy sailors with Undersea Rescue Command (URC) departed Miramar Saturday with a Submarine Rescue Chamber (SRC) and four aircraft, en route to where the ARA San Juan lost contact with the Argentine Navy Wednesday.
As waves of up to 20 feet complicated the search, authorities spent Sunday analyzing data from possible satellite calls that were thought to have been made from the vessel.
"We analyzed these signals, which as we know were intermittent and weak," said Gabriel Galeazzi, a naval commander. "They could not help determine a point on the map to help the search."
U.S. satellite communications company Iridium Communications Inc, which was brought in to help analyze the calls, said they did not originate with its device aboard the vessel and may have been from another satellite communications company's equipment.
The U.S. Navy Southern Command said the SRC uses advanced technology capable of reaching depths of 850 feet and rescuing six people at a time.
URC sailors will join the Navy's P-8A Poseidon maritime aircraft and a NASA research aircraft, both already aiding in the ongoing search efforts near the submarine's last known location.
The U.S. Navy is also contributing unmanned underwater vehicles, which can deploy quickly and search a wide area of the ocean using sonar technology.
The Bluefin 12D, one of the unmanned underwater vehicles being used, is capable of conducting search operations at a maximum depth of almost 5,000 feet for 30 hours.
More rescue equipment is scheduled to arrive in Argentina early next week.
The U.S. Navy deployed its sailors after the government of Argentina asked for international assistance in the search.
As nations from Chile to South Africa offered help, Argentine sea vessels and planes scoured the southern sea. But a storm pitching powerful winds and waves more than 20 feet high has disrupted visibility and movement in the area, hindering the search for the submarine over the weekend.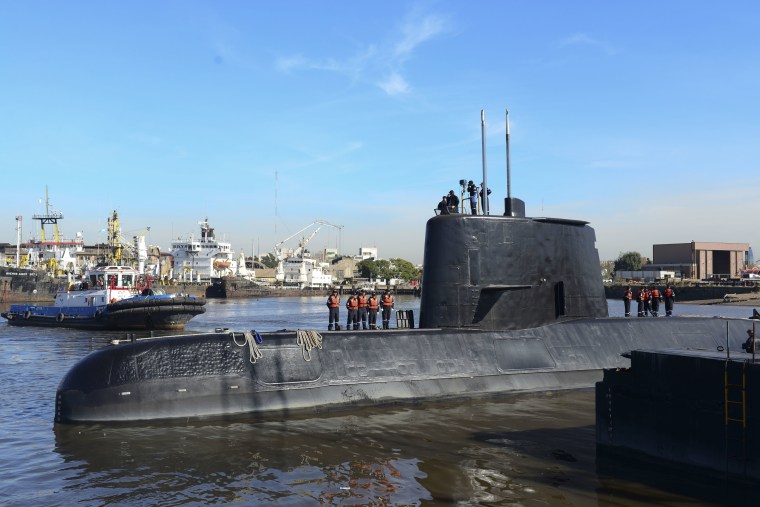 On Saturday, Argentina said it detected seven brief satellite calls that officials believed may have come from the missing submarine, though the origin of the calls could not be confirmed.
Related: Argentina unsure whether signals came from missing submarine
The ARA San Juan was inaugurated in 1983, making it the newest of the three submarines in the Argentine Navy's fleet. The Argentine navy said an electrical outage on the diesel-electric-propelled vessel might have downed its communications.
A search of 80 percent of the area initially targeted for the operation turned up no sign of the vessel, but the crew should have ample supplies of food and oxygen.
The Argentine navy said an electrical outage on the diesel-electric-propelled vessel might have downed its communications. Protocol calls for submarines to surface if communication is lost.