Michael White, a U.S. Navy veteran who was imprisoned in Iran since 2018, was released on Thursday and is heading back to the United States, U.S. and Iranian officials said, with Switzerland acting as an intermediary.
The release follows months of indirect communication between the United States and Iran over American prisoners via the Swiss government, NBC News previously reported. The Swiss have overseen U.S. interests in Tehran since diplomatic relations between Washington and Tehran collapsed 40 years ago.
The Swiss ambassador to Iran, Markus Leitner, has traveled to Washington periodically in recent months to convey information on the status of imprisoned Americans and relay messages from Tehran, NBC News reported.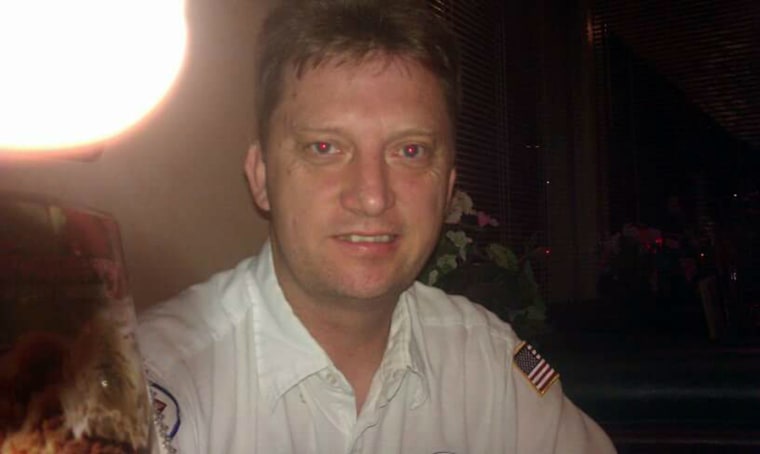 "For the past 683 days my son, Michael, has been held hostage in Iran by the IRGC (Iranian Revolutionary Guard Corps) and I have been living a nightmare," said Joanne White, mother of Michael White. "I am blessed to announce that the nightmare is over, and my son is safely on his way home."
White's mother expressed gratitude to the Trump administration, the State Department, the Swiss government that had relayed messages back and forth between Tehran and Washington, and to former New Mexico Gov. Bill Richardson for working to secure her son's release.
President Donald Trump hailed White's release in a tweet and expressed gratitude to Switzerland.
"I am to happy announce that Navy Veteran, Michael White, who has been detained by Iran for 683 days, is on a Swiss plane that just left Iranian Airspace. We expect him to be home with his family in America very soon," Trump wrote. "I will never stop working to secure the release of all Americans held hostage overseas! Thank you Switzerland for your great assistance."
The U.S. special envoy for Iran, Brian Hook, planned to greet White in Zurich and will accompany him back to the United States on an American plane, according to two U.S. officials.
Hopes for White's release were raised on Wednesday when the U.S. deported Iranian scientist Sirius Asgari after acquitting him of federal charges of trading secrets related to his research.
In addition, Iranian-American Majid Taheri, who was imprisoned in the U.S. on sanctions charges, was also released, Iran's Foreign Minister Javad Zarif said in a tweet.
"Pleased that Dr. Majid Taheri and Mr. White will soon be joining their families," Zarif wrote, who also mentioned Asgari's case.
"This can happen for all prisoners. No need for cherry picking," Zarif wrote.
Despite the auspicious timing, both U.S. and Iranian officials denied that Asgari's release was part of any prisoner swap.
But this week's events resembled a prisoner exchange in December between the two countries.
Another American, Princeton graduate student Xiyue Wang, was released in December at the same time U.S. authorities abruptly dropped charges against an Iranian academic, Masoud Soleimani, on sanctions-related charges.
Swiss Foreign Minister Ignazio Cassis on Thursday praised the news of prisoner releases and said his government stood ready to help as needed.
"I welcome the humanitarian gesture of Iran and the United States that led to the release of the American and Iranian citizen. We stand ready for further facilitation, in accordance with our long-lasting tradition of good offices," Cassis tweeted.
Secretary of State Mike Pompeo called for the release of other Americans still held in Iran, including Siamak Namazi, his father Baquer, and Morad Tahbaz.
"While we are pleased that Iran was constructive in this matter, there is more work to do," Pompeo said in a statement. "The United States will not rest until we bring every American detained in Iran and around the world back home to their loved ones.
Pompeo also called for a full accounting in the case of Robert Levinson, a retired FBI agent who disappeared in Iran in 2007 and is now believed to be dead.
Richardson and his associates were also engaged in discussions with Iran to try to win the release of White.
According to Richardson, the talks dating back to last year were aimed at forging an agreement for a series of prisoner releases and humanitarian gestures on both sides. But those efforts were complicated by tensions that erupted in December culminating in a Jan. 3 U.S . drone strike that killed Iranian Maj. Gen. Qassem Soleimani, the head of the Iranian Revolutionary Guard Corps Quds Force.
White, who was in fragile health and had been undergoing treatment for cancer before his detention in July 2018, was granted medical furlough in March due to the coronavirus outbreak.
He had been arrested after visiting a girlfriend in Iran whom he had met online. White was sentenced to 13 years in prison after he was convicted of insulting the country's top leader and displaying a private photo publicly.
"This should have and could have been done earlier, but I am glad and relieved that Mike is on his way home to get treated and rejoin Joanne and his family," Richardson said in a statement.
"COVID-19 presents countries around the world, including our own, with an unprecedented challenge. The health and wellbeing of prisoners are the responsibility of the country holding them."
White's pre-existing medical conditions and compromised immune system made him vulnerable to COVID-19, White's family had said. His mother had told NBC News she feared her son would die in Iran.
After White was given a medical furlough, he was moved from a prison and transferred to a hotel, though he remained in Iranian custody, according to Richardson's statement.