NBC News examined tensions between the U.S. and North Korea, which on Sunday claimed to have successfully tested a hydrogen bomb designed for an intercontinental ballistic missile, in a story published on Aug. 11.
One of the reasons the United States and North Korea could find themselves in a dangerous military standoff is that they don't fully understand what each other is saying, according to experts.
The flurry of apocalyptic statements by the countries' outspoken leaders, President Donald Trump and dictator Kim Jong Un, raises the possibility of miscommunication and miscalculation.
"If you look at any situation in the past where there has been a major escalation risk between nuclear powers, understanding the intentions of the adversary has always been very important," said Andrea Berger, a senior research associate at the Middlebury Institute of International Studies in Monterey, California.
"In terms of the North Korea-U.S. relationship, that understanding does not really exist on many of the points that matter," she said.
Despite the escalating rhetoric, the likelihood of nuclear war between Washington and Pyongyang remains low. It's not in either country's interests to spark a conflict that would see the North Korean regime wiped out alongside untold casualties for America's allies.
"What we have seen is that we have ended up with two leaders shouting over each other and that can be incredibly destabilizing for allies in the region."
And North Korea has a storied history of pumping out violent propaganda, often threatening to immolate the U.S. in "a sea of fire" and to reduce "the whole of the U.S. mainland to ruins." While this may sound fierce to American ears, the isolated dictatorship is actually acting with a rational set of goals.
The most important of these goals is self-preservation; North Korea believes if it can demonstrate the capability to strike the U.S. with a nuclear weapon, that will be enough to stop Washington from trying to end its brutal and oppressive regime.
The North's statements reached a new head this week when it said it was considering test-launching missiles into waters surrounding Guam — a serious escalation that would further showcase its increasing capabilities.
But there's another incendiary ingredient that has been added to the mix in recent months.
Whereas North Korea's bombastic language was previously met by the calm diplomatic dialogue of the Obama administration, this has all changed with Trump's colorful and unorthodox style.
On Tuesday, the president warned North Korea that it would be "met with fire, fury and frankly power, the likes of which this world has never seen before" if it threatened the U.S. again.
And then on Thursday, Trump said his bellicose language the day before maybe "wasn't tough enough."
"I will tell you this: If North Korea does anything in terms of even thinking about attack, of anybody that we love or we represent, or our allies or us, they can be very, very nervous," Trump told reporters from the steps of his golf resort in Bedminster, N.J. "And they should be, because things will happen to them like they never thought possible."
Some analysts say this rhetoric has put America's friends and enemies on edge.
"What we have seen is that we have ended up with two leaders shouting over each other and that can be incredibly destabilizing for allies in the region," according to Cristina Varriale, a research analyst at the Royal United Services Institute, a London-based think tank more commonly known as RUSI.
Varriale agrees this type of language means "miscalculation is one of the biggest challenges and risks" faced by parties in the current standoff.
Part of this, she said, is due to the mixed messages coming out of the Trump administration. No sooner had Trump caused alarm with his "fire" and "fury" threats than his secretary of state, Rex Tillerson, struck a starkly different tone when he landed on Guam for a long-planned refueling stop.
"I think Americans should sleep well at night," Tillerson said. "I have no concerns about this particular rhetoric over the last few days."
The administration says it is speaking with one voice, but Varriale said these mixed messages "do not fit into a concrete united policy" and "make it quite confusing for both allies and adversaries in terms of what America is willing to do. It creates quite a lot of ambiguity."
While it may not be in North Korea's interests to enter into a nuclear conflict, any confusion created by vacillating statements coming out of Washington could create scope for miscalculation.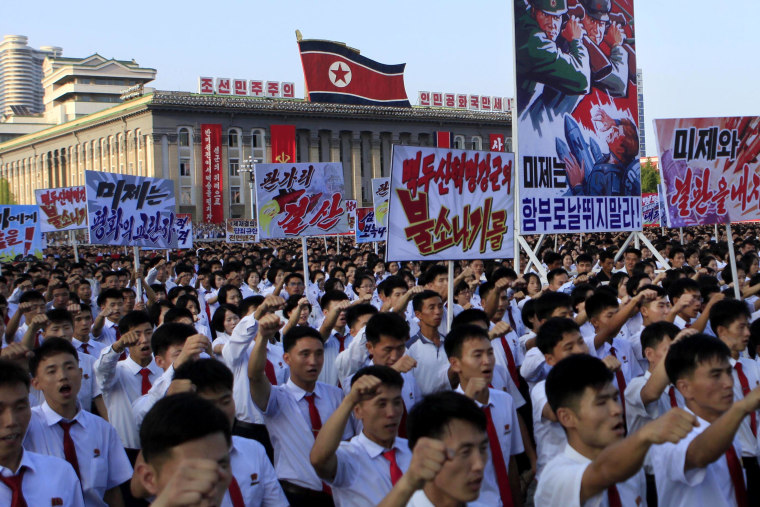 Similarly, the semi-cryptic statements that come out of secretive North Korea mean messages can be misconstrued going in the other direction.
As Johns Hopkins University's 38 North website noted on Thursday, North Korea did actually appear to suggest last month that it was open to getting rid of its nukes and rockets "if the U.S. hostile policy and nuclear threat to [North Korea] are definitely terminated."
However, a small difference in translation meant this subtlety was widely missed.
The lack of traditional communication between North Korea and the U.S. presents another layer of uncertainty. While many countries maintain embassies in North Korea and the U.S. conducts diplomatic relations through Sweden, the channels that have been available to dissipate other standoffs are not available this time.
"It's not that engagement is not there between the U.S. and North Korea, but it's that the engagement is not happening at the right levels, or it's not being fed back up to those levels," said Varriale.
Berger, at the Middlebury Institute of International Studies, agreed.
"The U.S.-North Korea situation is unusual for nuclear-armed adversaries as there has been no sustained, high-level dialogue and no diplomatic relations between the two for decades," she said.
Even during the Cold War, the U.S. had a better understanding of the Soviet Union and its allies than it does with North Korea today.
The channels between Washington and Pyongyang have become so limited, in fact, that the closest any American appears to have come to the North Korean regime is during several visits over the past few years by former basketball star Dennis Rodman.
"Rodman remains the American with the best first-hand insight into the current North Korean leadership and its thinking," Berger said. "That is a problem."