MOSCOW — U.S. and Russian astronauts were forced to make an emergency landing Thursday after their booster rocket failed in midair moments after the launch, according to NASA.
The two crew members were in "good condition" and had been reunited with their families at the Russia-leased Baikonur Cosmodrome in Kazakhstan, the agency said.
Astronaut Nick Hague of NASA and cosmonaut Alexey Ovchinin of the Russian space agency were en route to the International Space Station when there was an issue with their booster rocket.
The pair had taken off as scheduled at 2:40 p.m. local time (4:40 a.m. ET) Thursday atop a Soyuz booster rocket.
"There was an anomaly with the booster and the launch ascent was aborted," NASA said in a statement. "The Soyuz capsule returned to earth via a ballistic descent, which is a sharper angle of landing compared to normal."
The agency said the capsule landed east of the city of Dzhezkazgan in Kazakhstan in Central Asia. It added that Hague and Ovchinin would be transported to the Gagarin Cosmonaut Training Center in Star City outside of Moscow.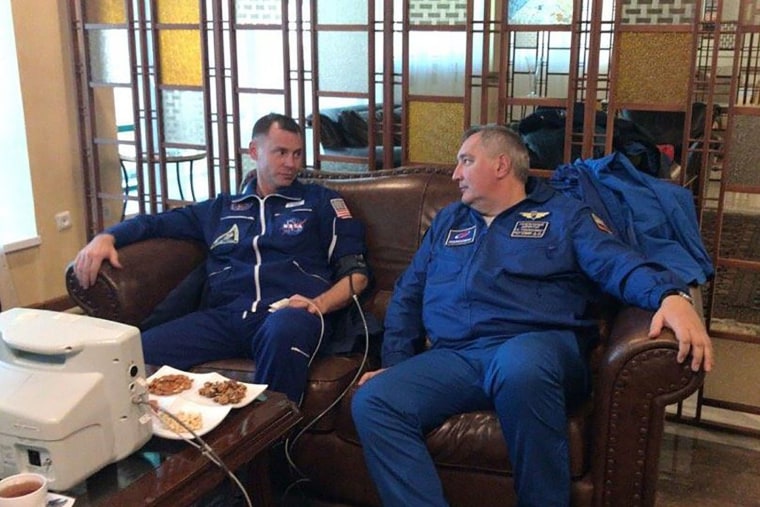 The Russian space agency and NASA posted pictures of the pair being examined in Dzhezkazgan and later greeting their families at the Baikonur Cosmodrome.
Russian agency Interfax said there was an "emergency shutdown of second-stage engines" when the Soyuz MS-10 spacecraft launched.
The director general of the Russian space agency, Dmitry Rogozin, said he had ordered a state commission to investigate the incident, which he described as an "accident."
"The emergency rescue system of the Soyuz-MS ship was working normally. Crew rescued," he posted on Twitter.
Russian Deputy Prime Minister Yuri Borisov told reporters that the country would suspend manned space launches pending the investigation into the rocket failure.
"True, this is an unpleasant situation," he said. "On the other hand, the emergency system has confirmed its reliability, which is very important."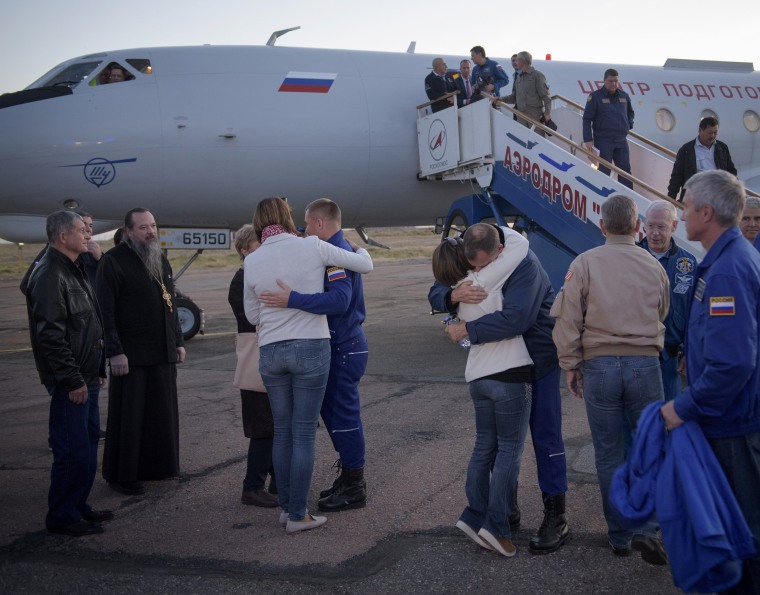 Borisov said the emergency escape system activated successfully, allowing the crew to open their parachutes.
He added that Russia would share all information about what went wrong with the U.S., adding that to hide any would be "inappropriate in such a situation."
NASA said that the safety of the crew was its "utmost priority," and that a thorough investigation into the cause of the incident would be conducted.
"I'm grateful that everyone is safe," said NASA Administrator Jim Bridenstine said on Twitter.
Kremlin spokesman Dmitry Peskov said the Russian President Vladimir Putin would be briefed on all necessary information.
"Thank God, the astronauts are alive according to information that we receive, and that's the most important thing," he said.
Thursday was the first space mission for Hague, who joined NASA's astronaut corps in 2013. Ovchinin spent six months on the International Space Station in 2016.
Elena Holodny reported from Moscow; Saphora Smith, Tony Brown, Carolin Sri-Narayana and Nick Bailey from London.