South Korea announced Wednesday that it had installed key parts of a contentious U.S. missile defense system — the latest development amid worsening tensions on the peninsula.
The South's unveiling of the Terminal High-Altitude Area Defense system, or THAAD, came as U.S. warships converged on the Korean Peninsula and after combative North Korea signaled further nuclear and missile tests. It also comes a day after the North showed off its military power with live-fire drills.
The South's announcement sparked protests in South Korea, as some worried that the deployment would make the region more unstable, not less.
China expressed its serious concern to Washington and Seoul over the THAAD deployment. Speaking at a daily news briefing in Beijing on Wednesday, Foreign Ministry spokesman Geng Shuang said China urged the U.S. and South Korea to withdraw the system.
Seoul and Washington say THAAD's sole purpose is to defend against North Korean missiles, but China is concerned the system's powerful radar could penetrate its territory and undermine its security.
In a statement to NBC News, United States Forces Korea said the move was "a critical measure to defend the South Korean people and alliance forces against North Korean missile threats, as highlighted by the recent ballistic missile launches by North Korea."
The deployment come as the USS Carl Vinson aircraft carrier headed toward the peninsula for a joint exercise with South Korea. Aircraft from the Carl Vinson carrier strike group were also conducting joint aviation exercises with the Japanese Air Self Defense Force in the Philippine Sea.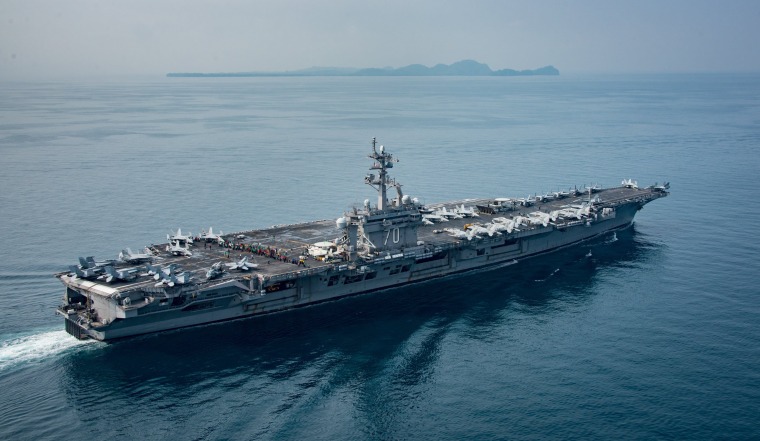 The USS Michigan, a nuclear-powered submarine, arrived Tuesday at the South Korean port of Busan for what was described as a routine visit to rest crew and load supplies. The U.S. 7th Fleet said two American destroyers were conducting simultaneous maritime exercises with ships from South Korea and Japan.
In a statement released Wednesday, South Korea said unspecified parts of THAAD had been installed. The statement added that Seoul and Washington were pushing to get THAAD quickly working to cope with North Korea's advancing nuclear and missile threats. According to Yonhap news agency, the parts include two or three launchers, intercept missiles and a radar.
About 200 residents and protesters rallied against THAAD in front of a local community center, some hurling plastic water bottles. About 8,000 police officers were mobilized and the main road leading up to the site in the country's southeast was blocked earlier Wednesday, Yonhap reported.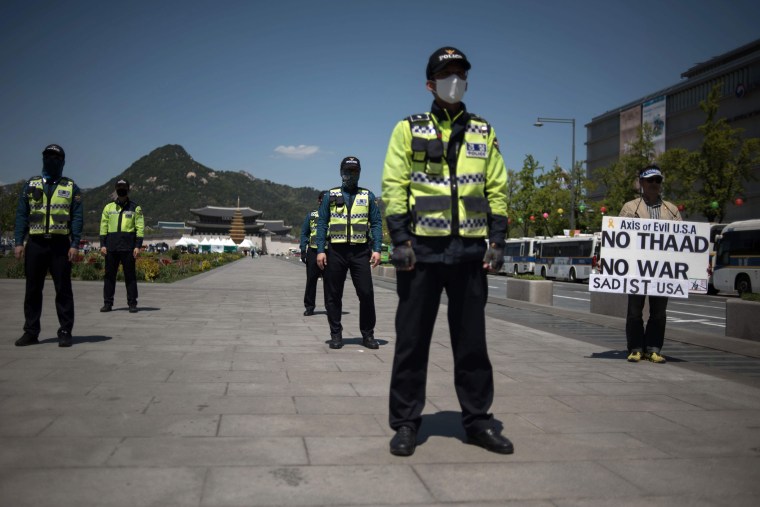 On Tuesday, North Korea conducted what it called its largest ever combined live-fire drills, near the east coast port city of Wonsan.
North Korea's official media reported leader Kim Jong Un personally observed the exercises, which involved the firing of more than 300 large-caliber artillery pieces and included submarine torpedo attacks on mock enemy warships.
North Korea routinely accuses the U.S. of readying an invasion, and threatens preemptive strikes to stop it. An unnamed North Korean Foreign Ministry spokesman said the U.S. administration's policy to maximize pressure on North Korea was "little short of lighting the fuse of total war," the state news agency reported Tuesday.
The White House has also said it is prepared to launch a preemptive strike with conventional weapons on North Korea should officials become convinced that Pyongyang is about to conduct another nuclear weapons test.
In Washington, top Trump administration officials are due to brief the entire U.S. Senate on the situation on the Korean Peninsula later on Wednesday.
On Friday, Secretary of State Rex Tillerson will chair a special meeting of the U.N. Security Council. Tillerson will be "very vocal" about nations enforcing sanctions on North Korea, State Department spokesman Mark Toner said of the briefing.