As the Chinese city that was the original center of the coronavirus outbreak came out of lockdown with a celebratory light show, the U.S. registered its deadliest day yet with nearly 2,000 lives lost.
After 11 weeks of strict restrictions on their movements, residents of Wuhan were allowed out on Wednesday and tens of thousands of residents prepared to leave the city, 100 days after the World Health Organization first reported the virus.
In the U.S., the virus has now killed 12,849 people as of 2:50 am ET Wednesday, according to NBC News' tally, while the number of confirmed cases are nearing 400,000.
Full coverage of the coronavirus outbreak
New York remains the American epicenter of the crisis with a spike of over 800 fatalities Tuesday, dashing hopes numbers were leveling off. The state now accounts for 5,489 of the deaths in the U.S.
"This is a monster," President Donald Trump said during Tuesday's daily coronavirus task force update, noting that even one death is "painful."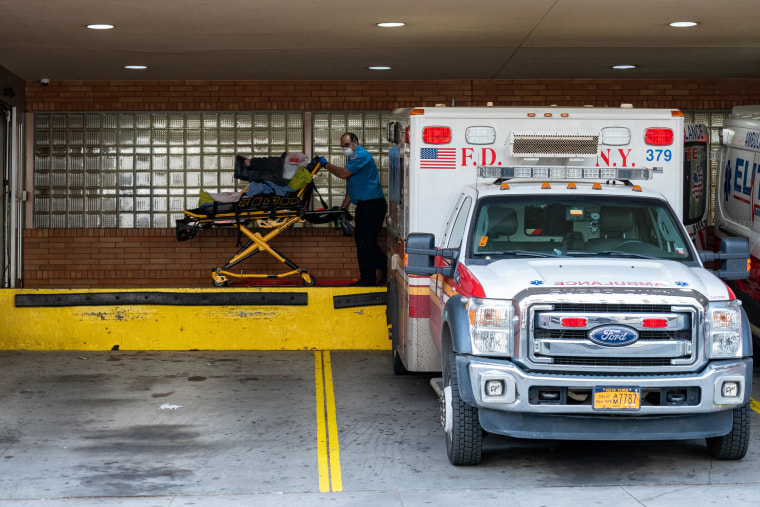 Trump said that critical supplies would reach the hotspots in need of them, with 27 more so-called "air bridge" flights scheduled to distribute medical equipment in the coming weeks. The Army Corps of Engineers is also rushing to build facilities to hold a total of 15,000 hospital beds, he said.
Vice President Mike Pence has said new guidance from the Centers for Disease Control can be expected on Wednesday, for people who have potentially been exposed to the virus but not displayed symptoms. This will include advice on whether they can return to work, he said.
Addressing alarm that African Americans may be dying at a rate three or more times higher compared with other communities, the nation's top infectious diseases expert, Dr. Anthony Fauci, said data is being collected on the issue.
Trump said such data should be made publicly available later this week.
Fauci also offered a possible explanation that "given the disproportionate disparity of the underlying conditions that lead to complications" among African Americans. "I expect that we still see the pattern that when you look at the proportion of people who get into serious trouble and die again will be disproportionate for the African Americans," he added.
Meanwhile in Wuhan, flights have began to take off from Tianhe airport. Tens of thousands were also expected to leave the city by train.
As a sense of normalcy slowly resumed, many took to the streets to watch a celebratory light display to mark an end to the darkest days in the city where the disease is thought to have originated. It was set off from a bridge crossing the broad Yangtze River which flows through the industrial city.
Download the NBC News app for full coverage of the coronavirus outbreak
However, life in the 11 million-strong city remains far from normal. Social distancing is still enforced and traveling requires a green health code on cell phone app, which confirms the owner is virus free.
"I think I never lost hope," resident Zhou Zijin told NBC News. "I always thought there will be a day when all of this will end."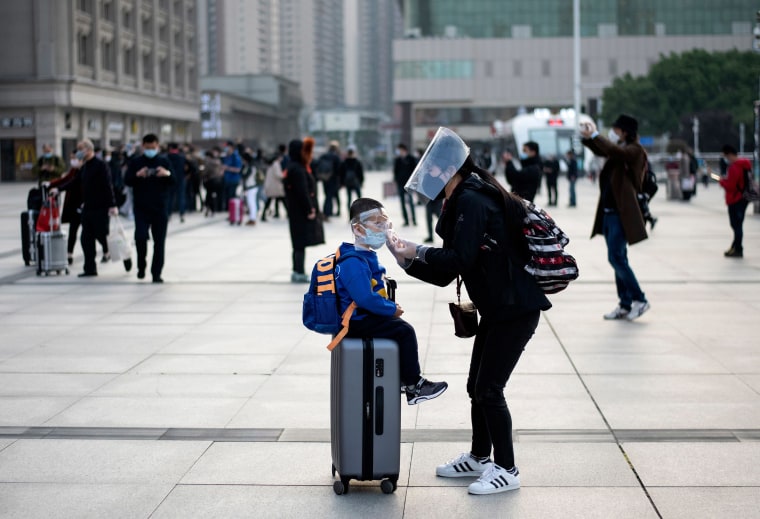 Wuhan has paid a high price in the pandemic, with 50,000 cases and more than 2,500 deaths, according to figures provided by local health officials. It reported only two new confirmed cases in the past 14 days, although one new death was registered in Wuhan on Wednesday.
Despite Chinese health officials claiming a significant drop in domestic infections, the threat of the epidemic elsewhere in China persisted on Wednesday as Suifenhe city in northern Heilongjiang province announced the closure of all residential areas, telling people to stay in their compounds to combat the spread of the virus.
China's new reported coronavirus cases, which officials say have been mostly imported from abroad, nearly doubled on Tuesday, while new asymptomatic infections more than quadrupled, as authorities scramble to squash any new outbreaks by shutting its borders to foreigners and testing all international arrivals.
According to official reports from around the world, the virus has infected more than 1.4 million people, killed 82,000 and stalled the world's economy.