The United States said Monday it has been forced to suspend nonimmigrant visas in Russia because President Vladimir Putin ordered it to cut hundreds of diplomatic staff.
The U.S. Mission to Russia said it was forced to cancel all appointments in Moscow between Wednesday and Sept. 1 because of reduced staffing levels.
Outside of the Russian capital, at the consulates in St. Petersburg, Yekaterinburg, and Vladivostok, visa operations would remain suspended indefinitely, the U.S. Mission said in a statement.
In the capital, the mission said "visa operations will resume on a greatly reduced scale."
The decision would come as a blow to Russian tourists, nearly 250,000 of whom visited the U.S. last year, according to The Associated Press.
"Russia's decision to reduce the United States' diplomatic presence here calls into question Russia's seriousness about pursuing better relations," the U.S. Mission said. "We will maintain sufficient staff to carry out essential elements of our mission."
The U.S. said it was forced to make the move after Putin ordered American diplomatic staff to be cut by 755 last month. This was itself a tit-for-tat response to U.S. sanctions brought against Russia for its alleged cyberhacking and military involvements in Ukraine and Syria.
On Monday, Russian Foreign Minister Sergey Lavrov rejected the U.S. explanation that it was forced to suspend visas because of reduced staffing levels.
"The decision is politically motivated," he told a press conference in Moscow. "Washington's actions are aimed at a deterioration of U.S.-Russia relations."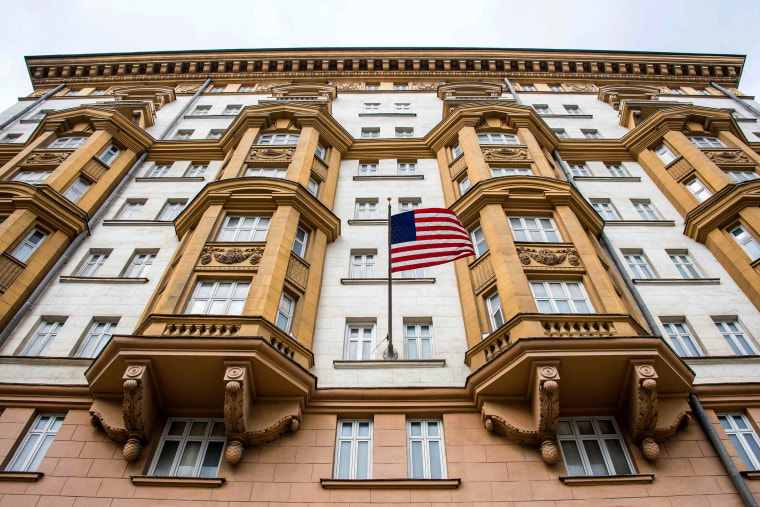 The U.S. Mission to Russia told anyone with a visa interview scheduled at any consulate outside Moscow could reschedule it in the embassy in the Russian capital. One of these consulates is in Vladivostok, a city in Russia's far east that's almost 4,000 miles and an eight-hour flight from Moscow.
"Because of the required drawdown of personnel, all nonimmigrant visa interviews countrywide will now be conducted at the U.S. Embassy in Moscow," the U.S. Mission said.
It said it would give priority to the United Nations, international organizations with offices in the United States, and bilateral missions.
"These are generally required by international agreements, diplomatic practice, or customary international law," it said.
It added that in September it was planning to issue a block of visa appointments to students studying in the U.S.