DEIR EZ-ZOR, Syria — Standing on a windswept mound, Brig. Gen. Jonathan Braga pointed to the spot just a mile away from where Russian mercenaries and fighters loyal to the Syrian government fired at his soldiers.
"Those artillery rounds could have landed and killed Americans, and that's why we continue to prepare our defenses," said Braga, the director of operations for the U.S.-led anti-Islamic State coalition.
Only steps away sits a sprawling oil and gas refinery that U.S.-backed forces captured from ISIS last year and that is just beginning to hum with life again.
Braga's forces repelled the surprise assault from the pro-Bashar al-Assad fighters and the Russian private military contractors. The Feb. 7 clash was the first time in 50 years that Americans and Russians have engaged in direct combat.
While there were no U.S. casualties, Braga worries that more clashes may follow. The Americans and their allies are fortifying embankments to prepare for potential future confrontations.
A team from NBC News visited the base this week to speak with Braga and other U.S. military personnel on the ground during the attack — the first group of journalists to do so. There are around 2,000 American troops in Syria fighting ISIS, which has been pushed out of much of the territory it once controlled.
While they are opposed to Assad's government, the Americans have not been targeting the regime's soldiers and its allies in the civil war, including Russia, Iran and Lebanon's Hezbollah militia.
Braga's men launched punishing airstrikes and artillery fire at the pro-regime fighters and Russian mercenaries. The Pentagon called the attack retaliation for their "unprovoked" incursion into territory controlled by the U.S.-backed Syrian Democratic Forces, a coalition of Kurds and Syrian rebels.
Between 200 and 300 pro-regime fighters died in the attack. Among them were mercenaries employed by a Russian contracting firm, according to three U.S military officials with direct knowledge of the incident.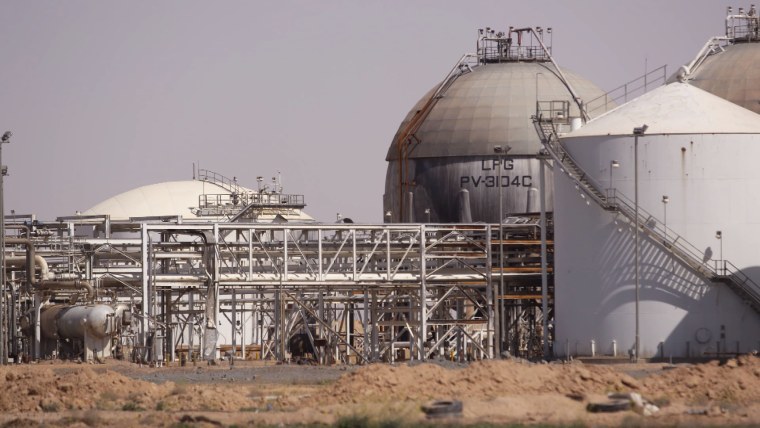 That mercenaries working for a Russian company were involved has risked igniting tensions with Moscow, an outcome that the White House and the Kremlin have sought to avoid. Both have downplayed the involvement of Russian fighters.
On the night of the attack, Braga said he was "absolutely concerned" the clash could turn into a larger confrontation with Russia.
The attacking force has since retreated and is now stationed three miles away.
"There is no reason for that amount of combat power to be staring at us this closely," Braga said. "I don't think that's healthy for de-escalation."
U.S. officials said the Feb. 7 incident was the largest attack that American forces had faced in Syria since they entered the conflict.
The attacking force was likely hoping to capture several oil and natural gas fields held by the U.S. allies, according to multiple U.S. military officials with direct knowledge of the incident.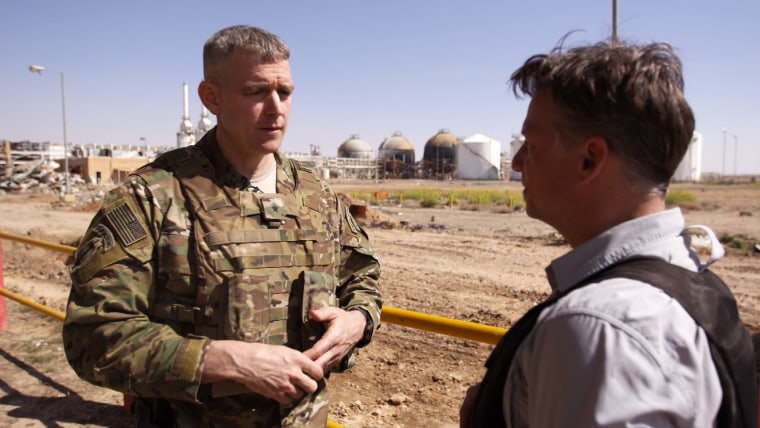 In the hours leading up to the assault, Braga said U.S. forces noticed "vehicle movements, troop movements, rehearsals like we hadn't seen before" — followed two hours later by artillery fire.
Braga says he immediately called his Russian counterparts on a "deconfliction" phone line and continued to speak with them throughout the confrontation. The Russians, he said, maintained that it was not their force advancing on the U.S. base. He described the conversations as "professional and responsive."
In public statements after the incident, the administration offered few details about what transpired and omitted any mention of involvement by Russian fighters. When pressed by reporters, Defense Secretary James Mattis and other military officials refused to comment on the composition of the attacking force.
Statements from the Kremlin have been vague and contradictory. At first, the Kremlin said that no Russians were involved and that the attack had not been authorized by or coordinated with the Russian Defense Ministry. One week later — following reports in the Russian news media that Russian private military contractors had been killed — the Kremlin announced that five Russian citizens had indeed died. That figure was later amended to "several dozen" Russians and citizens of the former Soviet Union.
"It's notable that both Russia and the U.S. tried to downplay it, especially given the casualties involved," said Noah Bonsey, a senior analyst at the International Crisis Group. U.S. forces "wanted to send a message that they would defend this ground. By downplaying it, it makes it easier for the other side to downplay it."
"The U.S. doesn't see any interest in escalating with Russia," Bonsey said.
Richard Engel reported from Deir ez-Zor, and Kennett Werner reported from London.
CORRECTION (March 17, 2018, 4:10 p.m. ET): A previous version of this article referred imprecisely to the fighters who died in the attack. Although between 200 and 300 fighters died in the attack, not all of them were mercenaries employed by a Russian contracting firm.