Iran should not take President Donald Trump's decision to call off military strikes against the country as a sign of weakness, national security adviser John Bolton said Sunday.
Speaking alongside Israeli Prime Minister Benjamin Netanyahu in Jerusalem, Bolton said no one has granted Iran a "hunting license in the Middle East."
"As President Trump said on Friday our military is rebuilt, new and ready to go," Bolton said.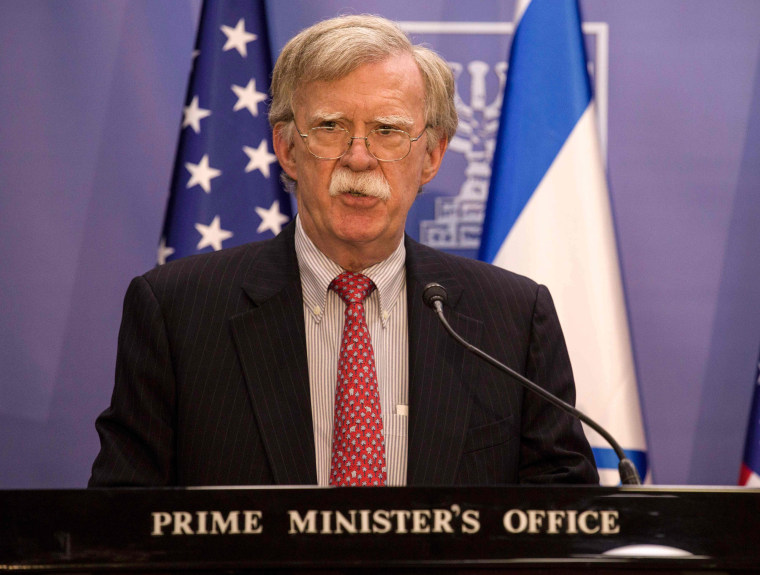 The comments come days after Trump confirmed that he was "cocked and loaded" to strike Iranian targets but deemed the loss of life would be disproportionate to the downing of an unmanned U.S. drone earlier last week.
The president said in an exclusive interview with NBC's Chuck Todd for "Meet the Press" on Friday that a plan was "ready to go, subject my approval." He said he asked his generals, "I want to know something before you go. How many people would be killed, in this case Iranians?"
The generals said approximately 150 people would be killed, the president said. "And I didn't like it, I didn't think, I didn't think it was proportionate."
Bolton, a longtime Iran hawk, emphasized on Sunday that Trump had only "stopped the strike from going forward at this time.'"
He said that sanctions will continue against Tehran and that the U.S. reserves the right to attack it at a later point.
"Iran's continued pursuit of nuclear weapons, its threats to exceed the limits set in the failed Iran nuclear deal in the coming days ... are not signs of a nation seeking peace," Bolton told reporters.
"Sanctions are biting, and more added last night," he said. "Iran can never have nuclear weapons — not against the U.S.A. and not against the world."
Netanyahu has himself been a vocal critic of Iran over the years. Israel considers Iran to be their greatest threat, but the prime minister and Trump ally has remained uncharacteristically quiet throughout the current crisis.
Trump said Friday that he doesn't want war with Iran, but if it comes there will be "obliteration like you've never seen before."
"But I'm not looking to do that," the president added in his interview with NBC. He said there were no pre-conditions for U.S. talks with Tehran.
The drone strike and the aborted decision to strike Iranian targets followed weeks of rising tension and attacks on two oil tankers in the Gulf last week.
The developments are underpinned by a deep mutual mistrust between the nations, as well as U.S. criticism of Iran's nuclear and ballistic missile activities and support for proxies in various Middle East conflicts.
Trump pulled the U.S. out of a joint nuclear deal with Iran last year, making good on a campaign promise.
Since shelving the strike, Trump has appeared to be more focused on continuing to squeeze Iran financially through sanctions.
"The fact is we're not going to have Iran have a nuclear weapon," the president said on the White House driveway Saturday.
"And when they agree to that, they are going to have a wealthy country, they're going to be so happy and I'm going to be their best friend."
United Nations chief Antonio Guterres said Sunday that it is essential to avoid "any form of escalation" in the region.
"The world cannot afford a major confrontation the Gulf," Guterres said on the sidelines of the World Conference of Ministers Responsible for Youth in 2019. "Everybody must keep nerves of steel."
As tensions between Washington and Tehran continued to flare, however, Iran's president blamed the U.S for the region's problems.
The official IRNA news agency quoted Hassan Rouhani as saying Sunday that the "interventionist military presence" of the U.S. is responsible for the crisis.
An Iranian military commander meanwhile warned that any conflict would have uncontrollable consequences across the region and endanger the lives of U.S. forces.
The semi-official Fars news agency on Sunday quoted Gen. Gholamali Rashid as saying the Trump administration "should behave in a responsible way to protect the lives of American forces."
Gen. Rashid said if war happens, its scope and duration could not be controlled, and blamed any escalation on "U.S. interventionist policy."
The general oversees and coordinates joint military operations in the Iranian Armed Forces.