The White House warned the Israeli government Thursday to stop announcing plans to build new settlements in the occupied West Bank, appearing to open a breach in the extraordinarily warm relationship between President Donald Trump and Israeli Prime Minister Benjamin Netanyahu.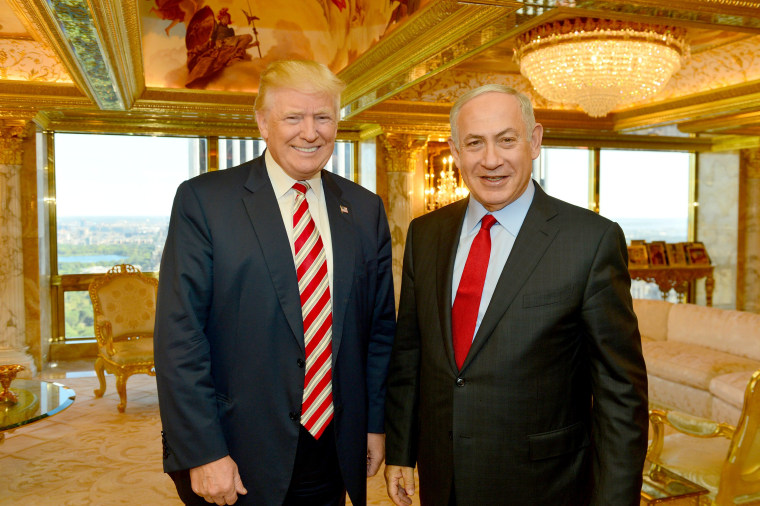 Netanyahu's office announced Wednesday that for the first time in two decades, Israel planned to build 3,000 new settlement homes in the disputed territory, which it has occupied since the 1967 Six-Day War.
Thursday, the White House issued a brief statement that the new administration has not taken an official position on settlements in the West Bank but adding that "the construction of new settlements or the expansion of existing settlements beyond their current borders may not be helpful" in achieving peace.
The statement was issued after The Jerusalem Post reported that the administration had sent Netanyahu a message complaining that announcements like the one the government made Wednesday could "undermine" the peace process. NBC News has not confirmed that report.
About 600,000 Jews live in about 140 authorized settlements in the West Bank and East Jerusalem, but many international organizations, including the United Nations and the European Union, consider the settlements to be an illegal taking of land envisioned as a future homeland for the Palestinians.
The White House's carefully worded statement Thursday marked the first public disagreement between Trump and Netanyahu since they had what the administration described as a "very warm" conversation by phone late last month. In the call, they agreed that Netanyahu would visit the White House on Feb. 15.
Related: What It's Like to Live in an Israeli Settlement
The White House said at the time that Trump emphasized "the deep and abiding" partnership between the two countries and that he "affirmed his unprecedented commitment to Israel's security."
Many commentators said such statements had encouraged the prime minister to resume growing Israel's settlements in the Palestinian territory. Netanyahu himself said last month that Trump's election presents "significant opportunities" for Israel.
During his presidential campaign, Trump consistently said peace between Israel and the Palestinians could be achieved only through direct negotiations, indicating that he believes Israel shouldn't be allowed to act unilaterally.
The warning comes amid two days of dramatic protests that erupted in the West Bank as Israeli defense forces swooped in this week to enforce a Supreme Court order to evict Jewish families from an outpost on private Palestinian land in the settlement of Amona, northeast of Ramallah.
About 330 Israeli settlers lived in Amona, the largest of scores of outposts built in the West Bank without official authorization.