LONDON — A defiant Boris Johnson was battling to stay in power as prime minister Wednesday, firing Cabinet Minister Michael Gove after his government was rocked by the resignation of several ministers who said they could no longer serve under his scandal-tarred leadership.
Months of discontent over Johnson's judgment and ethics within his governing Conservative Party erupted with the resignations of Treasury chief Rishi Sunak and Health Secretary Sajid Javid within minutes of each other on Tuesday evening.
In a scathing statement to Parliament Wednesday, Javid said he had concluded that "the problem starts at the top and that is not going to change."
"This week again, we have reason to question the truth and integrity of what we've all been told. And at some point we have to conclude that enough is enough," added Javid. "I believe that point is now."
His comments came after Johnson faced a tough Prime Minister's Questions, an often rowdy weekly session during which parliamentarians quiz the premier on a wide variety of issues.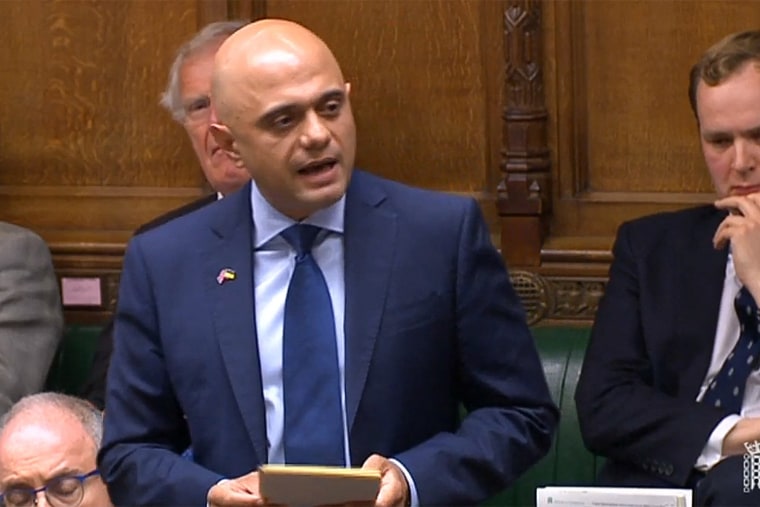 Although he was repeatedly asked whether he would quit, Johnson vowed that "the job of a prime minister in difficult circumstances when you've been handed a colossal mandate is to keep going."
Even as the session was taking place, Johnson's Environment Minister Jo Churchill and Housing Minister Stuart Andrew both released letters announcing their resignations from the Cabinet.
Johnson also fired Gove on Wednesday, a shocking move that further indicates he refuses to leave his position. Gove's dismissal was a late burst of added drama to a day of twists in Westminster.
Within an hour of news breaking on Gove's firing, Simon Hart posted a letter he wrote resigning as Secretary of State for Wales to his Twitter account.
"I have never been a massive fan of Ministerial resignations being the best means of forcing change," Hart's letter read. "Colleagues have done their upmost in private and in public to help you turn this ship around, but it is with sadness that I feel we have passed the point where this is possible."
In total 38 MPs have quit the Government since Tuesday evening and the string of resignations from both the liberal and right-wing branches of the Conservative Party showed that the danger to Johnson was far from over.
How we got here
The final straw for Sunak and Javid was the prime minister's shifting explanations about his handling of sexual misconduct allegations within Conservative ranks.
The latest scandal came to light last week when Chris Pincher resigned as Conservative deputy chief whip amid complaints that he had groped two men at a private club. That triggered a series of reports about past allegations leveled against Pincher and questions about why Johnson promoted him to a senior job enforcing party discipline.
Johnson's office initially said he wasn't aware of the previous accusations when he promoted Pincher in February. But by Monday, a spokesman said Johnson knew of allegations that were "either resolved or did not progress to a formal complaint."
When a former top civil servant in the Foreign Office said Johnson had been briefed about an allegation against Pincher in 2019, Johnson's office changed its story again, saying the prime minister had forgotten that Pincher was the subject of an official complaint.
It was all too much for ministers who have been sent onto radio and TV to defend the government's position, only to find the position changing by the hour.
The Pincher affair is the latest in a series of embarrassing incidents that have forced Johnson to do public U-turns.
Critics questioned Johnson's ethics last year after a government report found that he had acted "unwisely" when he allowed a Conservative Party donor to settle an invoice for some of the redecoration costs of his Downing Street residence before paying it back.
In the past few months, he has also been fined by police and slammed by an investigator's report over lockdown-breaching parties in government during the Covid pandemic. In June, Lord Christopher Geidt became the second ethics adviser to quit in less than two years, after admitting Johnson might have broke ministerial rules over the scandal dubbed "Partygate."
Johnson survived a no-confidence vote by his party in which 41% of Conservative lawmakers voted to oust him.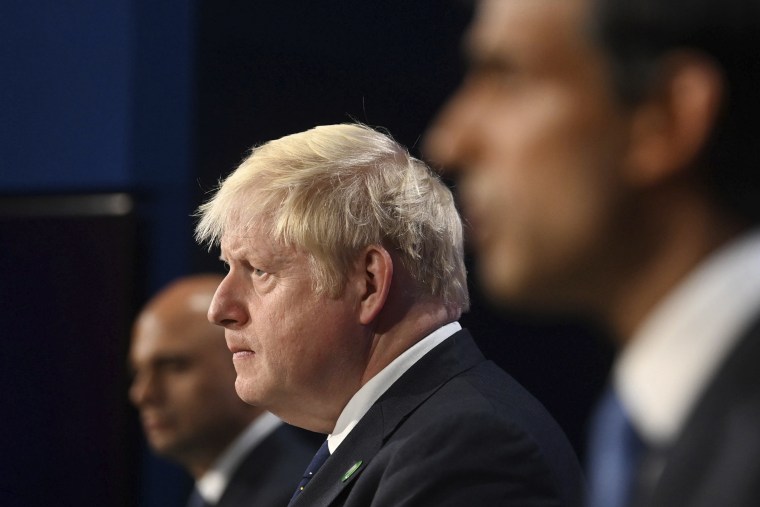 His current problems are a fall from grace for Johnson, who led the Conservatives to a historic general election win in December 2019, helping them to secure the biggest parliamentary majority since Margaret Thatcher in 1987.
The Conservatives ended up with 365 seats — a majority of 80 in the House of Commons — versus 203 for the opposition Labour Party.
Through it all, he has vowed to carry on governing — suggesting last week that he wanted to stay in office until the 2030s.
What could come next
British prime ministers are not directly elected by voters and instead are chosen to lead their party. As such, Johnson needs the support of fellow Conservative Party members to stay in power.
Crucial to his leadership ambitions will be the 1922 Committee — a parliamentary group of legislators who are not ministers or ministerial aides.
Sometimes dubbed "the men in grey suits," although its current executive committee of 18 members includes a number of women, their job is to represent the views of those parliamentarians to the party leader, and they play a key role in leadership elections, including determining the rules by which a sitting leader can be challenged.
Under current rules the leader must face a vote of confidence if 15% of the parliamentary party write to the committee chairman calling for one.
But they also state that a leader cannot be challenged for 12 months if they survive one, which Johnson did on June 6.
The 1922 Committee could meet as early as Monday to decide on a rules change.
Labour leader Starmer could also call for a confidence vote in Johnson.
His future will depend on what they decide.
Some MPs have been talking about reducing the threshold from 12 months to six, which could mean a vote in early December.
Others reportedly want the issue of Johnson's future decided before the Commons break for the summer recess this month.
Alternatively, the prime minister could choose to resign, triggering a leadership contest.