LONDON — Britain was hit by the biggest rail strike in a generation Tuesday, with major disruptions across the country as tens of thousands of workers joined what unions have warned could be the start of a so-called summer of labor discontent.
Some 40,000 rail staff walked out for the first of three days of labor action this week, bringing chaos to the country's transit network. London's Underground subway system was also at a near-standstill due to an unrelated strike, leaving millions of people stranded or stuck in increased road traffic.
Commuting into London and other big British cities can be a busy and fraught experience at the best of times, even with passenger numbers reduced by the Covid pandemic.
But on Tuesday, images from across Britain showed normally bustling platforms deserted and frantically busy coffee shops empty. At some stations, people were outnumbered by pigeons as just 20% of trains ran. The Glastonbury music festival starts this week in Somerset, southwest England, and now faces huge disruptions.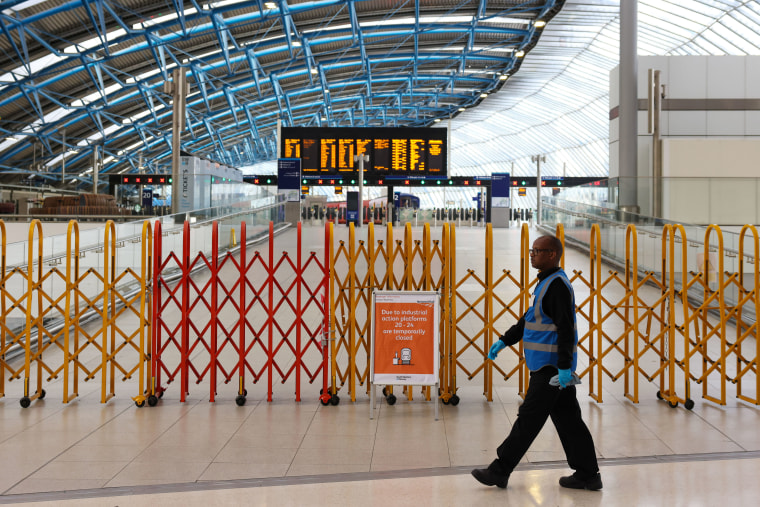 The strikes, also planned for Thursday and Saturday, are the biggest in 30 years and mark the climax of a long-running battle over pay, conditions and modernization of the rail network. They also come as Britain faces a near-unprecedented rise in the cost of living.
"The British worker needs a pay rise," Mick Lynch, secretary-general of the National Union of Rail, Maritime and Transport Workers, or RMT, told Sky News.
"They need job security, decent conditions and a square deal in general. If we can get that, we won't have to have the disruption in the British economy that we've got now and which may develop across the summer."
The country appeared to weather the pandemic better than others economically, but soaring prices have left many workers squeezed — inflation reached 9% in April, its highest level in 40 years.
The United Kingdom's exit from the European Union six years ago has added further problems. Compounding all this is dissatisfaction with the ruling Conservative Party and Prime Minister Boris Johnson, who has been beset by scandals and survived a vote to oust him earlier this month by an uncomfortably slim margin.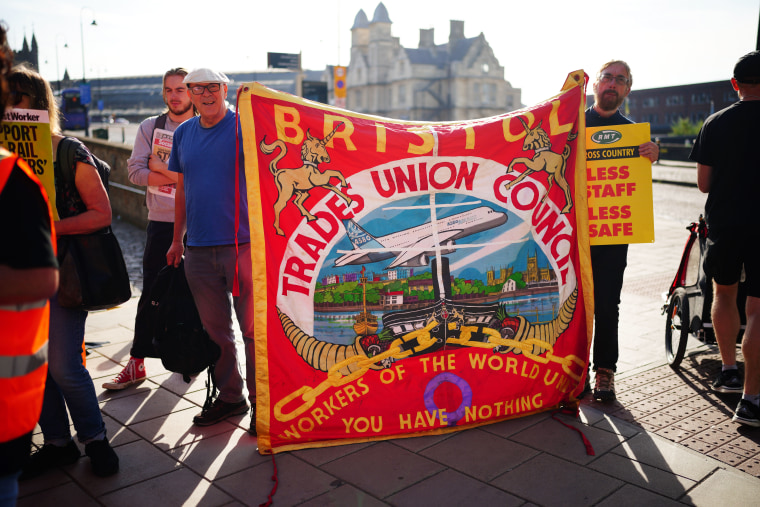 Last-minute talks Monday couldn't prevent the strikes, which union bosses say will be followed by more labor action on the railways and across other sectors.
Network Rail, which runs the country's rail system alongside private train operators, is offering a 3% pay rise, with more promised if the unions agree to new working practices, including the use of drones to inspect broken rails.
The Conservative government says it is not involved in the talks but has warned against big pay rises and blamed the union for refusing to modernize.
Johnson was scathing in his reaction to the strikes, accusing the union of "driving away commuters who ultimately support the jobs of rail workers, whilst also impacting businesses and communities across the country."
The public appears divided over the issue. A survey from the polling company YouGov earlier this month showed around half of those questioned opposed the action, while just over a third supported it.
Leo Rudolph, a 36-year-old lawyer who walked to work, said he would become more disgruntled the longer the dispute holds.
"This isn't going to be an isolated occurrence, right?" he told Reuters. "I will certainly be getting more frustrated every time this happens."
For some, the strikes are reminiscent of the 1970s, when the country was hit by strikes from public sector and private sector workers from across different industries. It culminated in what a tabloid dubbed the "winter of discontent" — a phrase borrowed from Shakespeare's "Richard III" — when strikes left trash piling up on the streets and bodies unburied.
Lynch said Tuesday that his union's walkout could signal the start of a similar wave of action: Teachers, medics and waste disposal workers are considering strikes in the coming months. Criminal barristers, who still in court wear the wig and gowns of the 17th century, this week agreed to strike over cuts to government payments toward defendants' legal costs.
Strikes are not uncommon in Britain but union membership has roughly halved since the 1970s, while the labor movement's power has been heavily curbed by government reforms.