Ukraine braced for a potential conflict with Russia Tuesday after President Vladimir Putin ordered troops into two breakaway regions in eastern Ukraine.
The deployment came after Putin issued an order Monday that recognized the independence of the Donetsk and Luhansk regions of the country. Ukraine and the West considered Russia's moves a major escalation following months of military buildup and warnings that Moscow would create a pretext to invade its neighbor.
The U.S. on Tuesday began describing Russia's military movements as an "invasion," two Biden administration officials said. Moscow's moves prompted Washington and its European allies to ready sanctions against Russia, and Secretary of State Antony Blinken said the Kremlin's actions led him to cancel a scheduled meeting later this week with Russian Foreign Minister Sergey Lavrov.
As the chances of a diplomatic solution to the crisis appeared to diminish, President Joe Biden said in remarks at the White House that Putin has "set up a rationale" to take more territory from Ukraine by force.
"Who in the Lord's name does Putin think gives him the right to declare new so-called countries on territory that belonged to his neighbors?" Biden said. "This is a flagrant violation of international law and demands a firm response from the international community."
Biden said the U.S. was imposing "full blocking sanctions" on two large Russian financial institutions, VEB and a military bank, as well as sanctions on Russian elites and their family members and on Moscow's sovereign debt.
"That means we've cut off Russia's government from Western financing," he said. "It can no longer raise money from the West and cannot trade in its new debt on our markets or European markets either."
The Treasury Department said the move "constrains Russia's ability to finance defense-related contracts and raise new funds to finance its campaign against Ukraine." Treasury Secretary Janet Yellen said the U.S. response was "taken in coordination with our partners and allies," and will "begin the process of dismantling the Kremlin's financial network and its ability to fund destabilizing activity in Ukraine and around the world."
On the military front, Biden said Tuesday he authorized the additional deployment of U.S. forces and equipment already stationed in Europe to strengthen Baltic allies Estonia, Latvia and Lithuania.
A senior U.S. defense official said the moves included ground forces and air support, with an infantry battalion of about 800 troops relocating from Italy to the Baltic region.
Biden emphasized that the deployments were only "defensive" and that the U.S. has "no intention of fighting Russia."
"We still believe that Russia is poised to go much further in launching a massive military attack against Ukraine," Biden warned.
Blinken, speaking alongside Ukrainian Foreign Minister Dmytro Kuleba at a news conference later in the day, said he had sent his Russian counterpart a letter canceling their planned Thursday meeting in light of the Kremlin's actions.
When he initially agreed to the meeting, Blinken said it was on the condition that Russia not invade Ukraine further. "Now that we see the invasion is beginning, and Russia has made clear its wholesale rejection of diplomacy, it does not make sense to go forward with that meeting at this time," Blinken said Tuesday.
He added that the U.S. and its allies "remain open to diplomacy, but Moscow needs to demonstrate it is serious. The last 24 hours demonstrated the opposite."
Kuleba praised the new sanctions on Russia, and said a strategy of imposing sanctions in "waves" could work if they're done in a "very sustained way."
"The world must respond with all of its economic might," Kuleba said. "Hit Russia's economy now and hit it hard."
Earlier Tuesday, German Chancellor Olaf Scholz announced that due to a "serious break of international law" by Russia, it was halting the Nord Stream 2 pipeline meant to deliver Russian natural gas to Europe, something Biden had warned would happen after a meeting with Scholz earlier this month if Russia were to invade.
Meanwhile, Ukrainian President Volodymyr Zelenskyy said he would consider breaking diplomatic ties with Russia, though Kyiv recalled its ambassador in Moscow after the move to send in Russian troops. At the same time, Russia's foreign ministry announced that it would evacuate all diplomatic missions in Ukraine "in the very near future."
Along with Putin's moves, the Russian parliament's upper chamber, the Federation Council, said it approved a request from him on Tuesday evening to use armed forces outside of Russia. Speaking to reporters afterward, Putin announced that Russia recognized the 2014 borders of the Donetsk and Luhansk regions, which were larger than the current boundaries and include the port of Mariupol. Vast swaths of those regions are held by the Ukrainian military, raising concerns about further armed conflict breaking out as Russian troops move in.
Russian-backed separatists in Ukraine's Donetsk and Luhansk regions, collectively known as the Donbas, broke away from Kyiv in 2014 and proclaimed themselves independent "people's republics." Since then, they have been fighting Ukrainian forces in a prolonged conflict that has claimed thousands of lives and remains unresolved. Although Russia has denied its military presence in the region, it has been accused of propping up the separatists with weapons and financial support.
In his remarks Tuesday, Putin said that the Minsk agreement to end the war in the Donbas region no longer existed, and blamed Ukraine for its demise. He also said Russia's 2014 annexation of the Crimean Peninsula — widely condemned by the West as a breach of international law — should be internationally recognized as part of Russia. Asked about the possible use of Russian forces in the Donbas, the Russian president said his country will carry out its obligations if necessary, Reuters reported.
'Difficult challenges ahead'
For weeks, Ukraine's leaders have urged calm despite dire warnings from the United States and its allies that an invasion was imminent. But in the wake of Putin's move, some were preparing for the worst.
Ukraine's defense minister, Oleksii Reznikov, told the country's army Tuesday to expect "difficult challenges ahead. There will be losses. We will have to go through pain, overcome fear and despair."
Kyiv's mayor, Vitali Klitschko, said in a video message that Russia had declared war on its neighbor.
"There are masses of Russian troops, who were coming there all night," he said, referring to the two Moscow-backed separatist areas.
Still, residents in the capital went about their usual business Tuesday. Women sold tulips on the side of the road in the city's center, while metro trains were packed at the start of a workday as the city enjoyed warm wintry weather.
On his way to work Tuesday, Deleaver Sefershaev, a videographer from Russian-annexed Crimea who now lives in Kyiv, told NBC News that Russia's recognition of the breakaway regions may reduce Moscow's leverage and make war more likely. But he said he was not afraid. 
"I'm going to work, I'll do my job, I'll live calmly further," Sefershaev, 28, said. "The key here is to remain calm and not panic," he added.
Putin's actions late Monday came after days of escalation in the crisis. The Russian decrees acknowledging the independence of Donetsk and Luhansk framed the troops as "peacekeepers," which U.S. ambassador to the United Nations Linda Thomas Greenfield dismissed as "nonsense."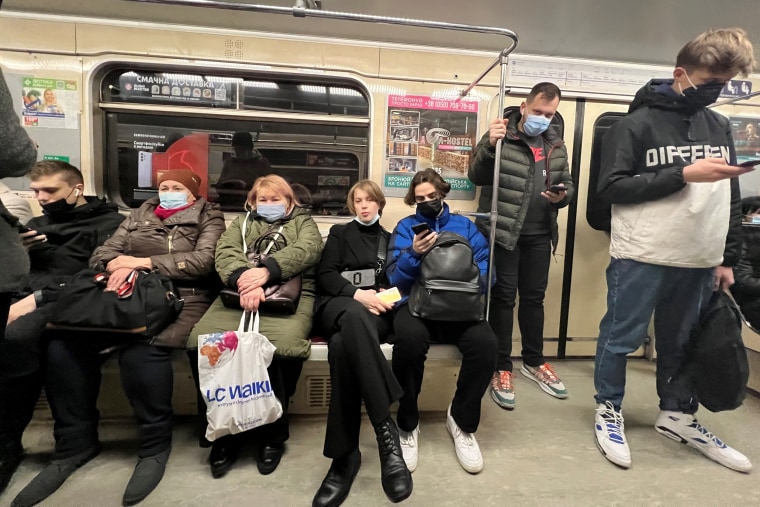 Russian officials haven't yet acknowledged any deployments to the rebel-controlled regions, but officials in those areas and beyond have suggested troops had already moved in.
A member of the separatist local council in Donetsk, Vladislav Brig, told reporters that the Russian troops had taken up positions in the region's north and west, the Associated Press reported.
European Union foreign policy chief Josep Borrell said Tuesday that "Russian troops have entered in Donbas." He added, "I wouldn't say that's a fully fledged invasion, but Russian troops are on Ukrainian soil."