Ukraine is finally getting its fighter jets.
Kyiv hailed the promise of U.S.-made warplanes as a potential game changer Monday after , months appealing to the U.S. and its allies for the F-16s, while Moscow condemned the news as an escalation of the conflict.
But there are significant doubts about the impact the announcement will have on the battlefield, analysts said, with a timeline for their deployment unclear and a lack of air support already a major handicap for the Ukrainian military's assault against Russian defenses.
Why the F-16s matter
Ukrainian President Volodymyr Zelenskyy was in Copenhagen to thank Danish lawmakers on Monday, a day after Denmark pledged 19 of its F-16 jets.
The Netherlands also announced Sunday that it will give some of its 42 F-16s to Ukraine after Washington gave the green light last week to transfer the powerful U.S.-made warplanes.
The exact numbers and timelines remained unclear, but Ukrainian officials were bullish.
"Today we are confident that Russia will lose this war," Zelenskyy told thousands of people who gathered outside the Danish Parliament to hear his speech.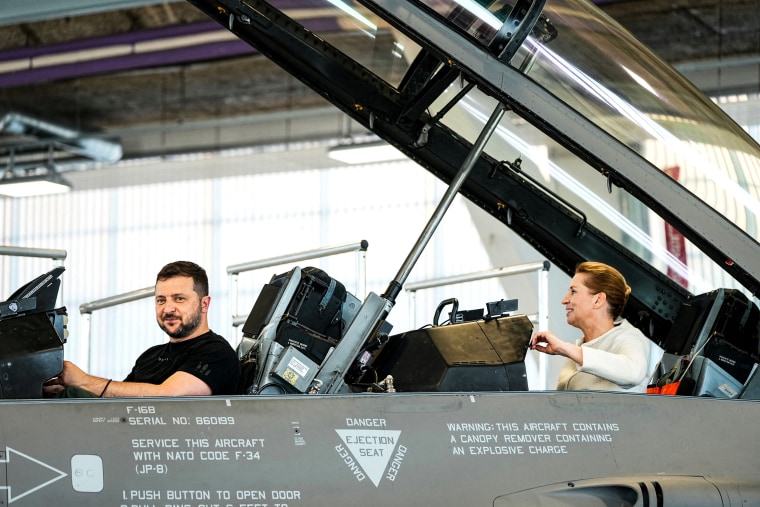 Ukrainian air force spokesman Yuriy Ihnat said the F-16s will help "completely change the course of combat actions."
Moscow similarly portrayed the decision as a significant development in the war, calling the move escalatory.
"The fact that Denmark has now decided to donate 19 F-16 aircraft to Ukraine leads to an escalation of the conflict," the Russian ambassador, Vladimir Barbin, said in a statement cited by the Ritzau news agency. 
The fighter jets are undoubtedly an upgrade for a country that has been using aging Soviet-era combat planes and has been forced into waves of vulnerable ground assaults.
"The F-16 is an incredible platform," Maj. Jeff Downie, part of the U.S. Air Force's elite Thunderbirds unit, said in a recent interview at a base in Nevada. "It's got it all," he said, saying the jet can perform both "air-to-air and air-to-ground operations."
That could make the F-16s invaluable in providing aerial support to advancing troops as Ukraine pushes to reclaim occupied territory.
Downie, who regularly flies the fighter jet, described it as "the backbone of the United States Air Force."
But it could be some time before the F-16 is the backbone of Kyiv's air force.
Training delays
Operating such an advanced fighter jet requires months of training.
Some training has already begun for Ukrainian pilots, Dutch Prime Minister Mark Rutte said Sunday, but it's just language lessons so far. 
Ukraine only recently submitted names of the pilots to be trained, and more than half of them need English training to be able to read commands and manuals, a U.S. official said.
Mechanics and engineers also need to be trained, while there are a number of lingering questions, including what weapons the West will supply to arm the jets.
That means it could take until next summer at the earliest, if not much longer, for Ukrainian squadrons to be ready for battle, analysts said.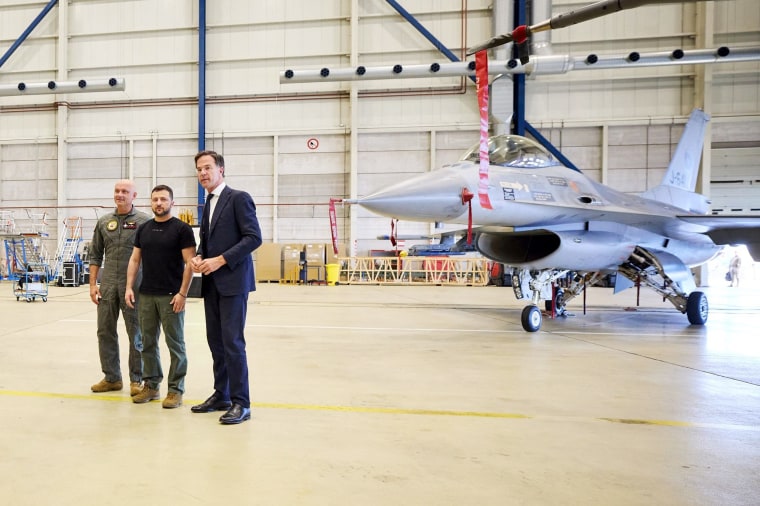 The delays have confused and frustrated Ukrainian officials, as well as front-line military members who spoke to NBC News. A Ukrainian official said they were hesitant to publicly discuss the U.S. explanation for the delays, because the F-16s are a "sensitive" topic. 
Keir Giles, a Russia expert and a senior consulting fellow at Chatham House, a London think tank, said: "It is too late for this year's counteroffensive. It would have been possible if Ukraine's coalition of backers had moved promptly.
"The biggest holdup has been not the technical aspects, like logistics, training, support, infrastructure, delivery, etc., but the political block that has been put on it beforehand," he said.
Retired U.S. Army Col. Jack Jacobs said the U.S. had "balked for a long while at sending them to Ukraine because we were worried about the loss of F-16s over territory that is controlled by Russia."
The concern now seems to have subsided, experts said, though the delay has nevertheless set back the window for deployment.
But with the conflict set to stretch on, the F-16s will still have a chance to show their effectiveness.
"Making Ukraine stronger, including through making sure that it has sufficient air power, is a key ingredient for long-term security, as well as for the outcome of the present war," Giles said.