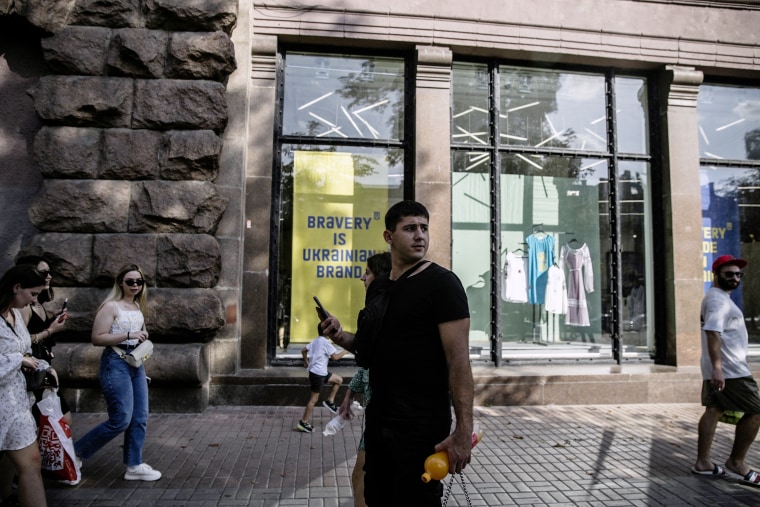 "We should be aware that this week Russia may try to do something particularly nasty, something particularly cruel," President Volodymyr Zelenskyy warned in a weekend video address. The Defense Ministry also urged Ukrainians to be "especially careful on Aug. 24 due to the threat of missile strikes and provocations from Russia." 
As a precaution, Independence Day celebrations have been canceled across the country, including in the capital, Kyiv, with Ukrainians told to avoid large gatherings. Local authorities — from Kharkiv in the east to Lviv in the west — have warned people to pay more attention to air raid sirens, respect curfews and work from home, if possible. 
Iryna Komar said she is worried about new strikes on major cities, including her native city, Chernivtsi, in western Ukraine. 
"It will be tense," Komar, 26, said in Ukrainian on the phone from Chernivtsi. 
"Personally, I don't plan to go anywhere to celebrate," said Komar, who works as a gymnastics coach. "I will only go to work as usual, but I will avoid going outside again."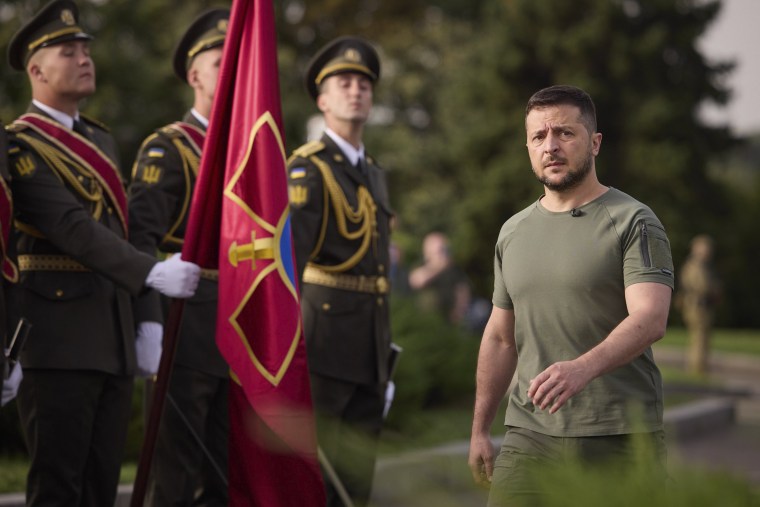 The U.S. warned Tuesday that it had information that "Russia is stepping up efforts to launch strikes against Ukraine's civilian infrastructure and government facilities in the coming days." Authorities in Kyiv had already banned mass public gatherings from Monday to Thursday, warning of the Russian threat. 
Heeding the warning, Olena Rozvadovska, a former journalist who runs a charity helping children in Kyiv affected by war, has canceled all events until Thursday. 
"We don't want to succumb to panic, but we also want to pay attention," Rozvadovska, 38, said in Russian by phone from the capital. 
The sense of dread has hung over Ukraine since before Russia's invasion changed the lives of people like Rozvadovska. But it has been especially acute of late.
"There is always a threat hanging over us," she said. "But I realize that these days can be especially unsafe."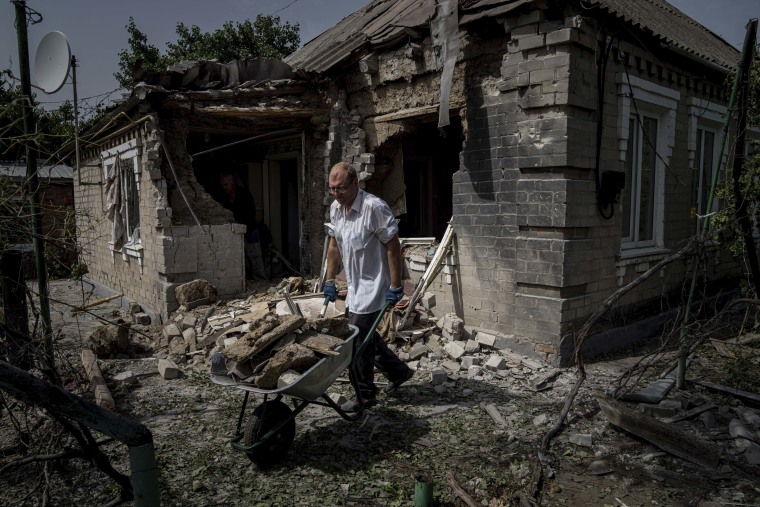 Moscow's forces retreated from Kyiv after they failed to take it in the early weeks of the war, but the city has been hit by occasional rocket strikes, some of them deadly. 
In a symbolic display of the defiance that helped its military hold out, Ukraine paraded destroyed Russian military equipment through the heart of Kyiv over the weekend.
It allowed children to climb atop damaged tanks and armored vehicles taken from the front lines, six months after the Russians sent them across the border hoping they would swiftly be parading through the streets in victory.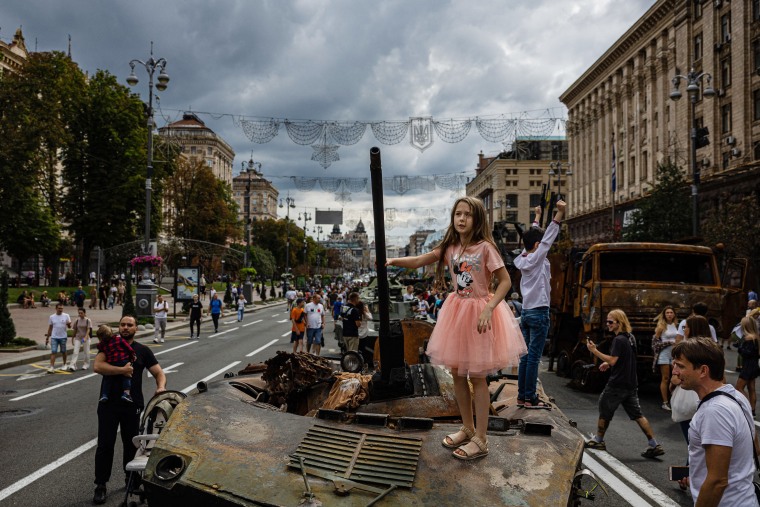 That Ukraine would even have a chance to celebrate its independence Wednesday was very much in doubt when Putin launched his invasion Feb. 24. Few expected it to last six weeks, let alone six months, as Ukraine was outnumbered and outgunned by a neighbor determined to reverse its break from the then-Soviet Union in 1991 and its subsequent drift toward the West. 
But while Russia now controls large territories in the south and the east, it has failed to capture Kyiv, and it is making only incremental progress in the industrial Donbas region, where Putin has focused his military campaign.
The fears around what could happen Wednesday come after a series of successful attacks on Russian positions in annexed Crimea, which military analysts have said suggest a growing ability by the Ukrainians to strike well beyond Russian defensive lines — unnerving the Kremlin and sparking calls for retaliation. 
The killing of the daughter of a prominent Russian ultranationalist in a car bombing over the weekend could also provide the Kremlin with another excuse to escalate, after Russia's FSB security agency blamed Ukraine for it. Ukraine has denied involvement, but Russian state media has been filled with calls from hawkish propagandists for strikes on Kyiv. 
Some of the highest-profile attacks of the war have coincided with notable events.
A 3-month-old was among the dead when a strike hit a residential building in the southern city of Odesa around Orthodox Easter in late April, and even more people were killed when a busy mall in the central city of Kremenchuk was struck around Ukraine's Constitution Day on June 27. 
Ukrainian media has been cautiously speculating about what could happen Wednesday, talking about scenarios from a massive rocket strike to the possibility of a nuclear incident amid international alarm over the safety of the Zaporizhzhia power plant in the Russian-controlled south. 
The United Nations has also expressed concern that Moscow could use the symbolic date to kick-start a trial of Ukrainian soldiers who surrendered in the southern city of Mariupol after the Russians captured it in May. The Kremlin is likely to use the trial, which Kyiv has already condemned as a show, as renewed justification for a war that shows no sign of ending.
Any Russian attacks will be met with a "powerful response," Zelenskyy said Tuesday. "I want to say that each day … this response will grow — it will get stronger and stronger."
Daryna Mayer and Artem Grudinin reported from Kyiv, and Yuliya Talmazan reported from London.