Russian forces are pressing their offensive in Ukraine's east, President Joe Biden says the Kremlin must "pay a dear price" for its actions and a Russian soldier gets a life sentence in Ukraine's first war crimes trial. 
Here's what to know today, as Russia's invasion of Ukraine reaches the end of its third month.
1) Fierce battle for eastern Ukraine takes heavy toll
Ukrainian President Volodymyr Zelenskyy said his country may be losing up to 100 soldiers a day as a fierce battle rages for control of the east, the new focus of Russia's invasion. 
Russian forces made moderate advances late last week in the Donbas, and over the weekend Moscow's troops kept the pressure on Ukraine's industrial heartland, with intense fighting now focused on a key city in the region.
During a news conference Sunday, Zelenskyy said that "50 to 100 people a day can die in the most difficult direction, in the east of our country." He did not elaborate further on the comment, one of the first official estimates of the toll of Kyiv's defensive fight.
The Ukrainian military said early Monday that the Russian army continues trying to break through its defenses in the Luhansk area of the Donbas.
It said Russia has "concentrated its efforts'' in the direction of Severodonetsk, the main city still under Ukrainian control in the province, whose capture would represent a significant strategic gain for Moscow. In a TV interview, Luhansk Gov. Serhii Haidai accused the Russian army of using "scorched-earth" tactics.
2) Zelenskyy calls for 'maximum' sanctions in Davos speech
Ukraine's leader called for "maximum" sanctions against Russia as he addressed corporate executives and government officials at the World Economic Forum in Davos, Switzerland, on Monday.
"This is really the moment when it's decided whether brute force will rule the world," Zelenskyy said of Russia's invasion of his country and the threat it poses to global security.  
Speaking via video link from Kyiv, Zelenskyy said sanctions need to go further than they do now to stop Moscow's aggression and should include a Russian oil embargo, the blocking of all Russian banks and cutting off all trade with Moscow.
"This is what sanctions should be: They should be maximum, so that Russia and every other potential aggressor that wants to wage a brutal war against its neighbor would clearly know the immediate consequences of their actions," Zelenskyy said.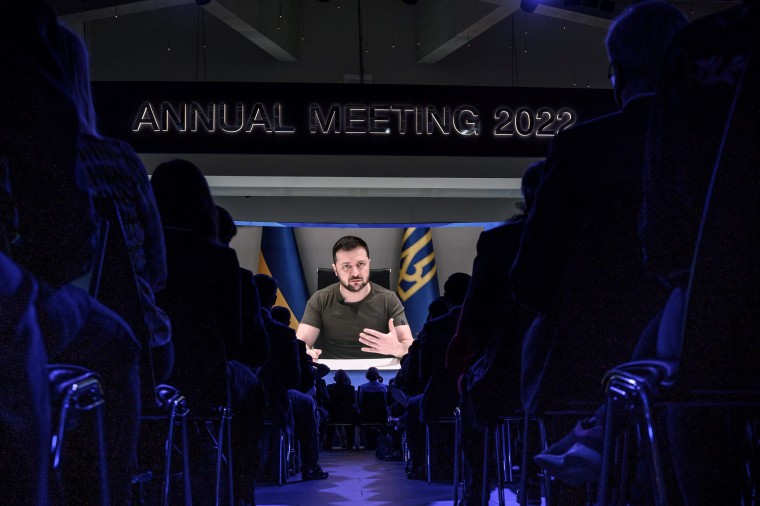 3) Biden says Russia must pay price for 'barbarous' invasion
Zelenskyy's appeal mirrored President Joe Biden's earlier relation of Western efforts to oppose the Kremlin with other potential aggressors.
Biden made waves early Monday when he said the United States would be willing to intervene militarily if China were to invade the self-governing island of Taiwan. The question came up in the context of Ukraine, and the president said the burden to protect Taiwan is "even stronger" after Russia's invasion.
Biden added that deterring China from attacking Taiwan was one reason why it's important that Russian President Vladimir Putin "pay a dear price" for his "barbarous invasion of Ukraine."
He added that the "long-term" price for Moscow would come in the form of sanctions that have been imposed by Washington and its allies.
4) Russian soldier gets life sentence in war crimes trial
A Russian soldier was sentenced to life in prison Monday for killing an unarmed Ukrainian civilian, in the first war crimes trial since Moscow's invasion three months ago.
Sgt. Vadim Shyshimarin, 21, pleaded guilty to violating the laws and customs of war under a section of the Ukrainian criminal code after he admitted to shooting an unarmed 62-year-old man in the head in a village in northeastern Ukraine in the early days of the war.
Shyshimarin said he took the fatal shot under pressure from two officers and appealed for forgiveness from the civilian's wife, who also appeared in court.
The verdict will likely be the first of many, with Ukraine ramping up its efforts to prosecute captured Russian soldiers for alleged atrocities against civilians. Russia has denied targeting civilians.
5) Video shows Russians clearing mines at Azovstal plant amid mixed messages over fate of surrendered soldiers
The above video shows Russian troops clearing mines from the Azovstal steel plant in Mariupol, the long-besieged port city where the Kremlin's forces took full control last week.
Russia sent mixed messages about the fate of the Ukrainian soldiers who surrendered after months defending that last stronghold.
Denis Pushilin, the Kremlin-backed head of the self-proclaimed Donetsk People's Republic in eastern Ukraine, told the Interfax news agency Monday that all Ukrainian prisoners who surrendered at Azovstal will face an "international tribunal" on the territory of the republic.
Meanwhile, Russia's deputy foreign minister, Andrei Rudenko, said Monday that a prisoner exchange with Ukraine for the captured soldiers was possible.
"This is not within my competence, but, probably, this is being discussed somewhere," Rudenko told reporters, according to Russia's state news agency Ria.
Kyiv has voiced hope for a prisoner swap in the days since it ceded control of the crucial southeastern city, but Moscow has indicated the Ukrainian troops could be put on trial and be treated as "war criminals."