Ukraine has vowed to track down the Russian forces it said killed an unarmed prisoner of war after a graphic video appearing to show the incident surged across social media and fueled public outrage.
Kyiv's military identified the soldier Tuesday, hours after officials said they had opened a criminal investigation and urged international war crimes prosecutors to act.
The 12-second video that circulated across Telegram and Twitter on Monday shows a man — his face seemingly worn and slightly blackened with dirt — with a cigarette perched in his mouth. He is dressed in what appears to be a soldier's camouflage uniform that bears a Ukrainian flag insignia.
Standing in a small ditch in the middle of a wooded area, the unarmed man takes one last puff and exhales a plume of smoke, before he says quietly: "Slava Ukraini" or "Glory to Ukraine."
Gunfire can then be heard almost immediately as the man is fired at from an unseen shooter or shooters, before crumpling to the ground.
Right at the end of the video, a voice is heard appearing to say the words "Die, b————"  in Russian.
NBC News was not able to independently verify what the video shows, its location or the date it was shot, though a reverse image search suggested that it had not circulated prior to Monday.
The Russian Defense Ministry did not immediately respond to a request for comment.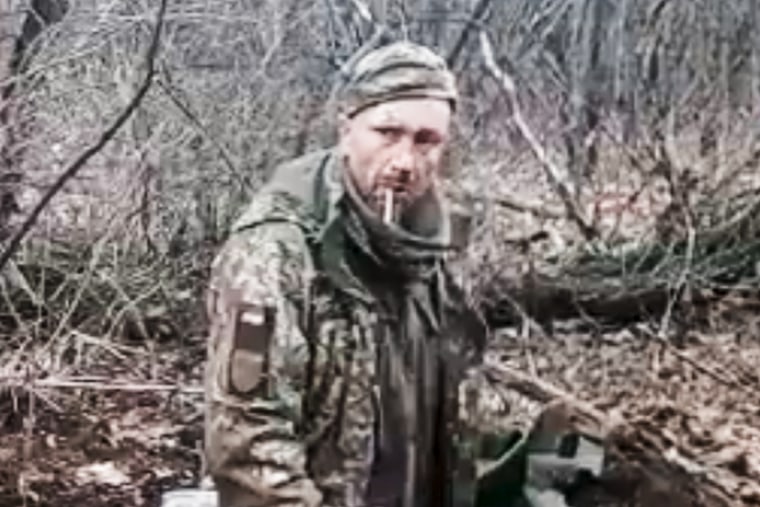 Ukraine's military named the man as Tymofiy Mykolayovych Shadura. He was a member of the 30th separate mechanized brigade who had been missing around the city of Bakhmut in eastern Ukraine since early February, the army said in a Facebook post early Tuesday.
It said that his body remained in an area occupied by Russian forces and that a final identification would take place once the body is returned.
"The command of the 30th separate mechanized brigade and the brothers of the Hero express their sincere condolences to his relatives and friends. Revenge will be inevitable. Glory to Ukraine! Glory to heroes!" the statement added.
The "Glory to Ukraine" phrase uttered in the video has become a common greeting and an international rallying cry since the start of the war last year.
Across social media, officials and civilians expressed a mix of outrage at the Russians they said were responsible for the alleged shooting and admiration for the defiance of the man they quickly hailed as a hero.
"I want us all in unity to respond to his words, 'Glory to the hero. Glory to the heroes. Glory to Ukraine,'" President Volodymyr Zelenskyy said, referring to the man's last words in a post on his Telegram account Monday evening. "And we will find the murderers," he added.
"Horrific video of an unarmed Ukrainian POW executed by Russian forces merely for saying 'Glory to Ukraine'. Another proof this war is genocidal," Ukrainian Foreign Minister Dmytro Kuleba said on Twitter on Monday.
He said it was "imperative" that the International Criminal Court's prosecutor, Karim Khan, who recently concluded a visit to Ukraine, "launches an immediate ICC investigation into this heinous war crime."
"Russia will have to answer for every war crime committed," Ukrainian Human Rights Ombudsman Dmytro Lubinets wrote on Telegram. "This is a manifestation of baseness and cruelty," he said, adding that he had sent the video to Kyiv's international partners.
Ukrainian Prosecutor General Andriy Kostin said that authorities had registered the incident as a criminal case under a part of the country's criminal code that covers alleged violations of war laws and customs.
"Today, the video of the brutal and brazen shooting of an unarmed man shook the public," he said, vowing that those involved would be held accountable.
Speaking at the Munich Security Conference in February, Vice President Kamala Harris said that Russia had committed "crimes against humanity" in its war against Ukraine, adding that "justice must be served."
Kyiv has accused the Kremlin's forces of committing atrocities throughout the war and urged international action to hold them to account. Russia has consistently denied targeting civilians throughout the conflict.