KIEV, Ukraine — Opposition leader Mikheil Saakashvili was deported from Ukraine to Poland on Monday after being detained by armed, masked men at a restaurant in Kiev and rushed to the airport, Ukrainian officials and his supporters said.
Ukraine's border guard agency had to use force to counter Saakashvili's supporters at the Kiev airport, Oleh Slobodyan, a spokesman for the agency, said on Facebook.
Saakashvili called the move "a kidnapping."
Saakashvili was stripped of Ukrainian citizenship while he was abroad last year, but he forced his way back into the country from Poland in September. Since then, he has led repeated protests against Ukrainian President Petro Poroshenko and the official corruption that still plagues the country.
Poland's border guards said on the agency's website that Saakashvili was admitted to Polish territory Monday at the request of Ukrainian immigration authorities.
He was permitted into Poland as the spouse of a European Union citizen, the Polish guards said. Saakashvili's wife is Dutch, and both the Netherlands and Poland are EU nations.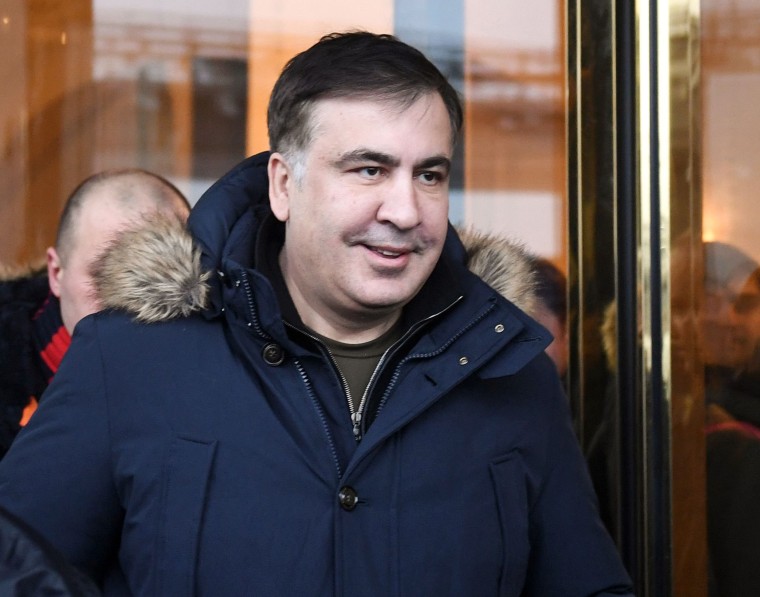 Upon his arrival in Poland, Saakashvili said his deportation showed Poroshenko's weakness. He denounced the Ukrainian president as a "sneaky speculator who wants to destroy Ukraine" in a Facebook statement.
Saakashvili, Georgia's president from 2004-13, came to Ukraine after his presidency ended as an ally of Poroshenko, who appointed him governor of the southern Odessa region. He resigned from that post in 2016 and harshly criticized Poroshenko for failing to stem corruption.
"I was very nicely met by Polish side, and Ukrainian side was absolutely outrageous, total lawlessness — it was a kidnapping, illegal one. But Poles are very good and I am very grateful," Saakashvili told Polish Radio RMF FM as he left Warsaw Airport.