VILHIVKA, Ukraine — When Russian tanks rolled into this small village just outside Kharkiv, Ukraine's second-largest city, in March, Olga Kotenko pleaded with her son, Volodymyr, that it was too dangerous to keep delivering food and medicine to elderly people in the neighborhood.
As the shelling got worse, she became exasperated with her 35-year-old son. She would shout and swear at him, while trying to physically block him from leaving the house they shared.
"He wouldn't listen," said Olga, 68. "Sometimes, he would come home and say, 'Mom, you can't imagine the bombing we were under today.'"
On March 15, she said, Volodymyr was driving home after helping people in the neighboring town of Malaya Rohan when his car was hit by fire from a Russian tank. She said a witness to the attack called the Kotenkos to let them know Russian soldiers had killed Volodymyr.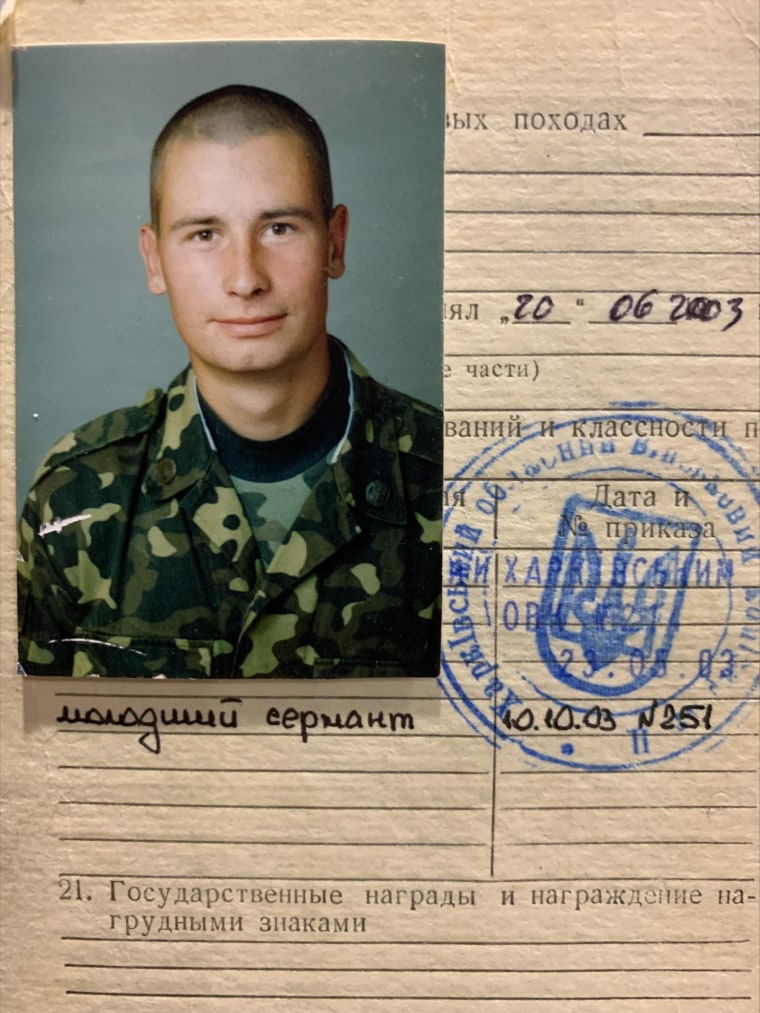 It wasn't safe to leave the house due to the fighting, but Olga and her husband, Vladimir, went to look for their son anyway. When they found his charred car, it didn't look like anyone was inside. "We thought that maybe someone made a mistake, and he was still alive," Olga said.
But as they got closer, the couple saw their son's body had been seared into the driver's seat. Some limbs had been blasted across the road. Only a foot was still intact.
"We put him back together in pieces," Olga said.
By hand, they carried the bits of Volodymyr's body that they were able to scrape out from the car and walked 9 miles back to their home. "I sometimes knocked on houses, asking for a bag or a wheelbarrow, but we couldn't find anything," she said.
Back at their house, the Kotenkos packaged Volodymyr's body parts into white tarps, dug a grave in their back garden and said goodbye to their son. They put a wood crate on top of the grave to keep the dogs from digging it up.
Olga said she didn't need a prosecutor to tell her that the killing of Volodymyr was a war crime. She said that part was obvious to her. But when Ukrainian forces pushed Russian troops out from the region in early May, liberating Vilhivka for the first time in weeks, she saw an ad on television encouraging people to come forward with information about Russian aggression. She thought it was important to report what happened.
When Olga agreed to let a team of war crime investigators come to her house last week, she didn't realize that would mean digging up Volodymyr's remains and taking them to a morgue in Kharkiv so that forensic analysts could collect evidence.
"Can't you tell from him what happened?" she said through tears as investigators lifted the tarps from the hole in the ground, Volodymyr's decaying remains leaking out through the seams. "That's all that's left of him," she said. "Please don't take my boy."
She'd already buried her son once. She didn't want to do it again.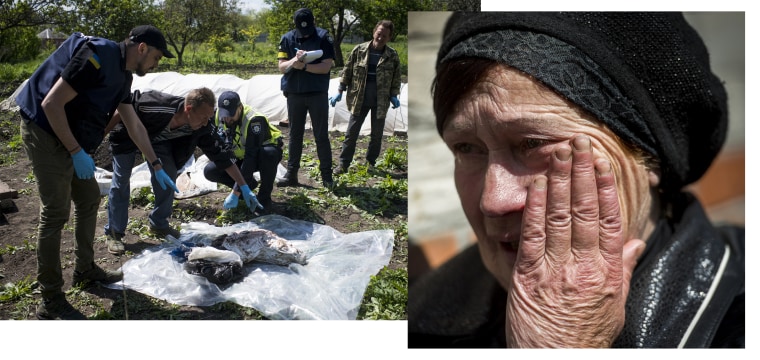 'Seeking justice is worth it'
Standing next to a string of newly reopened coffee carts along the Lopan River, Alexander Ilyenkov, the head prosecutor for the Kharkiv region, said that Volodymyr's case was one of the hardest he has dealt with yet.
Since Ukraine retook the villages around Kharkiv, he and a team of roughly two dozen investigators have been spending their days in towns like Vilhivka collecting evidence of war crimes.
Ilyenkov and his team photograph everything: bullet marks in the front gate of a home where a civilian was found shot in the head; jagged pieces of shrapnel wedged into a nearby vegetable garden; craters in the asphalt road where an enemy missile landed. They collect food cans, wound dressing and notebooks left behind by the Russian forces. They record as many interviews with witnesses as they can.
It's all part of Ukraine's commitment to hold Russian forces accountable for the alleged murder, torture and rape of civilians, even as the conflict is ongoing. The prosecutor general's office said Tuesday it had already documented more than 14,000 war crimes, identified more than 600 Russian suspects and started prosecuting around 80 of them.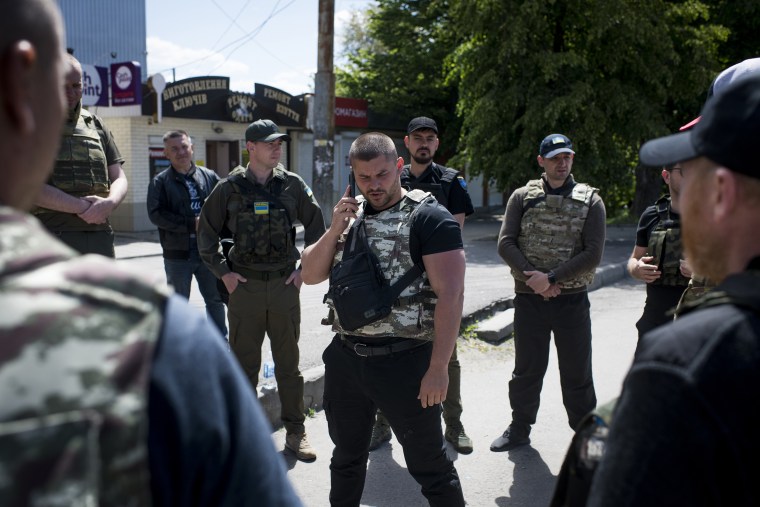 Trials have begun for some captured soldiers.
Last week, a 21-year-old Russian soldier was sentenced to life in prison for killing an unarmed civilian after a Kyiv court held the first such trial of the conflict. Two other Russian soldiers were sentenced to 11 years and six months in prison Tuesday after pleading guilty to shelling the town of Derhachi in eastern Ukraine.
Ukrainian officials in Kyiv acknowledge that most trials will be held in absentia, given that there are only so many Russian soldiers in Ukrainian custody. But Denys Monastyrsky, the minister of internal affairs, said Ukraine remains determined to "establish who committed certain crimes and collect the whole picture."
Kharkiv investigators say they don't know yet who is responsible for killing Volodymyr.
The process of collecting evidence against Russia is not just physically exhausting, but also emotionally taxing, they say.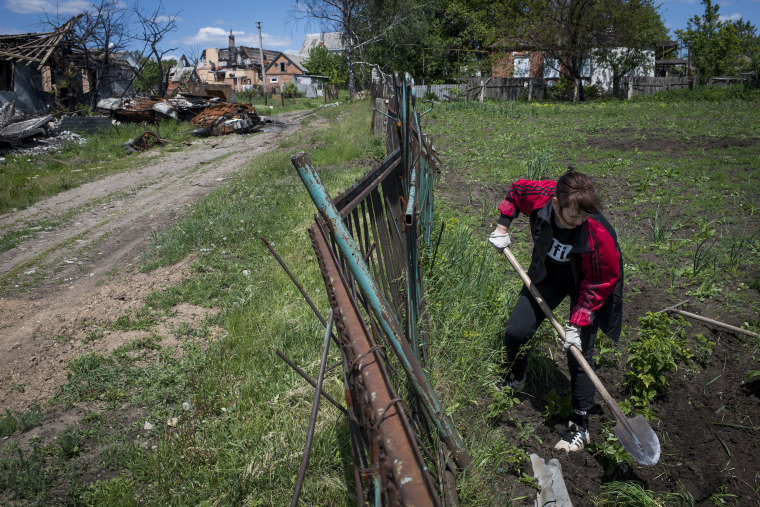 Not all Ukrainians are eager to cooperate. Some people who buried dead family members in their backyards during the occupation don't want to go through the trauma of an exhumation. Others whose houses were destroyed by Russian shelling aren't interested in waiting around for investigators to show up — they just want to get on with putting their lives back together.
It's Ilyenkov's job to convince them otherwise.
"This is a difficult, emotional part of war, and it happens often," he said, speaking of Olga's reaction a day earlier, when she learned that the investigators were there to take her son's remains away. Ilyenkov had asked his team to work as quickly as possible to make it easier on Olga who, dressed in black funeral attire, could hardly speak through her tears.
"A lot of people are in messy conditions. This territory was occupied for a long time and they're not emotionally stable," he said. "We try to protect people's trauma and emotional well-being as best we can."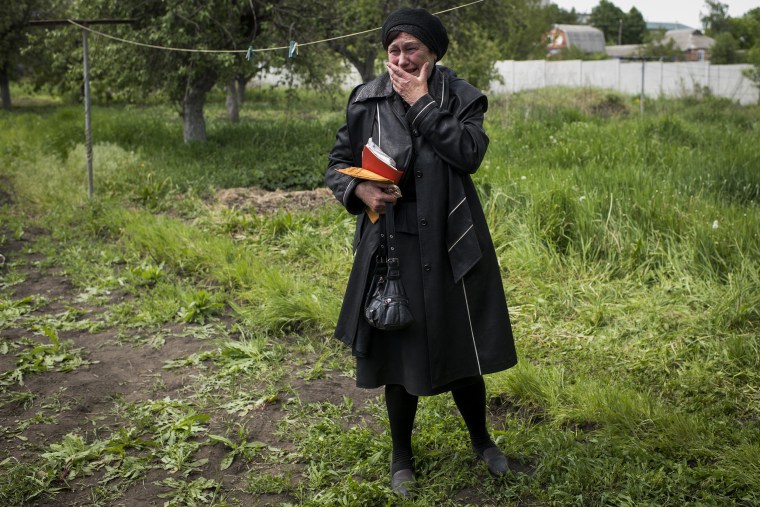 Most people in Ilyenkov's office became prosecutors to go after corruption, theft and the occasional murder — not mass murder and war crimes.
It's an enormous learning curve.
The prosecutor general's office in Kyiv started holding weekly online seminars to teach new skills, like how to tell the difference between the types of weapons used by Russian forces.
"No one has ever dealt with a missile strike before," Ilyenkov said. "These are completely different situations."
On top of that, he says his office is running thin on resources.
Most of the country's supply of body bags has gone to the military, forcing prosecutors to wrap dead civilians in towels and blankets. They're nearly out of the SD cards they use to store photos of evidence and recordings of witness testimonies. They rely on volunteers to help dig up graves for the exhumations.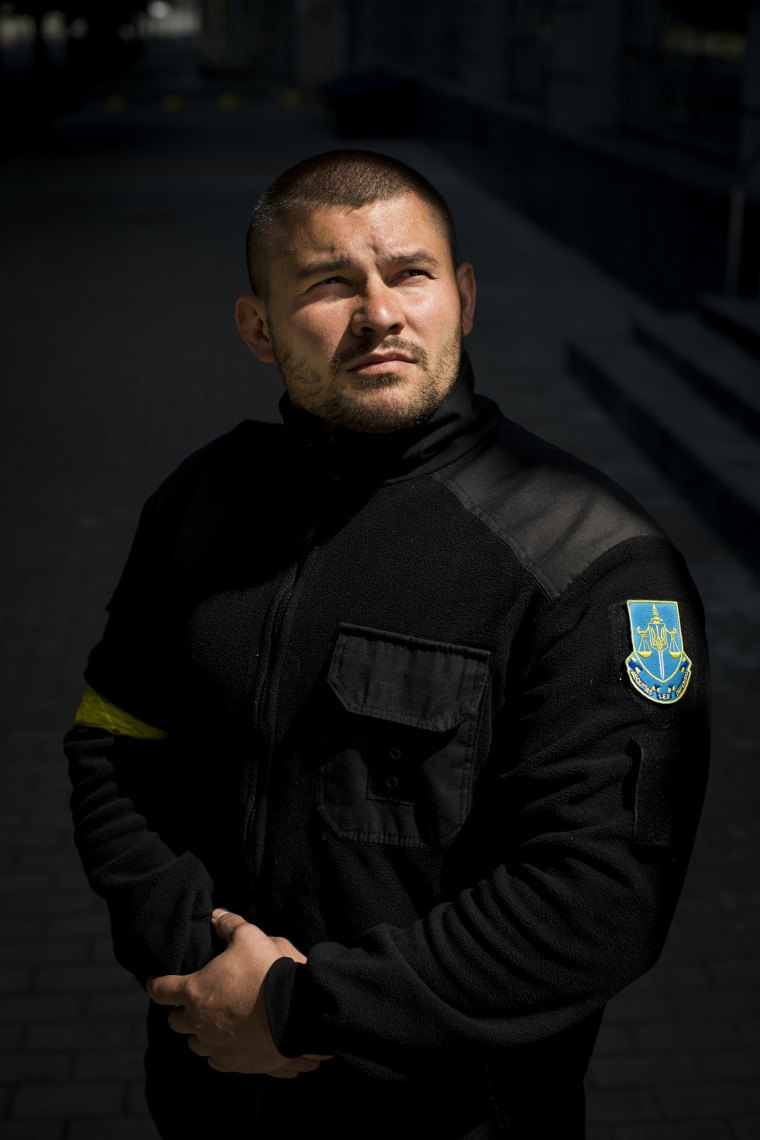 Ilyenkov says three months into the war, he still has trouble sleeping at night. The faintest sounds keep him up and he misses his wife, who left with their newborn son just a few days after the war started. He doesn't know when, or if, it will be safe for them to come back home again.
He knows that high-level Russian military officials may never be held accountable for their actions. He doesn't make any promises to the families of victims that they will be able to get their day in court.
"I still feel like seeking justice is worth it," Ilyenkov said.
'Everything about this has been shocking'
The day after Volodymyr was exhumed, Olga waited outside a Kharkiv morgue to collect her son's body to bury him for a second time. 
The investigation did not take long, said Oleg Podorozhniy, a forensic analyst at the morgue. There wasn't much left of Volodymyr to inspect.
Smoking a cigarette in the parking lot behind the morgue as sounds of missile strikes echoed in the distance, Podorozhniy said he couldn't disclose the findings of the examination since it was part of an ongoing investigation.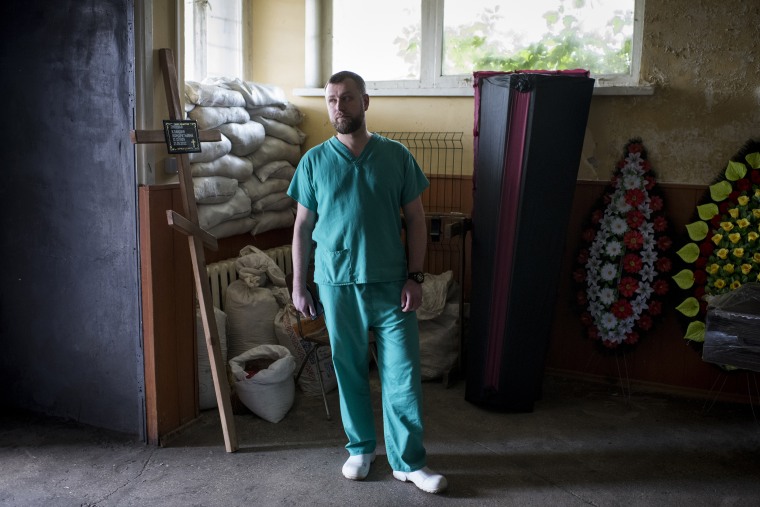 The war has been hard on everyone, Podorozhniy said. The coroners try to work as fast as possible to make it easier on grieving families, but some investigations are complicated. The causes of death are different from the cases they usually encounter. It's no longer illnesses and factory injuries, but shrapnel and explosions. Some investigations can take days, especially when it is children whose small bodies have been blown up and left unrecognizable.
"Everything about this has been shocking," Podorozhniy said. "But I guess we're getting used to it."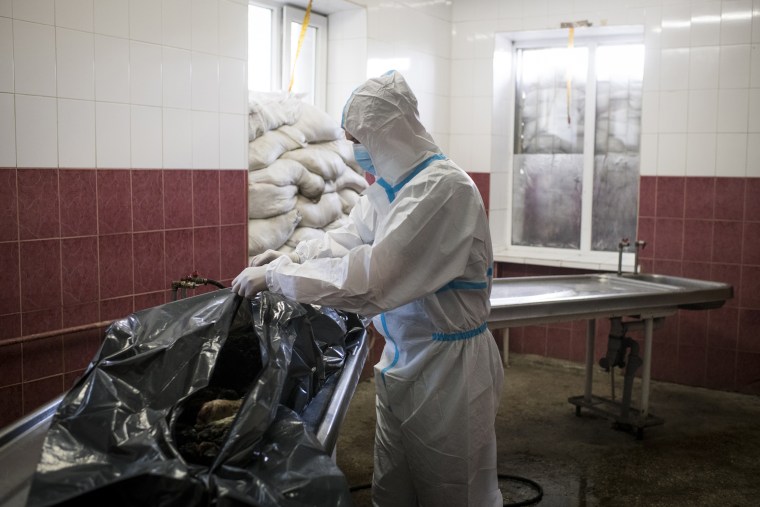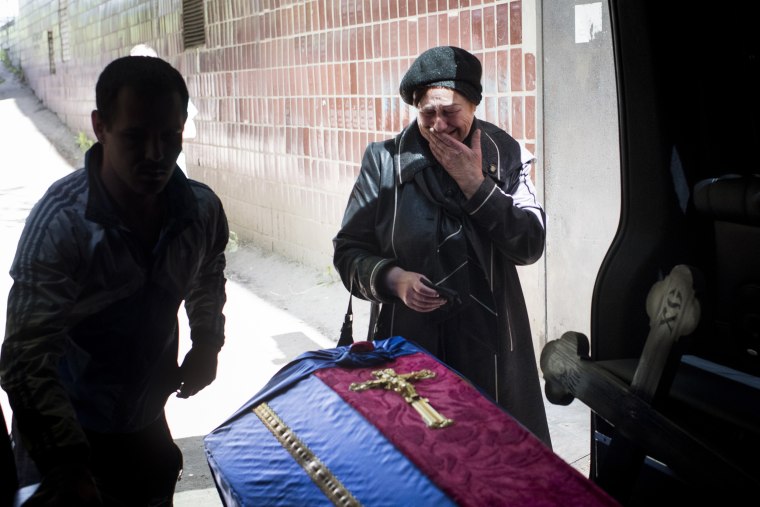 Morgue workers dressed in white hazmat suits zipped up the body bag containing Volodymyr's remains and placed him in a coffin that Olga had picked out earlier that morning.
She waited in the alley next to the morgue for the workers to load the coffin into the back of a van.
Olga was headed to the cemetery — she was going to give her son a proper burial this time.