The cease-fire ordered unilaterally by Russian President Vladimir Putin to coincide with the start of Orthodox Christmas began Friday, but was rejected by Ukraine and its allies as a cynical move designed to buy time on the battlefield and favor in the eyes of the public.
The 36-hour truce declared by Russia came into effect at midday Moscow time (4 a.m. ET) and was due to last until midnight Saturday (4 p.m. ET).
But Kyiv dismissed the suggestion of a pause in the hostilities for the holiday and the situation on the conflict's front lines was unclear. About an hour after the Russian cease-fire began, air raid sirens sounded in the capital, Kyiv, though no explosions were heard.
Ukrainian officials accused Putin of using Christmas as a cover to buy time for his military to regroup.
"Now they want to use Christmas as a cover to stop the advance of our guys in the Donbas for a while and bring equipment, ammunition and mobilized people closer to our positions," Ukrainian President Volodymyr Zelenskyy said late Thursday.
"Everyone in the world knows how the Kremlin uses lulls in the war to continue the war with new force," he added.
The country's Western allies echoed that assessment and labeled the move a propaganda ploy.
President Joe Biden told reporters Thursday that Putin was still willing to bomb "hospitals, nurseries and churches" Dec. 25 and at New Year.
"I think he's trying to find some oxygen," he said.
The United States said it was not treating the proposed cease-fire as a strategic shift in Russia's approach to the war, which will be a year old Feb. 24.
"We believe this is a cynical ploy, so that the Russians can use a bit of time ... to regroup and ultimately to re-attack with potentially even more vengeance, even more brutality, even more lethality if they had their way," State Department spokesman Ned Price told a press briefing Thursday.
Putin's surprise order instructed his defense minister to institute the cease-fire "along the entire line of contact between the parties in Ukraine" from Friday, which is Christmas Eve for the Russian Orthodox Church.
The church, which uses the ancient Julian calendar, celebrates Christmas on Jan. 7. Some Orthodox Christians in Ukraine recently started celebrating Christmas on Dec. 25 to show their anger at and defiance of Moscow.
"Based on the fact that a large number of citizens professing Orthodoxy live in the areas of hostilities, we call on the Ukrainian side to declare a cease-fire and give them the opportunity to attend services on Christmas Eve, as well as on the Day of the Nativity of Christ," Putin said.
The wording and the sudden nature of the proposal fueled suspicion, with analysts suggesting that the cease-fire was an attempt by Putin to further damage Ukraine's reputation at home and maybe even abroad.
"Putin cannot reasonably expect Ukraine to meet the terms of this suddenly declared cease-fire and may have called for the cease-fire to frame Ukraine as unaccommodating and unwilling to take the necessary steps toward negotiations," said the Institute for the Study of War, a Washington think tank.
"Such a pause would disproportionately benefit Russian troops and begin to deprive Ukraine of the initiative," it added in its assessment late Thursday.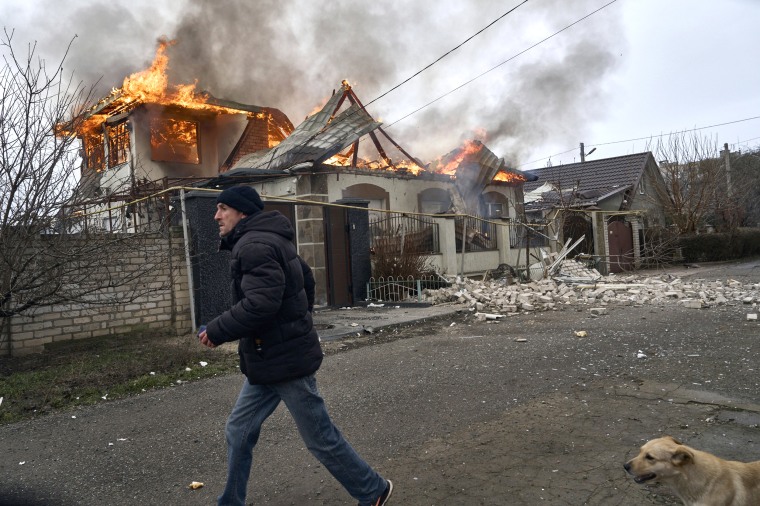 Former Russian President Dmitry Medvedev, the deputy head of Russia's Security Council, said those who rejected Putin's proposal for a Christmas truce were "clowns" and "pigs."
"The hand of Christian mercy was extended to the Ukrainians," he said in a Telegram post. "But pigs have no faith and no innate sense of gratitude."
Dmitry Polyanskiy, the head of Russia's permanent mission to the United Nations, said on Twitter that Ukraine has rejected the cease-fire and described its leadership as "ruthless nationalist criminals."
Russian media reported on what it said were shelling attacks by Ukrainian forces after Putin's unilateral cease-fire began, though Kyiv did not say it would pause the fighting. Ukrainian officials also reported Russian attacks earlier Friday.
Officials said an unspecified number of people were killed or injured in at least four explosions in the southern city of Kherson, which was occupied by Russian troops but retaken by Ukrainian forces amid scenes of jubilation in November.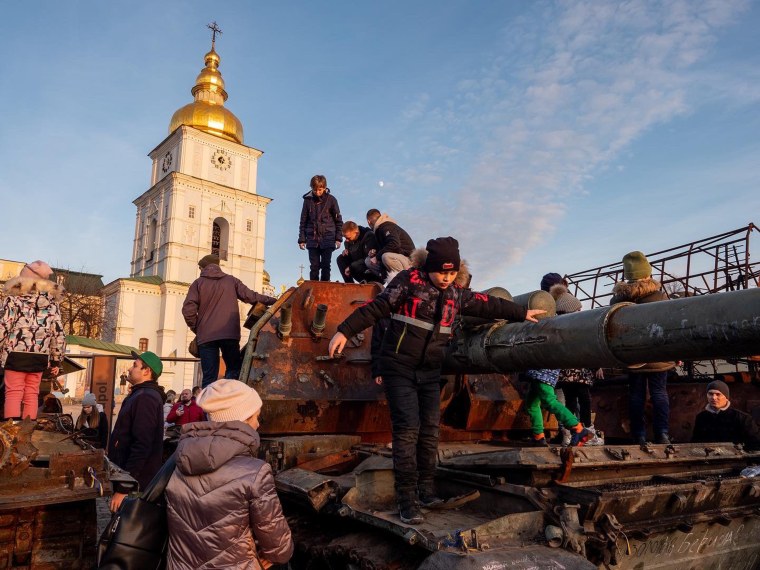 Russian shells hit Kramatorsk, near the front lines in the industrial Donetsk region that Russia claims as its territory, the city's mayor, Oleksandr Honcharenko, said on social media, urging people to stay in shelters.
Citing unspecified intelligence, Iryna Vereschuk, the minister of reintegration of what Ukraine calls the "temporarily occupied territories" of Luhansk and Donetsk, said that Russia was planning to attack churches.
"I urge citizens to be careful and, if possible, to refrain from visiting places with a large crowd of people," she said on Telegram.
NBC News has not verified the claims from either side.
Any Kremlin hopes for signs of a weakening resolve from Ukraine's Western allies in supplying military aid to Ukraine were dashed soon after Putin's cease-fire announcement by the news that the U.S. and Germany were planning to send new armored vehicles.
Washington is set to announce a new $3 billion package of military equipment, including Bradley Fighting Vehicles, on Friday.