A children's hospital in the besieged Ukrainian port city of Mariupol was destroyed in the midst of Russian airstrikes and resulted in more than a dozen injuries, city officials said Wednesday, prompting outcry from humanitarian groups and marking an unsparing show of force against civilian infrastructure.
Video provided by local leaders showed a charred building missing windows and surrounded by piles of debris. The Associated Press reported a series of blasts and a crater extending at least two stories deep at the scene, where soldiers rushed to evacuate victims, including a pregnant and bleeding woman.
The head of Ukraine's Donetsk region reported 17 people were wounded, including staff and mothers in the hospital complex's maternity ward, but there were no immediate reports of injured children or deaths.
"The destruction is enormous," the Mariupol City Council said in a Telegram post about the hospital.
Ukrainian President Volodymyr Zelenskyy also tweeted a video showing damage and said "children are under the wreckage." His claims could not immediately be verified by NBC News, and Russia has repeatedly denied targeting civilians.
The apparent attack by Russia was condemned by international leaders, including U.K. Prime Minister Boris Johnson, who tweeted that it was "depraved," and the Vatican's secretary of state, Cardinal Pietro Parolin, who said "there are no reasons, there are no motivations, to do this."
The bombardment on Mariupol comes as roughly 200,000 civilians have attempted to evacuate the city in recent days without success amid days of intense shelling and as the death toll mounts. Mariupol Deputy Mayor Sergei Orlov said on MSNBC that the estimate of 1,200 civilian casualties is low. He said a mass grave for nearly 50 people was dug Tuesday and a 6-year-old girl had died of dehydration after being "blocked" inside a building.
These are not the final numbers, Orlov said. "We think it's three or four times more."
---
Latest developments on Ukraine:
U.S. officials are concerned Russia could be preparing to use chemical or biological weapons after accusing Ukraine of possibly planning a false-flag chemical weapon attack.
Roughly 35,000 civilians were able to evacuate from some Ukrainian cities and towns Wednesday during what was supposed to be a daylong cease-fire in six areas around the country, Ukrainian President Volodymyr Zelenskyy said.
In the besieged port city Mariupol, local officials accused Russian forces of hitting a children's hospital with airstrikes.
Zelenskyy urged allies to provide air support, warning the world would be responsible for a "humanitarian catastrophe."
The Kremlin accused the U.S. of waging "economic war" with sanctions after Biden banned Russian oil.
---
In Washington, U.S. officials say said they were concerned Russia could be preparing to use chemical or biological weapons in Ukraine after the Russian Defense Ministry accused its neighbor of possibly planning a false-flag chemical weapon attack.
A Biden administration official told NBC News the U.S. is worried the Russians are making this claim against Ukraine "to justify a false-flag operation or them using chemical or biological weapons in Ukraine themselves."
"We do believe that we should be on the lookout for Russia to possibly use chemical or biological weapons," the official said.
In a false-flag operation, one side of a conflict commits an act and tries to make it appear as though the other side committed it, often in order to justify an attack.
Ukraine launched a fresh effort to clear residents from battered areas Wednesday, though it was again beset by accusations that Russian forces had not kept up their end of a cease-fire agreement.
Russia accused the United States of declaring "economic war" as President Vladimir Putin's invasion left his country facing military struggles in Ukraine as well as crippling sanctions and isolation from the West.
Ukrainian officials say Russian forces have bombarded cities and civilians but are straining to make progress in their military offensive during nearly two weeks of devastating war.
Zelenskyy urged the United States and its allies to shore up Kyiv's aerial defenses or share responsibility for "humanitarian catastrophe" with Moscow after a rare sign of disunity between his country's backers over the supply of fighter jets.
Ukraine's fierce resistance has inflicted heavier-than-expected losses on Russia's military, stoking fears that Putin could intensify his push to grind down that defense and worsen an already dire situation.
Hundreds of civilians have died and more than 2 million people have fled to neighboring countries in Europe's fastest-growing refugee crisis since World War II.
The conflict has also fueled concerns about nuclear fallout, both via military escalation and the safety of the country's power plants. In Chernobyl, where Russian troops seized control weeks ago, officials raised new alarm about the plant's safety Wednesday. The International Atomic Energy Agency said it had lost data transmission from its systems to monitor nuclear material at Chernobyl and another Ukrainian power plant under Russian control.
IAEA Director General Rafael Mariano Grossi said the disconnect would not have a critical impact on essential functions, but both developments are raising concerns about the safety and security of the country's nuclear facilities.
New evacuation efforts
Russia and Ukraine agreed to daylong cease-fires and "humanitarian corridors" in six areas after days of largely failed efforts to free civilians trapped without vital supplies. Some of those evacuations appeared to be progressing, including in the northeastern city of Sumy, where officials said more than 20,000 people had left in buses and cars along the established route.
It came a day after about 5,000 people were able to escape Sumy, but residents in Mariupol once again saw their hopes dashed after Ukrainian officials accused Russia of shelling the evacuation route.
The city has been without electricity, heat, water or food for many days and Ukrainian officials have called the situation there catastrophic. Dmytro Kuleba, the foreign minister, accused Russia of holding 400,000 residents hostage by continuing to shell the city.
"There is no heating, electricity, water, natural gas, connection -- in other words, there is nothing," said Aleksey Berntsev, the head of the local Red Cross. "The water is collected from the roofs after the rain."
The six areas authorities were hoping to evacuate Wednesday were Sumy, Mariupol, Enerhodar in the south, Volnovakha in the southeast, Izyum in the east, and several towns in the Kyiv region.
Evacuations from some areas outside Kyiv progressed Wednesday afternoon, but departures from at least three other places appeared to stall, with Ukrainian officials accusing Russian forces of continued shelling. In one town just outside Kyiv, Russian forces blocked buses from passing, according to a post from the Telegram channel of the country's parliament.
Residents from Irpin, a city just outside Kyiv, have been evacuated throughout the past few days as Putin's troops press their advance on the capital. Earlier this week, residents attempting to flee to the capital without a safe corridor came under fire from Russian forces.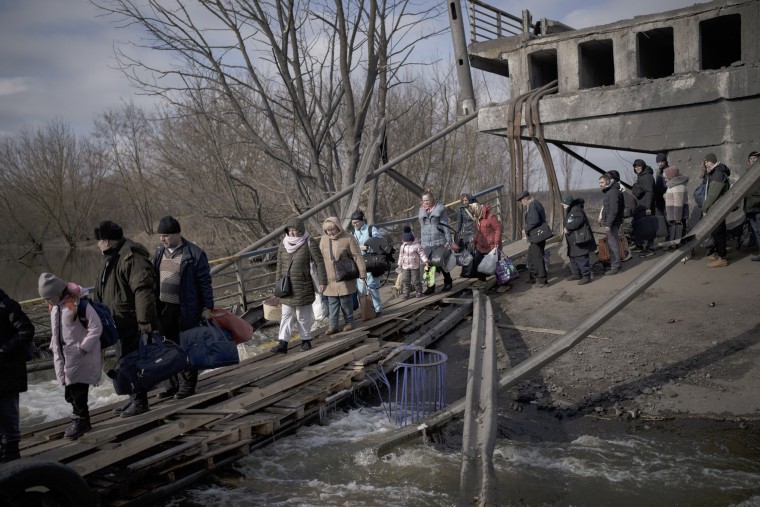 Olena Dovzhenko told NBC News that she and her husband joined a convoy of cars driving to Kyiv on Sunday to escape an increasingly desperate situation in Irpin. Their convoy was shot and her husband sustained multiple injuries, she said. She added that she watched several people in their group die.
"He is so young," Dovzhenko, 19, said of her husband, who is in grave condition. "It's a scary situation."
NBC News has not verified details of those killed or injured.
Ukraine's defense outside Kyiv held off Russian troops' attempts to advance, Britain's defense ministry said in its latest update. But forces encircling other major cities, including Kharkiv, Chernihiv, Sumy and Mariupol, have subjected residents to heavy shelling.
Russian troops have made some progress in the south, advancing along the coast and threatening to establish a land bridge to Crimea, which Moscow annexed from Ukraine in 2014.
Ukraine's surprising ability to prevent Russia from controlling the air has helped dent the advance, though the last week has seen intensifying Russian attacks on major cities and residential areas.
In its intelligence update, Britain's defense ministry said that Ukraine appears "to have enjoyed considerable success against Russia's modern combat aircraft, probably preventing them achieving any degree of control of the air."
U.K. Defense Secretary Ben Wallace said Wednesday that his government would send anti-aircraft weapons and Javelin anti-tank missiles to Ukraine. The Russians are "changing their tactics, and so the Ukrainians need to, too" Wallace told British lawmakers.
Zelenskyy has called on the West to enact a no-fly zone over the country, something the United States and NATO have rejected, fearing it could escalate the conflict into a broader war on the continent.
Soviet-era jets
Washington and Europe have instead focused on punishing Putin for the invasion and backing the government in Kyiv that he was almost certainly hoping to remove and replace with a regime friendlier to the Kremlin.
But there was a rare sign of disunity in that effort Tuesday.
The Defense Department rejected what it said was an unexpected offer by Poland to have the U.S. take custody of Soviet-era fighter jets that would likely then be transferred to Ukraine.
The Biden administration on Wednesday ruled out the transfer, saying it would be a "high risk" step that could ratchet up tensions with Russia, the Pentagon said.
Poland had offered to donate Soviet-era MiG 29 aircraft to Ukraine via a U.S. air base in Germany, but Defense Secretary Lloyd Austin told his Polish counterpart, Mariusz Błaszczak, that the U.S. opposed the proposal, Pentagon press secretary John Kirby told reporters.
In a phone call with the Polish defense minister, Austin "stressed that we do not support the transfer of additional fighter aircraft to the Ukrainian air force at this time, and therefore have no desire to see them in our custody, either," Kirby said.
The U.S. has said it would support Poland's or another NATO member's sending jets to Ukraine but has given no indication it would act as an intermediary, with countries eager to avoid becoming too closely embroiled in the conflict.
Zelenskyy pushed for his two allies to quickly reach an agreement to supply his country with aircraft.
"It's not a pingpong game — it's human lives we are talking about," he said in a speech posted to Telegram.
Vice President Kamala Harris was visiting Warsaw on Wednesday in a previously scheduled trip to the NATO ally that has taken in hundreds of thousands of Ukrainian refugees.
U.S. officials estimated that 2,000 to 4,000 Russian soldiers had been killed thus far. On Wednesday, Russia's defense ministry acknowledged that some conscripts were taking part in the conflict after multiple denials by Putin, who said only professional soldiers had been sent in.
The ministry said that some of them had been taken prisoner by the Ukrainian army, according to Reuters.
Nuclear power plant concerns
Ukrainian officials expressed alarm Wednesday about a loss of power at the Chernobyl nuclear power plant, the site of the world's worst nuclear disaster in 1986.
The site was disconnected from the power grid, according to officials, who blamed the situation on the Russian military and urged a cease-fire in the area to allow crews to restore power.
The IAEA said in a tweet that it saw "no critical impact on safety," though the development violated a "key safety pillar."
It was unclear what exactly caused the damage. NBC News has reached out to the Russian government for comment.
Reserve diesel generators were able to power the plant for 48 hours, Kuleba tweeted.
"After that, cooling systems of the storage facility for spent nuclear fuel will stop, making radiation leaks imminent," he said. The IAEA said, however, that there was enough cooling water at the site to prevent the spent fuel from overheating without the need for power.
The agency also said it had lost data transmission to monitor nuclear material at the site and Zaporizhzhia, which is home to Europe's largest nuclear plant that Russian forces took control of last week. Operating staff have been held hostage for four days, according to Energy Minister Herman Halushchenko.
"There are about 500 Russian soldiers and 50 units of heavy equipment inside the station," he said in a Facebook post, adding that the workers have been left "physically and psychologically exhausted."
An attack on the plant last week sparked a brief fire and fears of a nuclear meltdown.