KYIV, Ukraine — A third night of Russian air attacks pounded Ukraine's southern cities, including the port of Odesa, and wounded at least 21 people, Ukrainian officials said Thursday.
At least 19 people were injured overnight in Mykolaiv, a southern city close to the Black Sea, the region's Governor Vitalii Kim said in a statement on Telegram.
Russia's attacks on southern Ukraine have become more intense this week, after President Vladimir Putin pulled Russia out of a wartime deal that allowed Ukraine to send grain to countries facing the threat of hunger.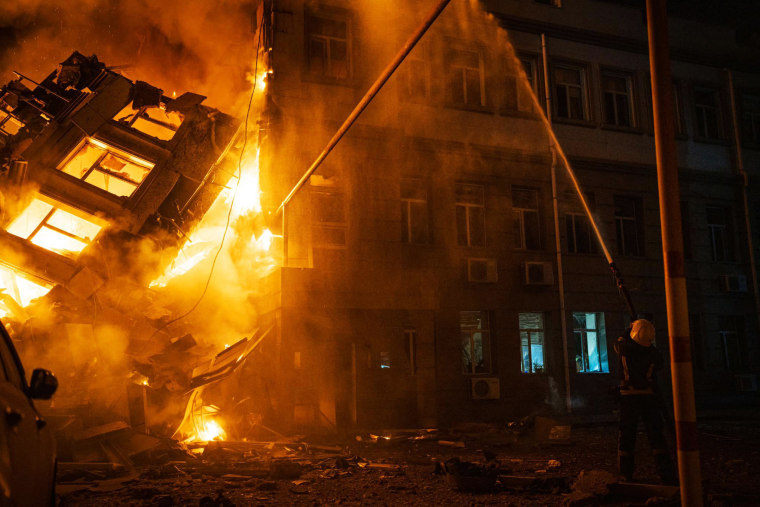 Moscow had also vowed "retribution" earlier this week for an attack that damaged a crucial bridge between Russia and the Moscow-annexed Crimean Peninsula. Russian officials blamed that strike on Ukraine.
In Mykolaiv, Russian strikes destroyed several floors of a three-story building and caused a fire that affected an area of 450 square meters (4,800 square feet) and burned for hours. Two people were hospitalized, including a child, according to the regional governor.
In the port city of Odesa, at least two were injured following a Russian air attack that damaged buildings in the city center and caused a fire affecting an area of 300 square meters (3,200 square feet), said Odesa Governor Oleh Kiper.
The strikes came one day after an intense Russian bombardment using drones and missiles damaged critical port infrastructure in Odesa, including grain and oil terminals. The attack destroyed at least 60,000 tons of grain.
The European Union's foreign affairs chief condemned Russia's targeting of grain storage facilities.
"More than 60,000 tons of grain has been burned," Josep Borrell said in Brussels on Thursday, commenting on Moscow's recent tactics. "So not only they withdraw from the grain agreement … but they are burning the grain."
Furthermore, the White House warned Wednesday that Russia is preparing possible attacks on civilian shipping vessels in the Black Sea. The warning could alarm shippers and further drive up grain prices.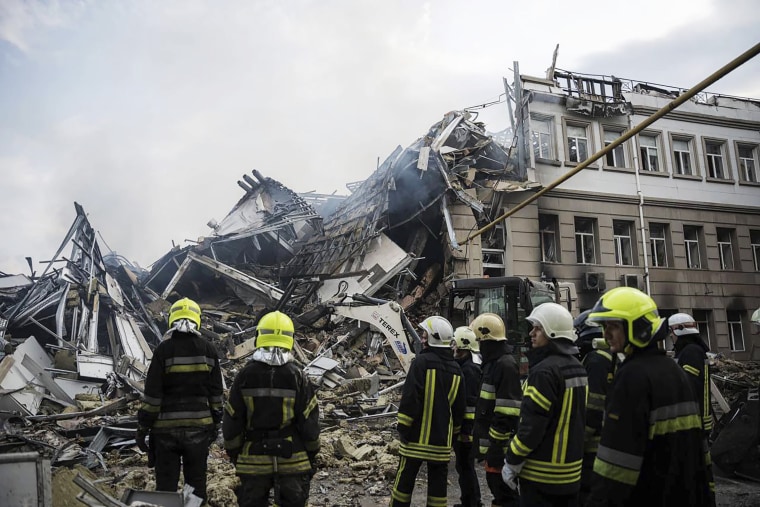 Russia has laid additional sea mines in the approaches to Ukrainian ports, White House National Security Council spokesman Adam Hodge said in a statement.
"We believe that this is a coordinated effort to justify any attacks against civilian ships in the Black Sea and lay blame on Ukraine for these attacks," the statement said.
In the Russian-annexed territory of Crimea, meanwhile, "an enemy drone" — an apparent reference to Ukraine — attacked a settlement in the peninsula's northwest, the region's Moscow-appointed governor Sergei Aksyonov reported Thursday. He said that the attack damaged several administrative buildings and killed a teenage girl.
Meanwhile, the Belarusian Defense Ministry on Thursday said the country's military continues to train with fighters from the Wagner private military contractor, on a training ground near the border with Poland.
The exercises will continue for a week, the ministry said on Telegram, and promised to share more details later.
Belarusian President Alexander Lukashenko, who brokered a deal that ended last month's rebellion launched by Wagner chief Yevgeny Prigozhin, has said that his country's military could benefit from the mercenaries' combat experience.