Russian leaders accused the powerful head of the Wagner mercenary group of an attempted coup on Friday after he vowed to retaliate against the country's military command for allegedly killing thousands of his fighters.
Officials boosted security in Moscow and launched a criminal investigation into Yevgeny Prigozhin, the head of the paramilitary group that has seen some of the toughest fighting in Ukraine, "on charges of armed mutiny" after he vowed to stop the "evil" of the military leadership.
"Those who destroyed our lads, who destroyed the lives of many tens of thousands of Russian soldiers, will be punished. I ask that no one offer resistance," Prigozhin said in a series of audio messages on his official Telegram channel.
Follow along for live coverage
In the audio, Prigozhin said, without providing evidence, that Russia's military leadership was responsible for the deaths of 2,000 fighters. He pledged to hold them to account.
Within hours, Prigozhin said in another message that he and his fighters had turned their backs on Ukraine and crossed back into Russia. He warned that "if something stands in our way, we will destroy everything that will try to stop us."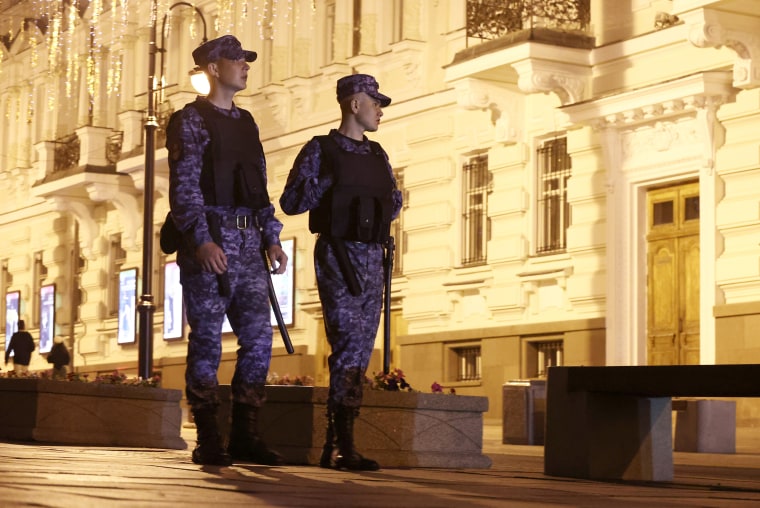 "At this moment in time we have crossed in all places the state borders. ... Right now we are entering Rostov," he said, referring to a city in the south of Russia.
Earlier Prigozhin warned that his troops would move to punish Russia's defense minister and urged the army not to offer resistance. He declared that "this is not an armed rebellion, but a march of justice."
A law enforcement officer said that "security measures" had been strengthened in Moscow, according to TASS, a Russian state-owned news agency.
"All the most important facilities, state authorities and transport infrastructure facilities have been taken under enhanced protection," Tass quoted the officer as saying.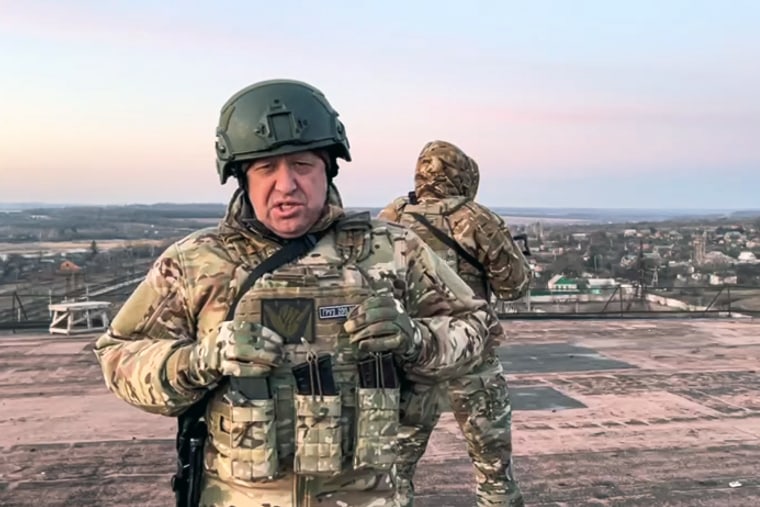 Russian state TV interrupted regular programming to announce that Prigozhin's claims were "fake and nothing more than provocation."
A brief newscast on Russia 1, a state-owned television channel, said the Federal Security Service, the country's main security agency, had opened a criminal case to investigate Prigozhin. Russia's National Counterterrorist Committee demanded for the mercenary group leader to "stop these unlawful actions at once," it said.
The security service released a statement accusing Prigozhin of "a 'stab in the back' of Russian servicemen" and calling for an armed civil conflict.
The service called on Wagner fighters "not to make irreparable mistakes, to stop any forceful actions against the Russian people, not to carry out the criminal and treacherous orders of Prigozhin, and to take measures to detain him."
President Vladimir Putin has been kept up to date on the situation and "necessary measures are being taken," said Kremlin spokesperson Dmitry Peskov, who later said that law enforcement agencies, the special services, the Federal Security Service, the Ministry of Internal Affairs and the Russian Guard have reported to Putin about Prigozhin's claims and alleged actions.
An American official said the U.S. was closely monitoring the situation in Russia and was concerned about massive instability in a nuclear armed nation state.
President Joe Biden has been briefed on the situation, the White House National Security Council said.
"We are monitoring the situation and will be consulting with allies and partners on these developments," National Security Council spokesperson Adam Hodge said.
In the audio messages on Telegram, Prigozhin accused Russian Defense Minister Sergei Shoigu of ordering a rocket strike on Wagner's field camps in Ukraine, where its soldiers are fighting on behalf of Russia against Ukrainian forces.
The claims have not been verified.
An unverified video posted on the "Razgruzka Wagner" (Wagner's Combat Vest) Telegram channel showed a scene in a forest where small fires were burning and trees appeared to have been broken by force.
It carried the caption: "A missile attack was launched on the camps of PMC Wagner. Many victims. According to eyewitnesses, the strike was delivered from the rear, that is, it was delivered by the military of the Russian Ministry of Defense."
Prigozhin vowed to avenge the incident: "There are 25,000 of us and we are going to figure out why chaos is happening in the country."
"This is not a military coup," he added.
Prigozhin, whose frequent tirades on social media belie his limited role in the war as head of Wagner, has for months openly accused the defense minister and Russia's top general, Valery Gerasimov, of rank incompetence.
But on Friday, for the first time he dismissed Russia's core justifications for invading Ukraine in February of last year in what the Kremlin calls a "special military operation."
"The war was needed ... so that [Defense Minister Sergei] Shoigu could become a marshal ... so that he could get a second 'Hero' [of Russia] medal," Prigozhin said in another audio message. "The war wasn't needed to demilitarize or denazify Ukraine."
Russia's invasion of Ukraine has not gone as anticipated. Russia has lost more than 100,000 fighters killed or wounded since December, the United States estimated earlier this year.
Defense officials have been trying to entice military-age men to join in large numbers and avoid the need for a new wave of conscription. Wagner fighters, many of them former prisoners recruited by Prigozhin, has borne some of the worst violence.
The U.S. and other Western nations, including Germany, which sent Leopard 2 tanks to Ukraine, have been supplying military aid to the country.
Russia has denied the U.S. assessment of 100,000 casualties, which includes 20,000 killed.