KYIV, Ukraine — Evacuate now or face the misery of a Russian onslaught as winter approaches: That's the blunt warning Ukraine delivered to the hundreds of thousands of civilians still left in Donetsk, the eastern province that is now the heart of the country's fight for survival.
For some, the choice is made simpler by every thud of a Russian shell. For others, the prospect of giving up on their homes, potentially for good, is still inconceivable.
Lyudmyla Bogomolova was born and raised in the tiny village of Pavlivka, just miles away from what are now the front lines of the battles in the industrial heartland of Ukraine's east. 
Since Russia invaded in February, the math teacher has been helping to deliver humanitarian aid to those in need in her village. But with Moscow's might focused on a push to take full control of her home province, the shelling has become hard to bear.
Bogomolova, 51, and her husband, Mykola, first thought about leaving last month, she told NBC News on the phone.
"It was becoming impossible to stay because of heavy shelling," she said, her voice filled with sadness and worry. "The deep fear just didn't go away."
Then, on July 24, a rocket attack on their village left Mykola, 54, with the bone and joint in his left hand completely crushed, Bogomolova said. Their minds were made up.
"We'll leave as soon as possible," she said. 
Bogomolova, who is currently in the city of Kurakhove where Mykola is being treated in hospital for his injuries, is one of more than 200,000 people in Donetsk that the Ukrainian government is hoping to get out now — while there is still time.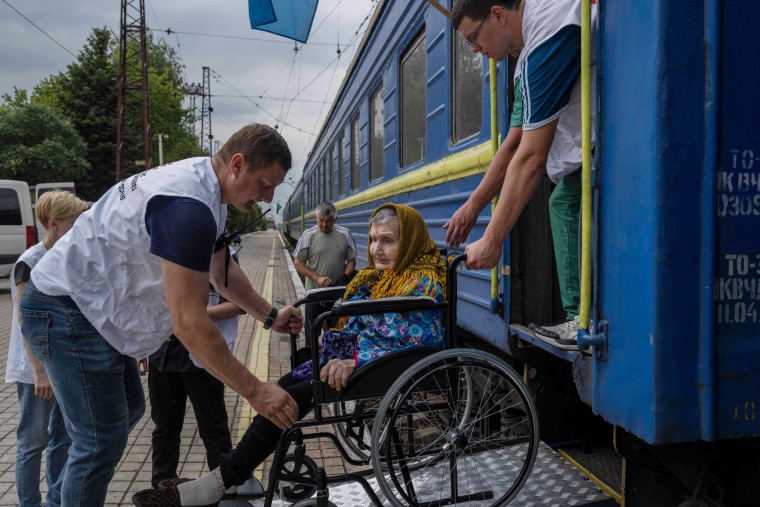 Russian President Vladimir Putin's war is now centered on the province, which together with neighboring Luhansk makes up the Donbas region. Since Russia seized control of Luhansk last month, it has launched a bloody push into Donetsk — control of both would hand the Kremlin a major victory and the possibility that the war might end with it slicing off a large and crucial chunk of its neighbor's territory.
While more than two-thirds of civilians in the Donetsk province have already left, local officials said the estimated 350,000 civilians who remain not only face the risk of intensifying Russian assault but a humanitarian catastrophe as colder weather moves in. 
"The more people leave Donetsk region now, the fewer people the Russian army will have time to kill," Zelenskyy said in a July 30 video address, in a first-such directive.
Persistent attacks by Russian forces on civilian infrastructure have left the area with no gas supply, and electricity and water supplies that are at risk ahead of winter, the country's vice prime minister, Iryna Vereshchuk, warned last week.
That echoes what happened in the port city of Mariupol, also in the Donetsk province, earlier in the war. 
Since the government-mandated evacuations began this week, more than 1,100 people have been moved out of cities and villages of the Donetsk province into mostly central Ukraine, the government said.
Still, Ukrainian officials admit that many refuse to leave, despite the warnings and the fact that they now have to sign a form acknowledging the risks of staying.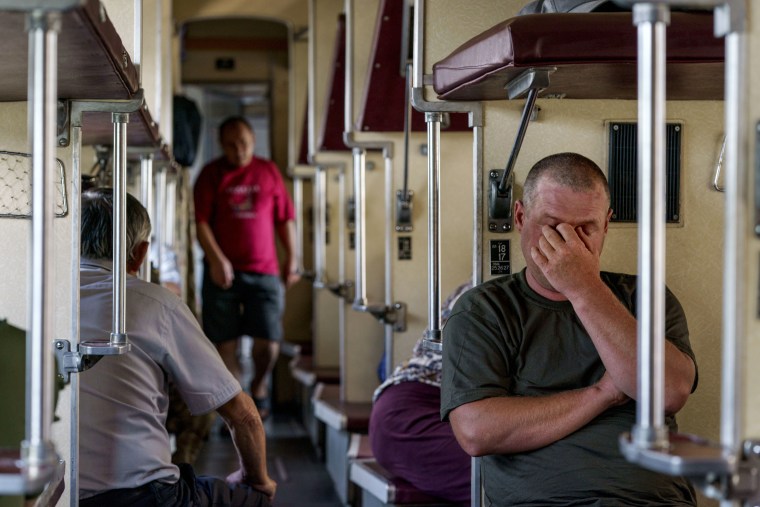 Marina, who did not want her last name revealed out of fear for her safety, is one of them. 
She decided to stay in her home city of Kramatorsk, about 10 miles from the front lines, despite having the means to escape to Kyiv or even western Ukraine, far from active fighting. 
She said the prospect of having to collect rainwater to drink or use wood for heat did not scare her or others who are "guided by hope."
She's also wary of signing the form. "First of all I will sit and read it carefully," Marina, 60, said on the phone from Kramatorsk, where she has lived all her life.
"I believe in God and I believe in the Ukrainian army," she added. "This is my destiny." 
Ukraine is eager to get people out of the area to minimize civilian casualties and give it more operational freedom, analysts said. 
Kyiv intends to mount a fierce defense of the key cities of Slavyansk and Kramatorsk, said Michael Clarke, a professor of war studies at King's College London.
Ukraine's military is hoping for a strategic victory in the Russian-occupied south, Clarke said, where it's expected to mount a counteroffensive. For any success there to have political impact, Clarke said, it must not lose the rest of the Donbas. 
Logistically, the evacuations give Ukrainians more leeway to defend or leave a city without having to take civilians into account, said the head of intelligence at the consultancy Le Beck, Michael A. Horowitz, a geopolitical and security analyst.
"Ukrainians have also been asking people to evacuate since the very beginning, and the presence of civilians has made the job of the Ukrainian military far more difficult," Horowitz said.
"So Zelensky's order may just be an escalation in efforts to remove civilians from what's become the main area of fighting," Horowitz said.
Human rights group Amnesty International said in a much-criticized report published Thursday that Ukrainian forces have exposed civilians to Russian attacks at times by basing themselves in schools, residential buildings and other places in populated areas.
Zelenskyy denounced the report, as did other officials in Kyiv and allies across social media.
Amnesty said in a statement that it had made it clear "the Ukrainian military practices we described in no way justify Russia's routine violations of international humanitarian law. 
"When we find violations of international humanitarian law, as we did in this case, we will report them fairly and accurately. Ignoring violations committed by a favoured side would not be meaningful human rights reporting," it said. 
Oleksandr Ivanov, a volunteer who works for a local aid organization helping with the evacuations, told NBC News that people want to stay for a variety of reasons. 
"Many people can't leave their elderly parents," Ivanov said. "For older people, it's psychologically difficult to leave. And of course, there are people who believe that until a shell hits their house, they will not leave."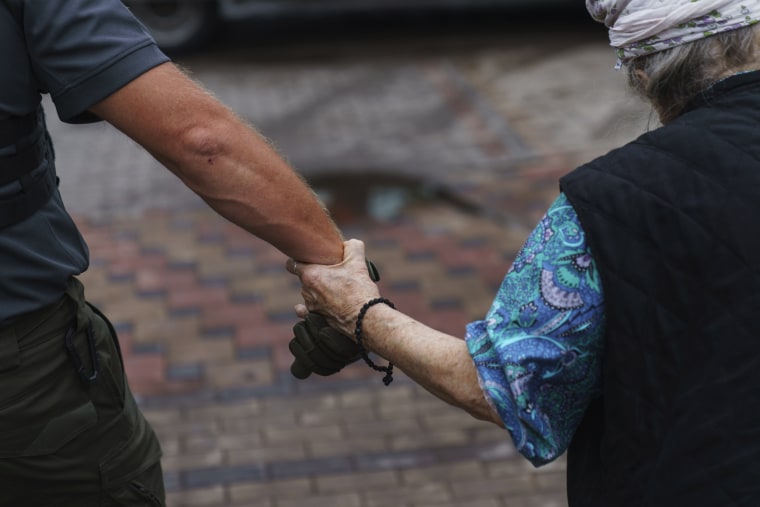 People in the Donetsk province are also used to the war, said Tetyana Ignatchenko, a spokesperson for the Donetsk Regional Military Administration, who is helping coordinate the evacuations. Since 2014, they have lived close to the front lines of what was a simmering conflict between Russian-backed separatists and Ukrainian armed forces.
That makes them especially hesitant to leave now, Ignatchenko said. "Mainly it's people who are struggling to wrap their minds around leaving for uncertainty," she added.
But the full-scale Russian invasion in February and growing Russian assault in Donetsk has meant that the shelling is constant and unpredictable, she added, and is likely to get worse as the Kremlin's troops try to push further.
"There is not a single day when civilians are not killed or injured here," she said. 
"This is not about sowing panic," Ignatchenko said. "It's about explaining to people that they have to finally take responsibility for their lives and take this seriously."