Russian President Vladimir Putin likened Western sanctions to a declaration of war Saturday and warned that any move to create a no-fly zone above Ukraine would be viewed as "participation" in the conflict.
Putin's latest rhetorical escalation of tensions came hours after an effort to evacuate civilians from the besieged city of Mariupol was suspended when Ukraine said Russian forces violated a temporary cease-fire with an ongoing barrage of shelling.
The apparent collapse of the first agreement to create humanitarian corridors in the country underscored the perilous existence of civilians facing a Russian assault that has brought death and destruction to its democratic neighbor.
Ukrainian President Volodymyr Zelenskyy continued his efforts Saturday to bolster support for his embattled country and for added pressure on Russia.
On a video conference call with about 300 members of Congress on Saturday morning, Zelenskyy doubled down on the need to establish a no-fly zone over Ukrainian airspace, multiple sources on the call told NBC News.
He also requested that Visa and Mastercard suspend operations in Russia, according to three people on the call, which both financial services corporations did Saturday.
President Joe Biden and Zelenskyy spoke for about 30 minutes Saturday evening, and Biden said the decision by Visa and Mastercard was welcomed, according to a readout of the call provided by the White House.
Zelenskyy said in a tweet that the two presidents had discussed issues of security, financial support for Ukraine and the continuation of sanctions.
---
Latest developments on Ukraine:
Visa and Mastercard announce they are suspending operations in Russia
Putin says western sanctions are "the equivalent of war."
Zelenskyy accuses NATO of giving Russia "green light" to continue shelling his country.
Some Americans try to join the fight in Ukraine
Zelenskyy speaks with about 300 members of Congress, explaining a need to establish a no-fly zone over Ukrainian airspace.
Ukrainian officials have leaned on the messaging app Telegram to spread information
---
Also on Saturday Israel's prime minister met with Putin in Moscow. Israeli Prime Minister Naftali Bennett's office confirmed the meeting at the Kremlin, which came just days after Bennett spoke over the phone with both Russia and Ukrainian leaders.
Zelenskyy in his latest national address via his Telegram channel told Ukrainians "in all our cities where the enemy has entered, feel it, go on the offensive!"
"When you do not have weapons, and you are answered with shots — you do not run," Zelenskyy said Saturday afternoon. "Occupation — is temporary and artificial. Ukrainians do not retreat and do not give up!"
No-fly zone
Since Putin launched the invasion nine days ago, he has seen his military struggle against staunch Ukrainian resistance and his country subject to global condemnation, isolation and crippling economic sanctions.
On Saturday, Putin described those sanctions as "methods of fighting against Russia."
These sanctions that you can see here are the equivalent of war, but thankfully it has not come to an actual war," he said during a visit to a training center for Russian airline Aeroflot.
Any country that moved to create a no-fly zone above Ukraine would be viewed as "participants of this conflict," he added.
The United States and its Western allies have also said that the creation of no-fly zone would be likely to put them on course for a direct military confrontation with Russia and risk a wider war.
However, Zelenskyy has lashed out at NATO for rejecting a no-fly zone, arguing the decision was giving Russia a "green light" to continue shelling his country.
Zelenskyy also called for the need for a no-fly zone on his call with Congress on Saturday morning, and appealed for fighter jets and other military aid.
Senate Majority Leader Chuck Schumer, D-N.Y., one of the lawmakers on the call, told Zelenskyy that Congress will get the "$10 billion in economic, humanitarian, and security assistance to the Ukrainian people quickly," according to two people with knowledge of the call.
A White House spokesperson said Saturday that the Biden administration was in talks with Poland about a deal that would involve Poland donating its old Russian-made MiG fighters to Ukraine, and replacing them with the purchase of U.S.-made F-16 jets.
Also Saturday, the U.S. government allowed an approved Russian government airliner into Dulles, Virginia on Saturday in an effort to "facilitate the departure of Russian UN Mission personnel who were expelled for abuse of their privileges of residence," according to a State Department spokeswoman in Brussels.
This comes days after the U.S. Mission to the United Nations said it was expelling a dozen Russian diplomats for conducting espionage. Since then, the U.S. banned Russian planes from U.S. airspace.
"This special exception was done in accordance with federal regulations to ensure Russian mission personnel and their families departed by the date we had instructed," she said.
On Saturday, the U.S. Department of State urged Americans to not travel to Russia. The agency is also advising U.S. citizens living or traveling in Russia to "depart immediately," pointing out that "limited commercial flight options are still available."
It came days after the U.S. Mission to the United Nations said it was expelling a dozen Russian diplomats for conducting espionage. Since then, the U.S. banned Russian planes from U.S. airspace.
"This special exception was done in accordance with federal regulations to ensure Russian mission personnel and their families departed by the date we had instructed," she said.
"Do not travel to Russia due to the unprovoked and unjustified attack by Russian military forces in Ukraine, the potential for harassment against U.S. citizens by Russian government security officials, the Embassy's limited ability to assist U.S. citizens in Russia, Covid-19 and related entry restrictions, terrorism, limited flights into and out of Russia, and the arbitrary enforcement of local law," the U.S. Department of State said in a statement.
The warning comes amid reports Saturday afternoon that WNBA player Brittney Griner was arrested in Russia after the Russian Federal Customs Service said it discovered cartridges containing hashish oil in her luggage at the Sheremetyevo airport near Moscow.
USA Basketball and her team, Phoenix Mercury, said they are monitoring the situation and are working to get the American athlete home.
Visa, Mastercard halt operations
Adding to the financial measures taken against Russia, Visa and Mastercard announced Saturday that they would be suspending operations in that country.
The suspension, which is effective immediately, means Visa cards issued in Russia would no longer work outside the country, and cards issued outside of Russia won't work within the Russian Federation, Visa said.
"We are compelled to act following Russia's unprovoked invasion of Ukraine, and the unacceptable events that we have witnessed," Visa Chairman and CEO Al Kelly said in a statement. "We regret the impact this will have on our valued colleagues, and on the clients, partners, merchants and cardholders we serve in Russia. This war and the ongoing threat to peace and stability demand we respond in line with our values."
Mastercard said in a statement it has no other choice but to suspend its network in the country in order to comply with global regulators and sanctions that aim to squeeze targeted financial institutions.
"We don't take this decision lightly," it said, citing its 25 years of operating in Russia, where nearly 200 of its colleagues work. "When it is appropriate, and if it is permissible under the law, we will use their passion and creativity to work to restore operations."
Mastercard accounts issued by Russian banks will no longer work, the company said, and those from outside the country won't be approved at retailers and ATMs inside Russia.
Earlier this week, Visa and Mastercard blocked some Russian financial institutions from their networks but not all.
On Tuesday American Express, which says its presence in Russia is "small," said in a statement that it has halted relationships with banks targeted by U.S. and European Union sanctions.
On Feb. 26, the U.S. and its allies announced they were moving to cut Russia off from the SWIFT global financial network that facilitates rapid transactions between institutions around the world.
Evacuation efforts suspended
Putin's comments came after an effort to evacuate civilians from the besieged city of Mariupol was suspended Saturday after Ukraine said Russian forces violated a temporary cease-fire announced hours earlier.
Russia and Ukraine both said they had agreed to a temporary cease-fire early Saturday in the key port city, Mariupol, and smaller nearby city Volnovakha to allow the creation of humanitarian corridors to evacuate civilians.
But shortly after the evacuations were set to begin, Mariupol's city council said that Russian forces continued shelling the city and surrounding areas.
"We ask all Mariupol residents to disperse and follow to the places of shelter," it said in a post on Telegram, adding that negotiations were ongoing to ensure a safe route out of the city, which has been encircled and bombarded for days.
Russia has consistently denied targeting civilians. Without offering evidence, the country's defense ministry said no one had made use of the corridors and accused Ukrainian "nationalists" of preventing civilians from leaving, the RIA state news agency reported.
The announcement of a limited cease-fire had appeared to represent the first breakthrough in allowing civilians to escape a Russian assault that has brought death and destruction to the country.
The move came after a second round of talks between the two countries earlier this week produced an agreement on the creation of humanitarian corridors, though no progress was made on a broader halt to Moscow's attack on its democratic neighbor.
Since he launched the invasion nine days ago, Putin has seen his military struggle against staunch resistance on the ground and moved increasingly to bombarding cities and towns from the air.
The conflict has fueled a growing humanitarian crisis and left Moscow facing global condemnation.
Russia's attacks on Mariupol, a large southeastern city on the Azov Sea, have hit critical infrastructure and left it without water, heat or electricity.
The strategic port city has remained in Ukrainian hands, but its council has accused Russia of creating a "humanitarian catastrophe" and hindering the supply of food.
Mariupol's city council said evacuations would take place in stages over several days, with the first window between 4 a.m. ET and 9 a.m. ET. Saturday. It said the corridor would extend to the city of Zaporizhzhia, about 140 miles away.
The corridor would allow the restoration of critical infrastructure to begin and make it possible to deliver medicine and other supplies, the council said, adding that civilians would be able to leave using designated bus routes and their own cars. Drivers should "fill the vehicles as much as possible," it said.
However just before 6 a.m. ET the city council posted an urgent update telling residents the evacuation was postponed and they should seek shelter, with Russian shelling seemingly ongoing.
Ukraine's deputy prime minister, Iryna Vereschuk, also accused Russian forces of "shelling Volnovakha with heavy weapons" in a video posted to Telegram. She added that there was ongoing fighting on the route between Mariupol and Zaporizhzhia.
"I hereby state that Russia has violated this agreement, failed to fulfill its duty," she said.
Russian gains in the south
Russian forces have made key gains in the south in recent days, seizing control of the city of Kherson, further along the coast, and Zaporizhzhia Nuclear Power Plant, Europe's largest, after an attack that sparked a fire and brief fears of nuclear meltdown.
Ukraine's nuclear regulator has maintained communications with staff at the plant in southeastern Ukraine, the International Atomic Energy Agency said in a statement Saturday.
Two of the six reactors at the plant are operating, technical safety systems remain intact and radiation levels are normal, the agency said.
But Russia's progress has come with an intensifying aerial assault on civilian areas across Ukraine, driving a rapid exodus that has seen more than 1 million people flee the country while others have been left to shelter in their basements or local metro stations.
In an update early Saturday, Britain's ministry of defense said that the overall rate of Russian air and artillery strikes appeared to have fallen in the past 24 hours, however.
It added that Russian forces were "probably advancing on the southern port city of Mykolaiv," and it was possible some would continue on to Odessa, a crucial port. If captured it could largely shut the country off from international shipping.
Russia's campaign in northern Ukraine has struggled to make similar progress, but the ministry of defense update said that in addition to Mariupol it was "highly likely" that Kharkiv, Ukraine's second-largest city, as well as Sumy and Chernihiv, were encircled by Russian forces. There were also reports of street fighting in Sumy, it said. 
Fierce defense in those cities has helped thwart a Russian advance on Kyiv, the capital.
Putin's initial aim seemed to be the overthrow of Zelenskyy's Western-leaning government in order to install a regime friendlier to the Kremlin and restore Moscow's influence over its neighbors three decades after the fall of the Soviet Union.
But dogged Ukrainian resistance has slowed the advance of Russian troops, fueling fears that Moscow could resort to more brutal violence and escalate what is already one of the most intense military conflicts on the continent since World War II.
Growing casualties and refugees
Since Russia invaded on Feb. 24, there have been 1,058 civilian casualties, including at least 351 civilian deaths and 19 children, the United Nations human rights office said Saturday, although it noted that it believes the "real figures are considerably higher."
Fearing Russian attacks, tens of thousands of people have packed train stations in Kyiv and elsewhere to head west to cities like Lviv, which has become a hub for diplomatic efforts and news media.
Aid agencies have warned of a humanitarian disaster across the country as food, water and medical supplies run short. The number of refugees could rise to 1.5 million by the end of the weekend from a current 1.3 million, the head of the United Nations refugee agency said Saturday.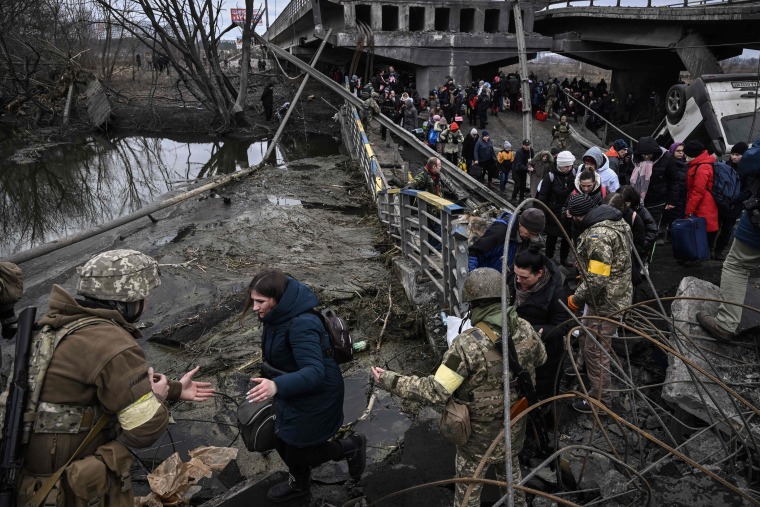 Zelenskyy meanwhile, has remained in Kyiv, using social media and video addresses to rally international support and urge Ukrainians to join the fight.
Washington and its allies have focused on supplying Ukraine with aid and weapons, while imposing crippling sanctions that have sent Russia's economy spiraling.
News blocked in Moscow
On Saturday, the Biden administration praised U.S. companies for condemning a new wave of censorship from Russia that includes shuttering, restricting or scaring off news outlets independent of the Kremlin. Russia said Friday it would block Facebook and that Twitter would be restricted. And its parliament passed a bill introducing sentences of up to 15 years in prison for intentionally spreading "fake" information about military action.
National Security Council spokesperson Emily Horne said in a statement released by the White House that the U.S. condemns the fake news law.
"To hide the truth from its own citizens, Russia's censorship agency has shuttered independent Russian media outlets, blocked social media, and restricted access in Russia to international news outlets," she added.
The United States will hold accountable media and proxies that help distribute Putin's lies, Horne said. She encouraged American companies and organizations to continue fighting Russia-borne propaganda about the invasion.
Russia's communications watchdog has restricted access to the BBC Russian service as well as Voice of America, Radio Liberty and other foreign-based media outlets for spreading what it cast as false information about the conflict.
Amid the country's media crackdown, CNN said it would stop airing in Russia, and the BBC and Bloomberg News suspended reporting on the ground.
The independent radio network Echo of Moscow and the television station TV Rain also said they were halting operations this week.
The country's security services have also moved to quash any protests against the invasion.