DNIPROVS'KE, Ukraine — The smell of sawdust hangs in the air around a network of neatly dug trenches in a quiet and densely forested area on Ukraine's border with Belarus. 
Freshly cut planks reinforce the 5-foot-high earth walls in the channels crisscrossing the forest floor. Every few meters, logs across the top form a kind of shelter, the makeshift roof covered in branches and earth for camouflage.
Ukraine is preparing for battle in this quiet forest clearing less than five minutes driving from the border with Russia's close ally. Originally built in April, Ukrainian forces continue to update and strengthen defenses such as these trenches, amid reports of Russian troops and armor pouring into Belarus.
On Monday, Belarus and Russia began joint military exercises, adding to fears that Moscow will use its ally to launch a new ground offensive, as it did the invasion in February. Air force drills will be held until Feb. 1 using all of Belarus' military airfields and joint army exercises involving a "mechanized brigade subdivision," the Belarusian defense ministry said.
Standing next to an empty trench, Sr. Lt. Anton knows that he and his men have to be on high alert — the next attack could strike anywhere along front lines stretching thousands of miles. 
"In all areas of our responsibility we are building these fortifications to be able to defend and mount counter offensives clandestinely," the 32-year-old a father of four and a former civilian border guard said. "The potential offensive from the Belarusian side could come from anywhere. That's why we are getting ready for all scenarios." 
The officer uses only his first name because he is on active duty, a reflection of the heightened security along the border. Another is that the soldiers who built the trenches were temporarily cleared from the area before NBC News's arrival for security reasons. 
Passing through the city of Chernihiv, jittery police demanded identification papers from NBC News. More military personnel than civilians appeared to be on the streets.
Still, a Russian push is more likely to come from occupied territory in the east, Vadym Skibitsky, Ukraine's deputy military intelligence chief, told NBC News.
"We are now focused on the reserves and groupings of troops that Russia is putting in the temporarily occupied territories. We're talking about the winter spring period, in three main directions: Donbas, Kharkiv and Zaporizhzhia," Skibitsky said on Thursday.
Across the Dnipro river from Belarus, not far from the trenches, Ukrainian forces are taking no chances.
A vast bridge between the two countries plunged into the icy water below, having been blown up by Kyiv's forces to stymie Russia's advance shortly after the February invasion.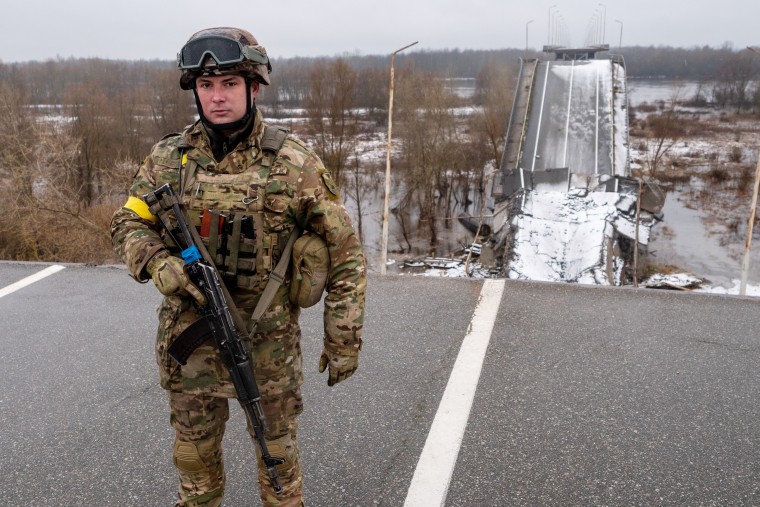 Expecting an easy win, Moscow's poorly prepared troops were humiliated by a fierce Ukrainian counteroffensive, and 10 months on, Russian forces have struggled to hold onto and expand the territories they had seized.
Anton pointed to fortifications built by Russian and Belarusian troops on the other side. A few feet away, a soldier stood in a foxhole on the Ukrainian bank of the river, staring at Moscow's close ally across the water.
Expectations have since grown that Russian President Vladimir Putin will soon order a renewed push to break the stalemate. 
Russia said it had captured the eastern town on Soledar on Friday, its only breakthrough since the summer, although Ukrainian forces say they are still holding the line.
The Russian advance came at a terrible human cost, with Ukrainian officials describing wave after wave of poorly equipped soldiers hurled at their defenses. 
Kyiv is now warning of another major mobilization of Russian men to replace those lost, and pierce further into Ukrainian territory.
"According to our intelligence estimates, the Russian Federation will create an armed force of two million people," Skibitsky said, giving no timeframe.
On Dec. 30, Ukrainian Defense Ministry Oleksii Reznikov warned that martial law would be declared in early January and that borders would be tightened to stop an outflow of Russian men.
That has not yet materialized. In early December, Putin said there was no need for a further mobilization after drafting some 300,000 men.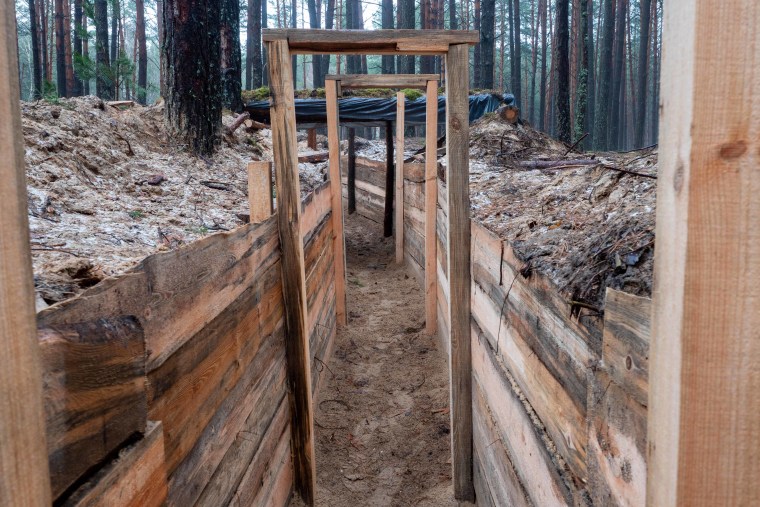 Experts such as Frank Ledwidge, a lecturer in military strategy at the University of Portsmouth in Britain and a former military intelligence officer, say Ukrainian predictions of tens of thousands more Russians being thrown into battle should be taken seriously.
"I have no doubt whatsoever that Ukrainian military intelligence has pretty good sources, and they wouldn't be declaring this unless they had some pretty good reason for doing so. So I think something is going to happen," Ledwidge said. 
However, such a move was unlikely to tip the balance of the war in Russia's favor, he said.
Ledwidge and other military experts say Russia is fast running out of supplies of armored vehicles and other materiel and describe poor training and low morale in Moscow's army.
Meanwhile, Ukrainian troops are NATO trained and are receiving increasingly better weapons from Western allies.
Earlier this month, the U.S. announced a $3.75 billion aid package for Ukraine and other countries affected by Russia's invasion of its neighbor, including Bradley fighting vehicles, armored personnel carriers, artillery systems and surface to air missiles.
"People say that quantity has a quality all its own," Ledwidge said, referring to Russia's strategy of mobilizing vast numbers of men.
"It doesn't, unless you can apply that quantity efficiently and preferably place it inside some form of armored protection, which at the moment the Russians don't seem to be able to do."