Ukraine has driven Russia's military back from some positions around Bakhmut, according to commanders on both sides, in a small but potentially significant counterattack after months on the back foot in a brutal battle that has become the focal point of the Kremlin's war.
Ukraine's military said Wednesday it had routed a Russian infantry unit and forced it to retreat from crucial ground around the eastern city. The claims were supported by the furious account of the mercenary chief whose fighters have led Russia's push for a symbolic victory there, and who has blamed Moscow's defense chiefs for the setbacks.
Wagner Group head Yevgeny Prigozhin said the Russian army's losses — which he claimed had left the flanks of his fighters leading the central assault on the city exposed — pointed to the beginnings of a broader Ukrainian counteroffensive.
But Ukrainian President Volodymyr Zelenskyy indicated otherwise, suggesting his troops needed more time before launching their anticipated spring attack even as Britain sent new long-range missiles that could allow Kyiv to strike deeper inside Russian-held territory.
Counterattacks but not yet a counteroffensive?
Ukrainian forces had been "unfortunately, partially successful" and were approaching Bakhmut from the flanks, Prigozhin said Thursday on Telegram.
Earlier this week, he accused the Russian army's 72nd Brigade of having "pissed away" key ground, fleeing an area where he said he had lost around 500 men.
"They just took off and ran the hell out of there." he said in a video posted on Telegram on Tuesday.
Prigozhin has been locked in a bitter feud with the Kremlin's top brass, threatening to abandon the battle after accusing them of depriving his fighters of ammunition.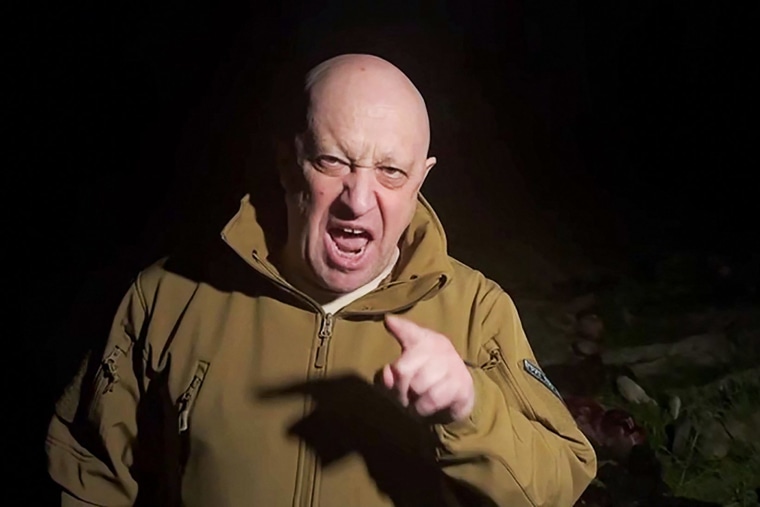 His claims are often unsupported by evidence and could not be verified by NBC News, but were given added weight by Western military analysts and Ukrainian officials. Russia's military has not commented, with the Kremlin saying Thursday that it had "no doubt" Bakhmut "will be taken, and then it will be held."
Ukrainian forces conducted "effective counterattacks" in Bakhmut, ground forces commander Oleksandr Syrskyi said Wednesday in a Telegram post.
"The enemy could not repulse the attacks of the Ukrainian defenders and retreated to a distance of up to 2 kilometers (1.24 miles)," he said.
Wagner mercenaries were being replaced by "less well-prepared units" of the regular Russian army, he said.
In an earlier statement, Ukraine's Third Separate Assault Brigade said: "It's official. Prigozhin's report about the flight of Russia's 72nd Independent Motorized Rifle Brigade from near Bakhmut and the '500 corpses' of Russians left behind is true."
"Victory Day was a success," boasted Andriy Biletsky, founder of Ukraine's far-right Azov regiment, referring sarcastically to the annual celebration of Russia's military that took place Tuesday. He declared that Ukrainian troops had "destroyed" the entire Russian brigade — typically featuring thousands of troops — but others stopped short of that claim.
"Ukrainian forces conducted successful limited counterattacks around Bakhmut on May 9," said the Institute for the Study of War, a Washington-based think tank, citing geolocated video of marginal advances west and southwest of the city.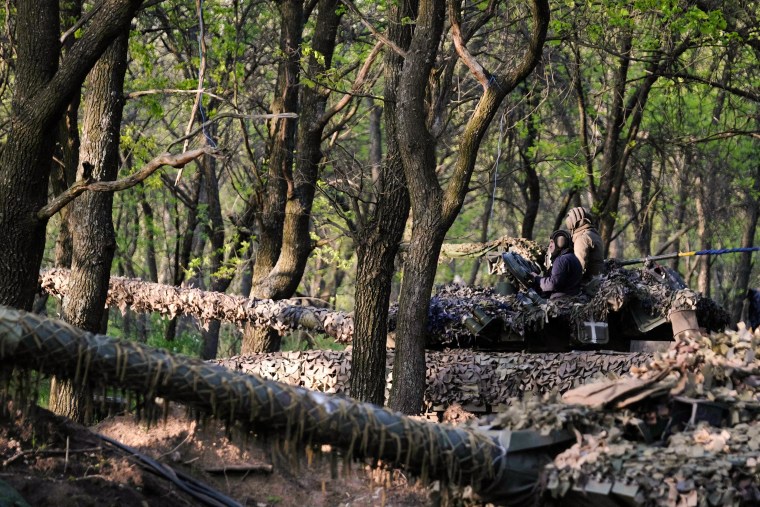 Both sides have suffered tremendous losses in the monthslong battle, which has taken on a symbolic weight beyond its obvious strategic value. 
Russian forces have slowly seized more ground in recent months and a Ukrainian withdrawal seemed inevitable. But in recent weeks, Kyiv has doubled down, deciding to hold the terrain and wear down the attacking Russian forces while buying time for its troops.
While the area apparently seized back by Ukrainian forces this week was minimal, it outlined a faltering Russian operation that has increasingly exposed strife among its top leadership.
"Pervasive issues with Russian combat capability, exacerbated by continued attritional assaults are likely constraining the ability of Russian forces in this area to defend against localized Ukrainian counterattacks," the Institute for the Study of War said in its daily briefing Wednesday.
As its own winter offensive ends with public infighting and heavy battlefield losses, Moscow is now awaiting a long-anticipated Ukrainian counteroffensive that is expected to target occupied land across the country.
But Zelenskyy cautioned that his army still needed more help from its Western allies before launching what could be a pivotal assault.
With what Ukraine already has, "we can go forward and, I think, be successful," he said in an interview with European broadcasters released Thursday. "But we'd lose a lot of people. I think that's unacceptable. So we need to wait. We still need a bit more time."
Prigozhin shot back, accusing Zelenskyy of "lying."
"The counteroffensive is in full swing," he said Thursday in a voice message posted on Telegram.
Britain offered more help Thursday, announcing it was sending long-range Storm Shadow missiles to Kyiv.
The highly-autonomous air missiles have a range of about 150 miles, allowing Ukrainian jets to hit Russian targets far beyond the front lines and potentially threatening Moscow's hold over places like the occupied Crimean Peninsula.
That is about three times the range of the U.S.-supplied HIMARS, which is a land-based missile system.
The Storm Shadow missiles "will allow Ukraine to push back Russian forces based in Ukrainian sovereign territory," British Defense Secretary Ben Wallace said in an address to Parliament. 
Kremlin spokesperson Dmitry Peskov told reporters in his news briefing Thursday that the news would "require an adequate response from our military."