MEDYKA, Poland  —  Parents, spouses, children, grandchildren, sweethearts, friends, careers and homes: That's just a short list of all that was left behind by so many fleeing war in their homeland.
The immensity of what remains in Ukraine contrasts starkly with the meager possessions these sudden refugees were able to bring with them. All that they own is now crammed into shopping bags and wheeled suitcases that squeak and rattle as they cross into this small red-brick village surrounded by fields.
With shock, grief and relief hanging in the bright cold air, Alexander Federov greets the new arrivals in Poland with a broad smile and some hearty Ukrainian warmth: "Vse bude dobre," or "Everything will be fine."
Some 3 million Ukrainians have fled since Russia invaded their country on Feb. 24 — the majority to neighboring Poland — in the fastest-growing refugee crisis in Europe since World War II. Thousands of them have crossed through Medyka.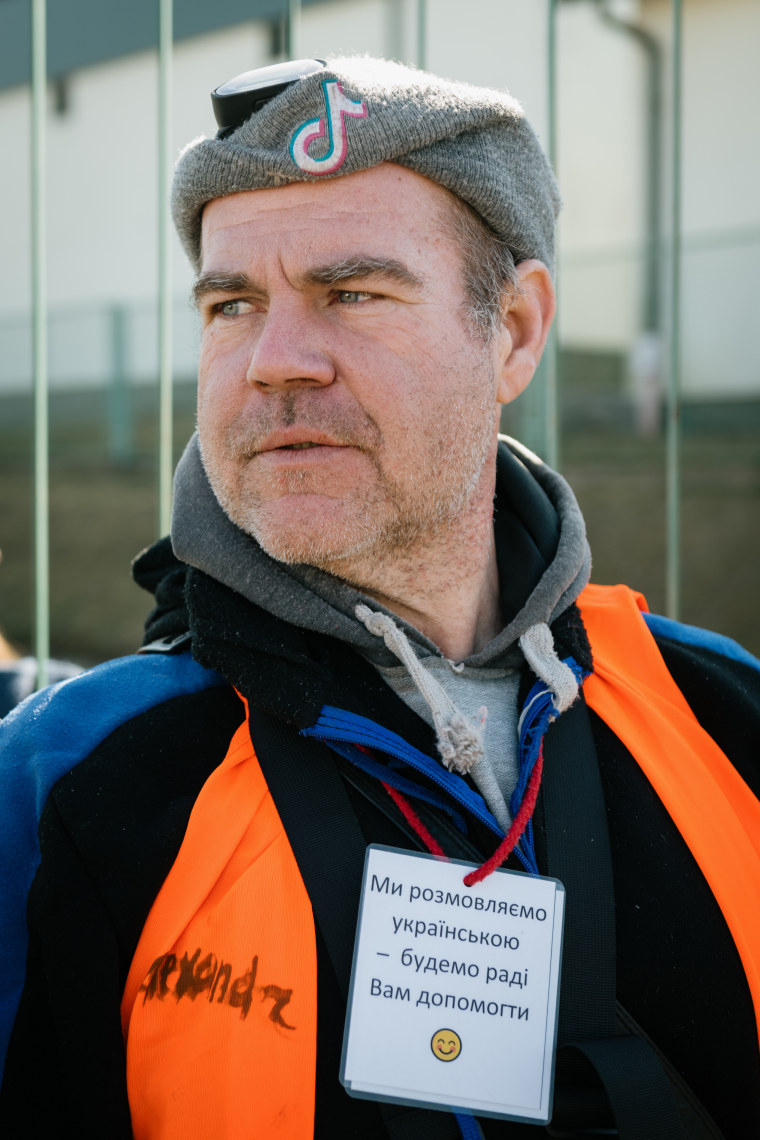 "I see a lot of fear in their eyes," Federov, 47, said. "My heart breaks — they walk through with so much sadness." 
Originally from Mariupol, a city in southern Ukraine now under siege, he left Ukraine to work in construction in the Czech Republic, two months before the Russian military attacked. He has since come to Poland as a volunteer, sleeping one or two hours a night to help greet people, he said. 
"I am needed here," the scruffy Federov said. He points to the Ukrainian side of the border: "I want to be there." 
New arrivals pepper him with questions about where to stay the night, how to get there and whether there's anywhere to charge a telephone. He gestures toward a continuous stream of buses that take people to shelters and help centers. 
Spotting two weary women and two small children in the crowd, Federov leads them to a nearby tent with heaters and food.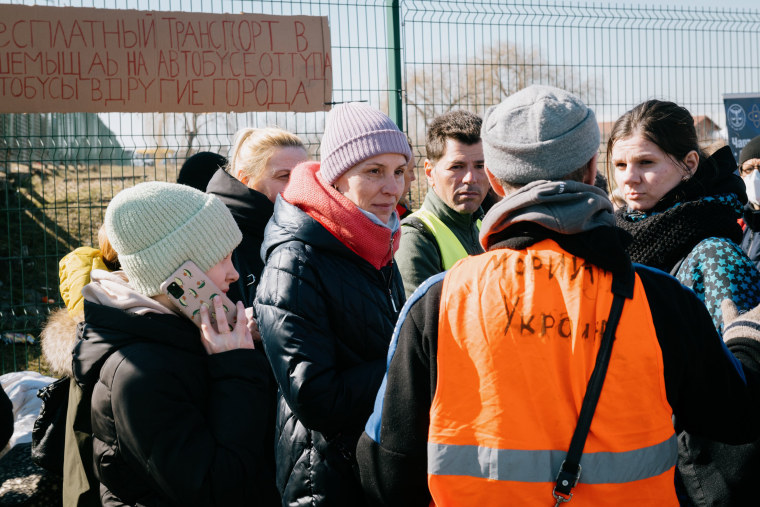 As they enter Poland near Medyka, the refugees walk past tents full of baby formula, toothpaste, sleeping mats and female hygiene products — all offered free by local and international charities. There are piles of donated clothes and toys for children to rummage through. For those who escaped with their pets, there are neat rows of cat food and piles of dog leashes. All offered free. 
Wood smoke rises from fires in rusty metal barrels, which are placed close by so refugees can sit, rest and warm up after long and often arduous journeys out of war-ravaged Ukraine. They are offered hot soup, sandwiches and oranges by volunteers from around the world. 
Looking confused and tired, Yuliia Liashenko asks if she can get a baby stroller for her 6-month-old son, Timur. Her mother, Nataliia Prelipko, slumps on a bench inside the tent, exhausted. The women spent more than 24 hours traveling aboard a crammed train out of Kryvyi Rih in central Ukraine with Timur and his sister, Adelina, 6. Among their belongings are two small black purses with baby formula and documents.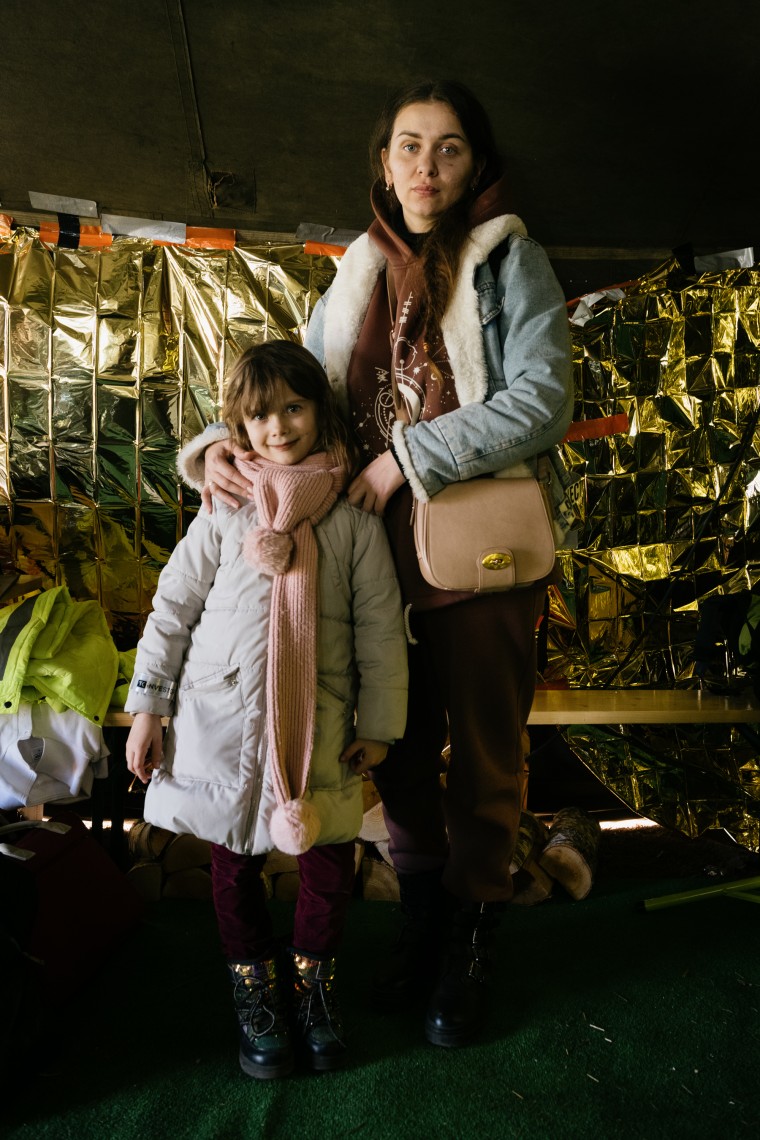 Both women cry as they talk about Yuliia's husband, Vytali, and father, Konstantin, who have stayed in Ukraine because men aged 18 to 60 are not allowed to leave under martial law. 
As her grandmother changed Timur's diaper, Adelina eagerly displays the contents of her little pink backpack — a "Frozen"-themed hairbrush, a plush toy and a cellphone with a broken case. 
"My dad will fix it," she said of the case, seemingly unaware of her father's absence. 
The women have no plan about what to do next, but want to return to Ukraine as soon as the fighting stops, which they hope will be soon. 
"We never thought we would be refugees," Prelipko, 51, said, her eyes red from crying. "My mother told me about life during World War II, but we never thought it could happen to us."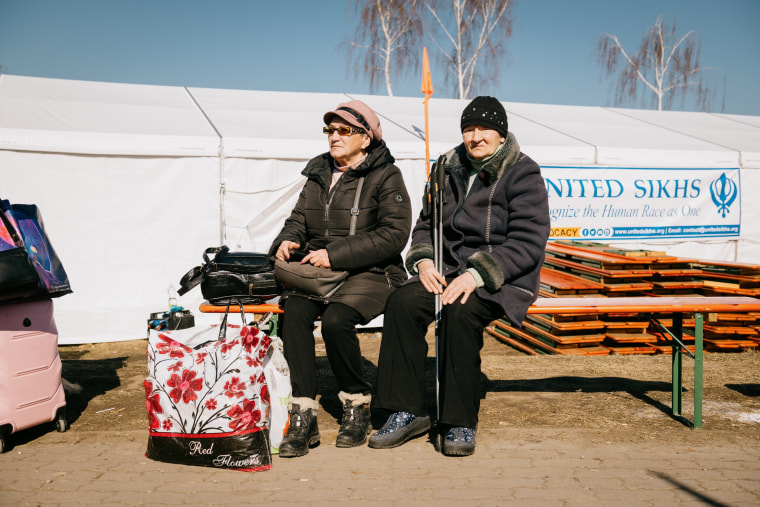 Not too far away, two grandmothers, Lyubov Chernekova and Elena Kovalenko, rest in the chilly sunshine on a bench after crossing the border minutes earlier. They spent 10 days on the road, escaping from their village in the Kharkiv region of eastern Ukraine.
The women say they hid for days in a basement without food and electricity during the Russian bombardment, deciding to flee with just two plastic bags. One contained lifesaving insulin for Chernekova, 69.
"We had a few hours where they did not shell us, so we just grabbed what we could," Kovalenko, 73, said.
They crossed the border after meeting up in Lviv in western Ukraine with their granddaughter Sofiia, who escaped earlier with her 7-year-old spitz, Tosya. 
It is Kovalenko's birthday, but she is in no mood to celebrate. 
"We just want this to end," she said. 
Kristina Mirzoieva, 18, who crossed alone, cannot stop her tears as she wheels her black suitcase down the paved pathway leading out of the checkpoint.
She traveled 25 hours on a crammed train from Kharkiv, an eastern city that has been badly shelled by the Russian forces, to Lviv. From there she got to the border. 
Like all men of conscription age, her father, Dmytro, was not allowed to leave the country, and her mother, Iryna, refused to leave him behind.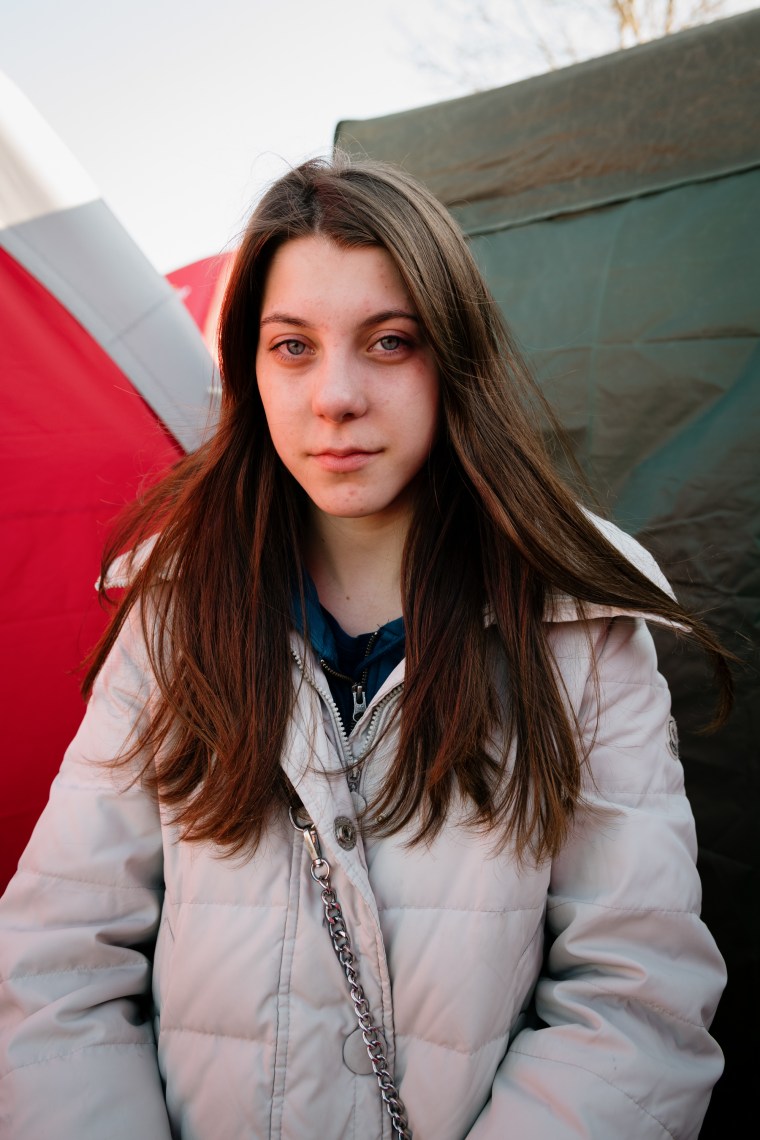 "I didn't want to go," she added, sitting on a bench to warm up by a barrel with burning logs. 
"I have cried ever since I left — on the train, in Lviv and then as I crossed the border, I totally lost it," said Mirzoieva, a university student who studied tourism before the war started. She is hoping to reach Warsaw, the Polish capital, and then go to Portugal, where she has a distant relative. 
But it's not where her heart is. Mirzoieva is resolute — as soon as the fighting is over, she is heading back to Ukraine. 
"I just want to go back home, sleep in my own bed again and hug my parents," she said, her voice breaking.