IRPIN, Ukraine — Galina Kovalenko and her husband had spent the past 20 years fixing up an old house in the Kyiv suburb of Irpin, working room by room, designing each square inch together. They planned to grow old there, tending to their garden in the front yard and playing with their white Pekingese dog, named Gel.
Then the Russians came.
Russian forces burned the house to the ground and killed Gel, Kovalenko said.
Sitting outside a newly opened shelter that had been donated by the British government, Kovalenko, 68, was looking for a place to live. 
"The problem is the money. We put everything into that old house," Kovalenko said. "I can't imagine that the government will pay for us to be able to rebuild. Right now, we just need one room. I hope God gives us a room."
Since pushing Russian forces out from the suburbs around Kyiv last month, Ukraine has worked remarkably quickly to fix damaged infrastructure. Roads that were torn up by tanks and mortar rounds have already been repaved, debris has been cleared from the streets, water and sewage lines have been restored and grocery stores are reopening. 
But rebuilding destroyed houses and apartment buildings as the country is still at war is proving to be a much thornier task, leaving thousands of people displaced and in desperate need of assistance.
The crisis is creating a divide among Ukrainians: Those with means are starting to pay for their own repairs, while those without money are left dependent on charity and aid groups for shelter.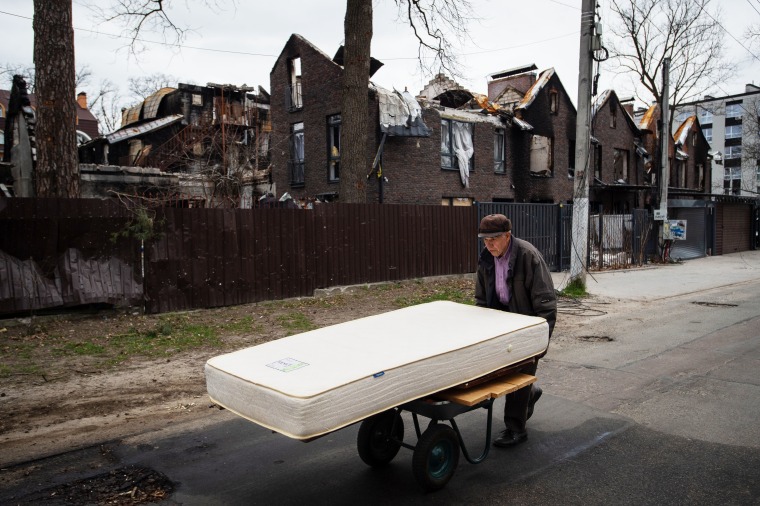 Violetta Dvornikova, a member of the Irpin City Council and adviser to the mayor, said the situation is getting worse as refugees who fled at the start of the war are returning to Ukraine only to find their homes flattened. With less space available at nearby shelters each day, people are growing increasingly exasperated, Dvornikova said. 
"Not all people understand the difficulty of the real situation. They accuse us. Sometimes it seems that we blew up their house, and now we have to give them money to rebuild," she said, adding that the city's tax revenue all but vanished when the war broke out Feb. 24.
She had a message for refugees thinking about returning home to Ukraine: "Please do not come back until we have a plan."
Bodies are still being recovered from the rubble in Irpin. And the city is in the process of surveying damage to determine whether buildings can be repaired or if they have to be torn down entirely. At least 37 apartment buildings so far have been determined to be damaged beyond repair, and the city estimated its total rebuilding cost will be more than $1 billion.
Irpin, which had a population of about 70,000 before the war, represents just a small fraction of the destruction in the country. In more populous cities where the fighting is still going on, such as Mariupol, the damage is estimated to be far worse.
Ukrainian officials have said they need to win the war before they can fully address widespread rebuilding plans. But the enormous amount of damage — from roads and bridges to housing and schools — is raising questions about how the country can afford to put itself back together on any timeline.
Ukraine's resources are drying up. The government only collected 60 percent of its planned tax revenue for April and has diverted $8.3 billion in spending so far to help finance the war, the finance minister told Reuters. That has pushed the country to be heavily reliant on foreign aid and charity to cover humanitarian needs. Ukrainian President Volodymyr Zelenskyy has estimated that the losses to the country's economy and infrastructure due to the war will total around $600 billion.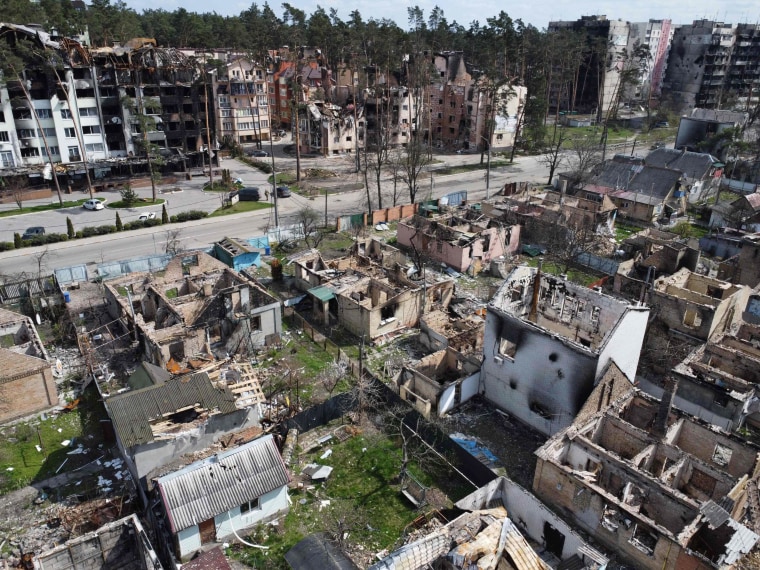 Many Ukrainians say they want Russia to pay to rebuild the damage it has caused to their country. Although the U.S. and European Union countries are exploring ways to use frozen assets from Russian oligarchs to help cover the cost, getting Moscow to pay reparations seems unlikely.
Zelenskyy has urged the international community to step up.
"We are already preparing a large-scale Recovery Plan for Ukraine after the war and need a strategic international support plan for Ukraine that will be a modern analogue of the historic Marshall Plan," Zelenskyy said in May, speaking virtually to an international donors' conference in Warsaw, Poland. "The reconstruction of Ukraine must now become the same historical example for our time and for the future as the restoration of European countries after World War II. "
In the meantime, local officials are pleading with foreign governments and international aid groups for as much help as they can get to build temporary shelters for the growing number of displaced Ukrainians.
"One of the main needs is housing for people: modular houses, any housing where we can accommodate people," said Irpin Mayor Oleksandr Markushin. "Irpin paid a very high price for the victory over the Russians. Many families were left homeless."
Officials in Irpin said they are already in conversation with the British to put up another shelter in an empty lot — but first, the area has to be cleared of boobytraps and mines left behind by Russians. 
Temporary housing is also being set up in nearby suburbs. In Borodyanka, one of the more badly damaged towns northwest of Kyiv, Ukrainian workers are in the process of constructing container homes sponsored by the Polish government. The homes, which will sit in an empty field behind the local outdoor stadium, will accommodate more than 350 people. Georgy Yerko, the deputy district mayor, said the city had been in touch with the Italian and Portuguese governments for donations of additional temporary housing.
With so much foreign money flowing into Ukraine, international observers are wary that the country could slip back into its long pattern of government corruption and self-dealing. European Commission President Ursula von der Leyen said any E.U. recovery package for Ukraine would have to be "spent in accordance with E.U. rules" and would need to include anti-corruption initiatives.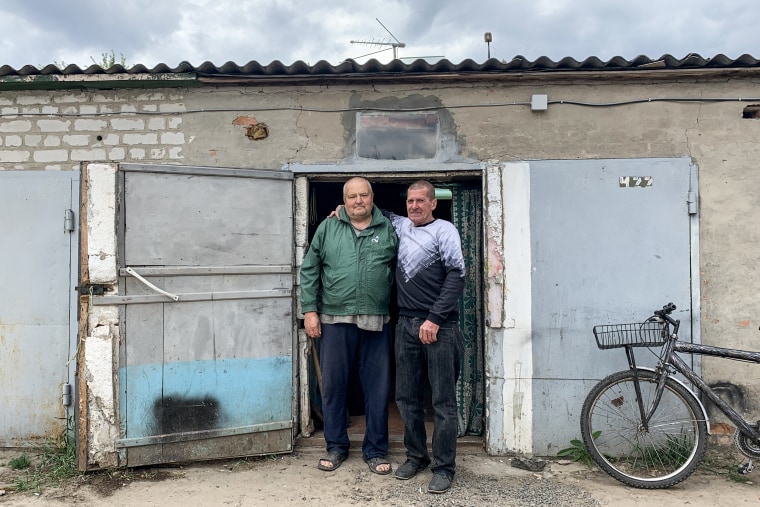 Yerko said the war has changed Ukraine. "People have rethought things in their lives. I don't believe there will be a corruption issue," he said.
But some people most in need of assistance aren't so sure Ukraine can shake its past.
"There's always promises from the government," said Serhiy Griva, 64, a pensioner from Borodyanka.
Griva's apartment building was destroyed during the Russian occupation, and he now lives in a small storage unit with his friend of 25 years, Anatoliy Dvorak.
Griva said he filled out paperwork at the city council's office to get help but hasn't heard back. He and Dvorak rely on volunteers who come by every few days to drop off food and water for them and the other displaced Ukrainians now living in the row of storage units lining a dirt road.
"I lost everything," he said. "It's so sad. I don't know where I will live. I don't have hope that anyone will rebuild the apartment."