KYIV, Ukraine — Boris Johnson's reluctant resignation triggered relief from many in Britain. But more than 1,300 miles away in Ukraine, the mood could not be more different.
Seen as a scandal-ridden charlatan by some opponents in London, the outgoing British prime minister is adored in Kyiv for his vociferous support of the country — and the weapons the U.K. has supplied for its fight against Russia while he's been at the helm.
"Johnson quitting is a personal tragedy for me," said Olha Povaliaeva, 30, a project manager from the eastern city of Donetsk, a key battleground in the conflict. The prime minister has become "an older brother and a close friend who will always comfort, support and encourage" Ukraine, she added. "I'm sorry that this eminent person is going through such a difficult time right now."
That support extends from sidewalk to legislature. President Volodymyr Zelenskyy called Johnson a "friend" Thursday and said "all Ukrainians were saddened by the news" that he would step down.
There is also a palpable nervousness about whether Johnson's successor will be quite so bullish in their support.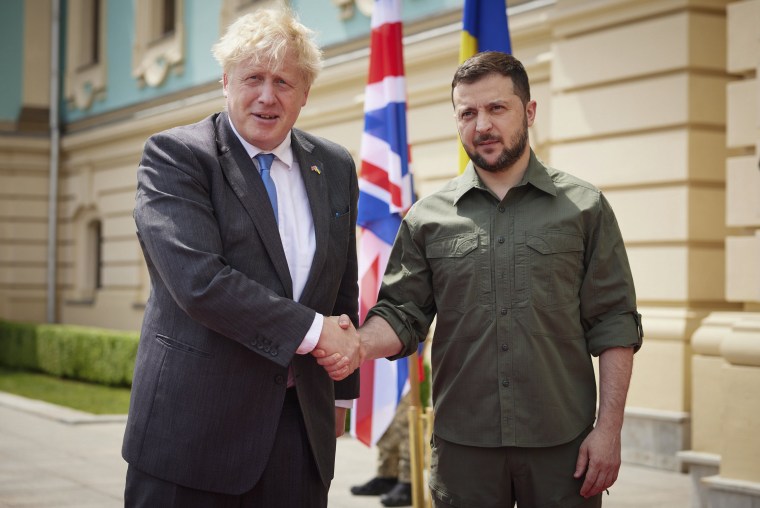 As Johnson became increasingly embattled by scandal after scandal, critics accused him of using Ukraine to deflect and distract from his woes at home. But the Ukrainians don't seem to care if this support had a dual function for a domestic audience. Few actions in politics don't.
Memes have gone viral showing the prime minister as a medieval knight with Ukrainian colors on his arm. Another, in the format of "woman yelling at a cat," features a play on words of "Johnson U.K." looking like "Johnsoniuk" — the Ukrainian version of his name.
Ukraine's national railway service made a statement Thursday calling the prime minister the "#1 ally of Ukraine and a true friend of the railway." It went a step further, creating a version of its logo adorned with his iconic, blond explosion of hair.
Another running joke sees Ukrainians on social media imagining Johnson and French President Emmanuel Macron as two prospective boyfriends.
"Macron is the boyfriend who calls all the time but never does anything; Johnson is the guy who would travel 3,000 miles just to see you," explained Hanna Shelest, a director at the Foreign Policy Council "Ukrainian Prism" think tank.
That reflects a frustration that France and Germany have often been seen to equivocate in their support for Kyiv. Macron caused outrage by saying the West should be careful not to "humiliate" Russia. And Germany has been accused of being slow to deliver weapons.
"Johnson is one of the most popular politicians in Ukraine because he was very clear from the start and his words are always followed by actions," Shelest said. And while his norm-busting style has worn thin for many Brits, "his image as an extravagant man was something that was seen as positive by Ukrainians," she said.
Britain has pledged 2.3 billion pounds ($2.75 billion) of military aid, the second-highest after the United States. Most notably it supplied some 6,500 NLAWs — next generation light antitank weapons — which have been credited with destroying countless Russian tanks.
The Cossack community in the northern Ukrainian city of Chernihiv has inducted Johnson into its order, giving him the name "Boris Chuprina," meaning "a long lock of hair." And it commissioned a painting depicting him as the folkloric hero Cossack Mamai, playing a local stringed instrument called a kobza.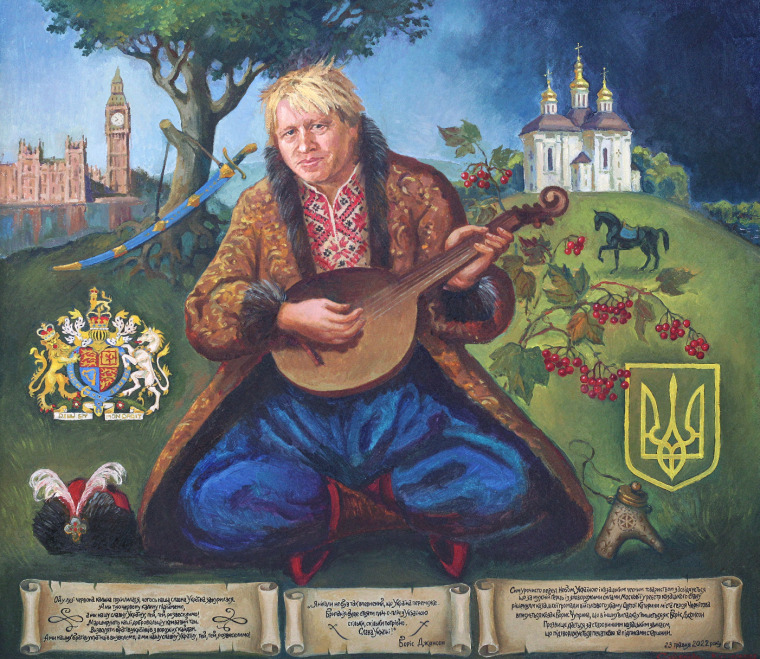 Andrii Lisovyi, 58, deputy director of the Chernihiv Regional Museum of History, said the painting symbolized Johnson's courage.
"When you are in a basement under bombardment," he said, Ukrainians appreciate the prime minister as someone "who shouts strongly — and not with words only, but also actions."
From paintings to pastries: At Kyiv's Zavertailo Bakery, staff have created the "Boris Johnson croissant." The dessert is inspired by a traditional English apple pie with a scoop of vanilla ice cream to symbolize the prime minister's haywire coiffure.
"This topic is truly quite painful for us today," Heorhii, 25, who manages the bakery, told NBC News by phone, declining to give his last name. Johnson "made tremendous impact on the history of Ukraine and provided support for our country," he said.
What happens now is less clear.
Johnson called Zelenskyy within hours of his resignation speech Thursday, reiterating his support and saying: "You're a hero. Everybody loves you."
But this is such an uncertain time in British politics that it is unclear what Johnson would — or could — do if big decisions need to be made over Ukraine. His caretaker role means he's a prime minister with little mandate or credibility, keeping the chair warm until his successor arrives in a few months' time.
That person will almost certainly support Ukraine too, but whether they throw their political weight and capital behind Kyiv with quite as much brio is an open question.
There is a "nervousness about the uncertainty before a new prime minister is elected," Shelest said, "that the U.K. will be much more concentrated on its political crisis."
Daryna Mayer and Artem Grudinin reported from Kyiv, and Alexander Smith reported from London.