A Ukrainian airplane carrying 176 people crashed after takeoff in Tehran on Wednesday, killing all on board the Boeing 737-800, according to Ukrainian officials.
The plane's operator, Ukraine International Airlines (UIA), said 167 passengers and nine crew members were aboard when the plane took off from Tehran International Airport en route to Ukraine's capital, Kyiv, at 6:10 a.m. local time (9:40 p.m. ET). It disappeared from the radars a few minutes after departure.
According to Ukrainian Foreign Minister Vadym Prystaiko, 82 people on board were Iranian, 63 Canadian, and 11 Ukrainian, including the nine crew members. Ten were from Sweden, four from Afghanistan, three from Germany and three from the United Kingdom.
It is unclear how the plane went down, but video from the crash site showed what appeared to be pieces of an aircraft fuselage, an engine and other debris on the outskirts of Iran's capital.
Ukrainian officials said there were no survivors. The country's president, Volodymyr Zelenskiy, extended his condolences to the families of the victims.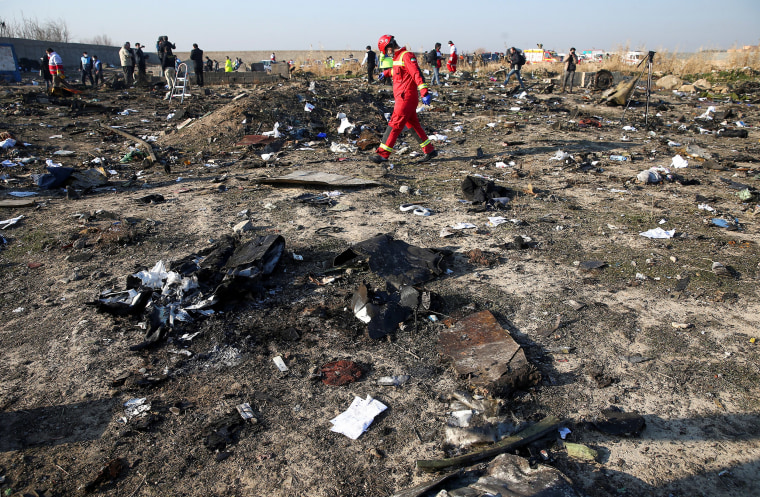 Mechanical issues were suspected to have caused the crash, Iranian state TV reported, without elaborating. But Ukrainian officials said it was too early to determine the cause.
Prystaiko later said he had spoken with his Iranian counterpart, Mohammed Javad Zarif, and they agreed to coordinate investigation groups to determine the cause of the crash.
Extending condolences to the families and friends of the passengers, Secretary of State Mike Pompeo said the U.S. would "continue to follow this incident closely and stands prepared to offer Ukraine all possible assistance."
Canadian Prime Minister Justin Trudeau said his government will continue to work closely with other countries "to ensure that this crash is thoroughly investigated, and that Canadians' questions are answered."
The crash came hours after Iran launched ballistic missiles against U.S. and coalition forces in Iraq as retaliation for the killing of a top Iranian general by a U.S. airstrike.
There is no evidence that the two incidents were linked and in the early hours after the crash, Zelenskiy asked people to refrain from speculating about the cause. He also instructed the country's attorney general to open criminal proceedings into the incident.
Later, he said Ukraine would send a team of experts to Iran to investigate.
"Our priority is to establish the truth and those responsible for this terrible disaster," he added.
The airline said it's suspending its flights to Tehran until further notice.
In a statement, Boeing called the crash "a tragic event" and said "heartfelt thoughts are with the crew, passengers, and their families."
"We are in contact with our airline customer and stand by them in this difficult time. We are ready to assist in any way needed," it added.
Iran's Mehr news agency said the plane crashed "due to technical problems after takeoff."
The Ukrainian Embassy in Iran originally said that the crash was likely caused by an engine problem. It also ruled out terrorism or a rocket attack as possible causes. However, it later removed that information from its website and said the cause of the crash was under investigation.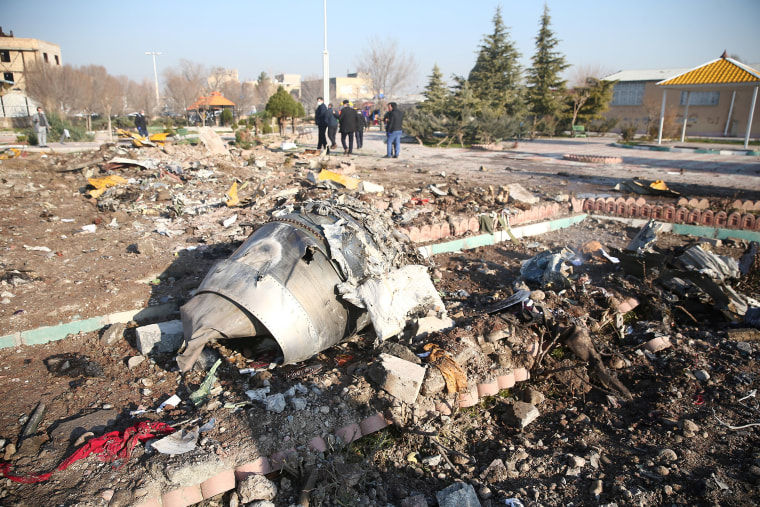 Airline officials said the plane had reached an altitude of 2,400 meters (7,874 feet) before it crashed and said crew error was "hard to fathom."
UIA's vice president of operations, Igor Sosnovsky, said in a press conference earlier the plane's captain had more than 11,000 hours of flight experience, almost all of it on a Boeing 737.
The aircraft was built in 2016, according to UIA, and the last scheduled maintenance took place Monday.
It was the first plane crash in the airline's history.
"There were citizens from a large number of countries, including Sweden and Canada, on board. There were a lot of students coming back from Iran, so it's a tragedy not just for Ukraine, but, without exaggeration, the entire world," Ukrainian Prime Minister Oleksiy Honcharuk said in a press briefing Wednesday.
Download the NBC News app for breaking news
Meanwhile, several international airlines suspended flights over Iranian airspace due to security risks.
Airlines have taken more steps to avoid flying over conflict zones since 2014, when Malaysia Airlines Flight MH17 was downed by a missile fired from Ukraine, killing 298 people.
The Boeing 737-800 is a very common single-aisle, twin-engine jetliner used for short- to medium-range flights. Thousands of planes are used by airlines around the world.
Introduced in the late 1990s, it is an older model than the Boeing 737 Max, which has been grounded for nearly 10 months following two deadly crashes.