WARSAW, Poland — Viktoria Pohrebna knew her pregnancy with twins was high risk. She went to regular doctor appointments, carefully managed her stress level and crafted a detailed birth plan, so she would be ready for any scenario.
But when Russia invaded Ukraine, Pohrebna was forced to decide whether to stay in Kyiv, and risk giving birth in a bomb shelter with limited access to doctors and medical supplies, or leave her husband and home behind to deliver the babies safely in another country.
In early March, Pohrebna said it became clear that "with all of the stress of the war, I knew I needed stability." She packed up her car and drove with her 9-year-old son to Warsaw, stopping to sleep in the car and at other times driving through the night. She promised to keep her husband, Anton, updated through text messages.
By the time she arrived in Warsaw, doctors said her babies had developed an advanced stage of twin-to-twin transfusion syndrome, a pregnancy complication where one twin receives too much blood and the other not enough. 
Doctors in Warsaw told Pohrebna that her twins had just hours left to live, and it would not be possible to save them both. 
"This was due, of course, to the war," said Dr. Robert Brawura‑Biskupski‑Samaha, who treated Pohrebna in Warsaw. "If she had been able to have proper checkups during that time she was evacuating, somebody would have picked it up earlier on and been able to address it."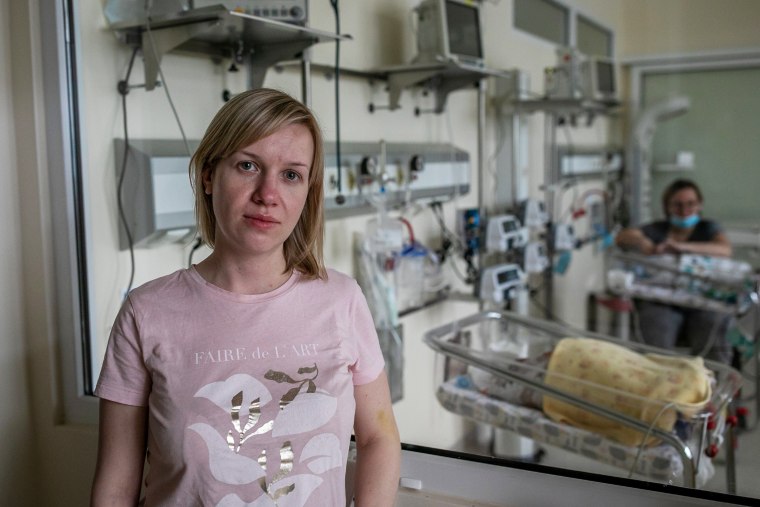 After undergoing an emergency procedure to save the stronger of the twins, Pohrebna thought she was in the clear. But then she went into labor at just 29 weeks. After delivering birth to a girl named Valeria, doctors said the baby had hemorrhaging in her brain and would need to spend a few months in the neonatal intensive care unit. The full extent of Valeria's brain damage will not be known until she is 5 years old.
"It has been very traumatic," said Pohrebna, who now travels an hour every day on the bus to visit Valeria in the hospital. "I try to focus on what I have right now, not what I could have had."
"I try not to think about the other child," she said.
Pohrebna's case is not uncommon. 
While no data is available yet, doctors in Poland say they are seeing higher rates of pregnancy complications, premature births and stillbirths among Ukrainian refugees due to severe physical and emotional stress and prolonged periods of limited access to health care.
Many pregnant refugees arriving in Poland have been sitting in crowded bomb shelters for weeks in unsanitary conditions, with little access to reliable food, water or electricity. Some have had to walk nearly 20 miles to cross the border, carrying luggage and young children.
Around the world, maternal health care suffers amid war as women are forced to flee their homes, doctors are diverted to wartime response efforts and hospitals are left vulnerable to attacks. In Ukraine alone, the World Health Organization said it has verified more than 100 attacks impacting health care since the start of the war, including attacks affecting medical facilities and supplies. 
Collecting data on the impact of war on pregnant refugees in any conflict zone can often be difficult due to the small sample size and issues with underreporting. The outcome of pregnant refugees and their babies can also vary widely depending on the health care services being provided in host countries, said Ann Burton, the chief of public health at the United Nations refugee agency.
"We know that there's probably going to be an increase in complications, but what's most important is being able to put measures in place to be able to deal with those complications competently," she said.
The United Nations Population Fund estimated that 265,000 Ukrainian women were pregnant when the war started, and 80,000 were expected give birth over the next three months.
Dr. Andrew Weeks, a professor of international maternal health at the University of Liverpool who has studied the risks of war for pregnant women, said while many babies are delivered without any issues, around 30 percent of all women typically develop complications during pregnancy, and another 20 percent need emergency care during labor.
Most of these issues can be detected through routine prenatal checkups, but when medical care is delayed and complications are left untreated, pregnant women are at an increased risk of premature births and other issues.
"The small things that are normally picked up progress and get worse and worse," Weeks said. "The consequences are dire."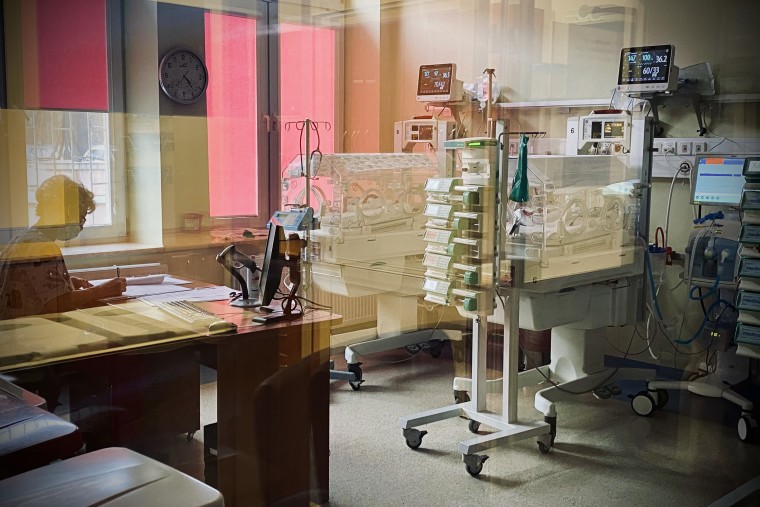 Brawura‑Biskupski‑Samaha said pregnant refugees arriving at the Bielański Hospital in Warsaw are relieved to have made it out of a war zone and into a safe and clean environment for giving birth, but they are still visibly stressed and exhausted.
"There is a lot of psychological stress and physical stress," he said. "And stress is one of the main causes of preterm delivery."
Preterm births occur when a baby is born before 37 weeks, compared to a standard pregnancy of 40 weeks, and can pose both immediate and long-term risks to the mother and her baby. Some newborns have difficulty with basic functions such as breathing and are at risk of developing other issues as they get older.
Despite the clear physical toll the war is taking on pregnant women, some doctors worry that the biggest challenge for refugee mothers will come in the months after giving birth.
A military conscription bans Ukrainian men ages 18 to 60 from leaving the country, which means the vast majority of the more than 5 million Ukrainians who have left are women and children. In Poland alone, 90 percent of refugees are estimated to be women and children.
Most pregnant refugees have left behind their husbands and partners. Being separated from their families leaves them far from support networks that they would normally rely on after giving birth.
Dr. Magdalena Dutsch-Wicherek, a psychiatrist at Warsaw's Inflancka Hospital, said she expects to see a dramatic spike in postpartum depression among refugees. She and her colleagues have been coordinating group therapy sessions for Ukrainian mothers in hopes that women in similar situations can establish a support network for each other. 
"It is so important to help them with social support, especially since we do not know how long it will take for them to be able to go back home," she said.
Dutsch-Wicherek and her colleagues have also been attending  webinars and free online training sessions about how to specifically treat mothers who have fled war. She said she expects the severity of the trauma in refugee patients to increase as the war continues.
"The reality is that right now, the majority of our patients left early, and they came here because they knew someone in Poland. But there will be more patients who are dealing with even worse trauma," Dutsch-Wicherek said. "We need to be ready for it. The worst is yet to come."
Doctors in Poland say they look for opportunities to include husbands, partners and grandparents in the pregnancy process in an effort to help refugees feel less isolated. At the Inflancka Hospital, Dr. Jaroslaw Leśniczak, a gynecologist, makes videos of ultrasounds and sends them to the fathers back in Ukraine.
"They have very little family support," Leśniczak said of his patients. "They are cut off from their families, and this is the biggest tragedy."
That's been the hardest part of being a new mom for Anastasiya Anechkina.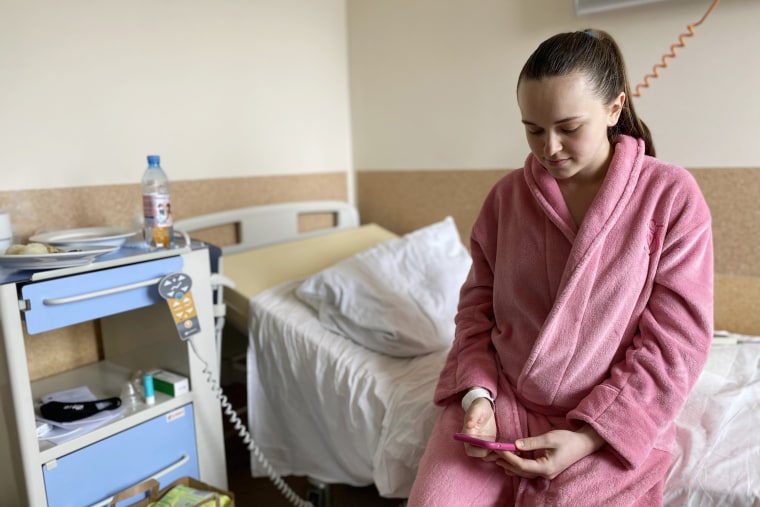 Anechkina, 23, said she and her husband were preparing a room for their baby girl at their home in the eastern Ukraine town of Rubizhne. When the explosions started rocking their building in late February, she and her husband went to Kyiv, hoping Anechkina could give birth there. But as the war spread west, they quickly realized it would be unsafe to stay.
In March, Anechkina said goodbye to her husband in Lviv and left for Poland. She gave birth to a baby girl, Simona, on April 12, after a difficult 13-hour delivery made more complicated by language barriers. There was no one on staff in the hospital that day who spoke Ukrainian.
"It's really strange and confusing because I am so happy to be a new mom, but I am still so afraid," she said.
Anechkina's home is destroyed. She doesn't know whether she will be able to raise Simona in Ukraine. And she has no idea when her husband will be able to meet their daughter for the first time.
But she said she is grateful that her mother was able to join her in Warsaw, making her feel a little less alone. Other women, she said, have not been as lucky.
Down the hall from Anechkina's hospital room in the maternity ward, Renata Kiymenko, 42, who is from Kyiv, said she had been video chatting with her husband constantly since she gave birth to their third child, a boy, two days earlier. But they still had been unable to decide on a name.
Kiymenko said it was hard to settle on a name when her parents — who live in territory occupied by Russian troops — still did not know they had a new grandchild. She had tried calling them to let them know she had a healthy delivery but was unable to get through.
"I can't find the words to describe how difficult this is," she said.