Ukrainian troops may soon have to retreat from a key eastern city, the region's governor and Western military analysts have said, as Russian advances force them back.
Soldiers defending Sievierodonetsk are still "fighting for every inch" but may have to pull back as Russia throws everything it has at gaining control of the city, Luhansk Gov. Sergiy Haidai said Wednesday.
"Even if our army has to retreat to better fortified positions, because everything there is being shot at 24/7, that won't mean that anyone is giving up the city," Haidai said, speaking on Ukrainian TV. 
"But yes, it's possible we will still have to retreat," he later said.
The street-by-street battle for Sievierodonetsk has become the focus of the conflict in recent weeks, with Russia slowly advancing toward its larger goal to take full control of the industrial Donbas region.
The last major city still under Ukrainian control in the Luhansk province — which together with neighboring Donetsk makes up the Donbas — has been pummeled by artillery in a back-and-forth fight that remains hard to decipher. Kyiv said a counteroffensive over the weekend had helped its forces regain some ground, but the situation appears to have deteriorated further since then.
Ukrainian President Volodymyr Zelenskyy said late Wednesday that the battle for Sievierodonetsk could determine the direction of the broader battle for the Donbas.
"This is a very brutal battle, very tough, perhaps one of the most difficult throughout this war," Zelenskyy said in his nightly video address. "Sievierodonetsk remains the epicenter of the encounter in Donbas," he added. "Largely, that is where the fate of our Donbas is being decided now."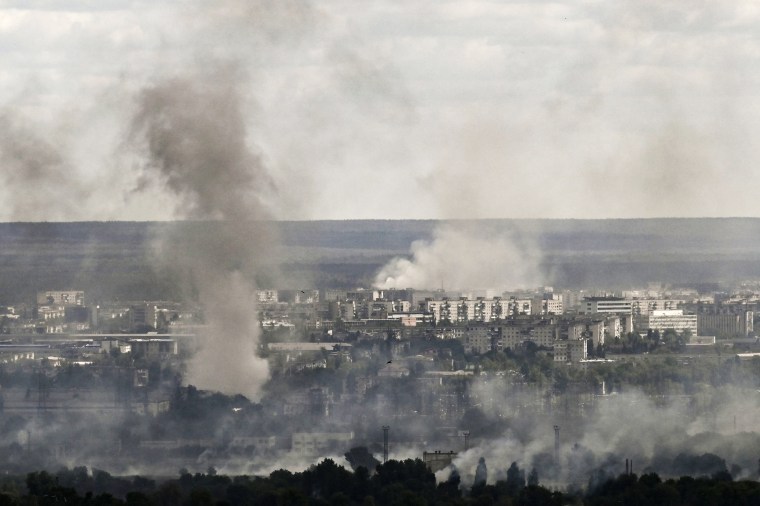 While the British military and the Institute for the Study of War, a U.S.-based military think tank, both assessed this week that the situation in the city remained fluid and that the Ukrainian defenses were still holding, some analysts have also predicted that a Ukrainian retreat could be in the cards.
"As Russian forces enter Sievierodonetsk, Ukrainian units are likely to retreat. First to Lysychansk" and then farther, Michael Kofman, the research program director in the Russia Studies Program at CNA, a Washington-area think tank, said last Friday in his assessment of the first 100 days of the war. 
Kofman told NBC News on Wednesday that he largely viewed Ukraine's counterattack in Sievierodonetsk as "a spoiling attack, tying down Russian forces." He said Ukraine may have to retreat to secondary lines and exit the area.
Satellite imagery released by U.S. defense contractor Maxar Technologies on Wednesday appeared to show what it said was "significant damage" in Sievierodonetsk and nearby areas amid fears that the city could be turned into a new Mariupol, the key port that was besieged by the Russians and left in ruins by relentless fighting.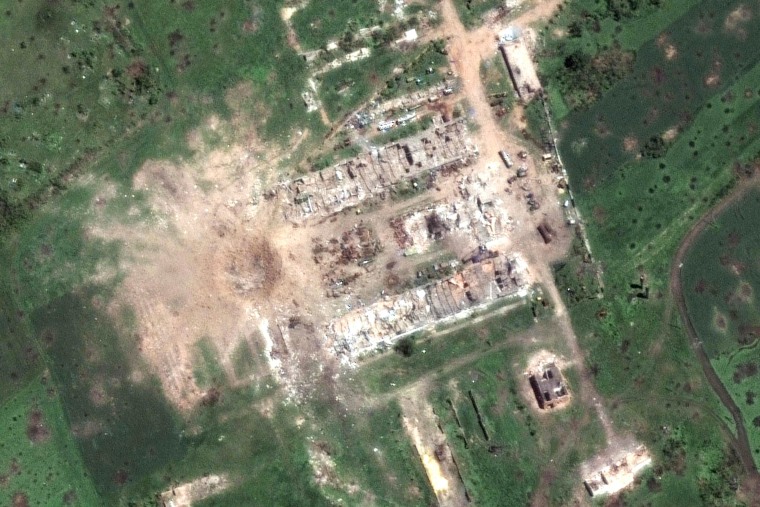 Ukrainians have, in effect, already lost the critical infrastructure in Sievierodonetsk and could be looking for "a sensible withdrawal" from the city, Michael Clarke, professor of war studies at King's College London, said. The city "is not that important strategically, but it has become symbolically important, like Mariupol, and the Russians are putting a lot of effort into taking it," Clarke added.
He expects the Ukrainian forces to retreat to Lysychansk, make another stand there and hold it for as long as they can. Lysychansk sits on higher ground and Russian troops would have to cross the Siverskyi Donets river to attack it.
Losing both would hand Russia full control of Luhansk, a key goal of the Donbas offensive that has become the focus of its war after earlier setbacks highlighted by a pullback from around the capital, Kyiv.
Zelenskyy reiterated earlier this week that Ukraine will ultimately seek to regain control of all of its territory now occupied by Russia.
But while retreating now may make military sense for Ukraine, it would come as a blow that may not be so simple to reverse.
The Ukrainian political and military leadership is faced with a dilemma when it comes to Sievierodonetsk, said Michael A. Horowitz, a geopolitical and security analyst who is the head of intelligence at the consultancy Le Beck International. 
"If we are heading towards a long war of attrition, I think losing a big city like Sievierodonetsk and having no prospects of potentially taking it back is going to be a big problem for Ukraine — it's not going to mean that the Ukrainians are losing the war, but it's still a pretty big setback," Horowitz said. 
"At the same time, militarily — there are certain realities that the Ukrainian military leadership is trying to take into account," Horowitz added. "The city is almost surrounded, and any time you send reinforcements there, that's manpower that you won't have for potentially other battles."