TEL AVIV — Israel's newly appointed government features no female lawmakers — or rather that's what photographs in the country's ultra-Orthodox press would have you believe.
The new cabinet of 23 ministers, headed by Prime Minister Benjamin Netanyahu, does in fact contain three women.
But when they convened for the traditional group photo at the president's house in Jerusalem this week, some religious news outlets pixelated the women's faces — or edited them out entirely.
Ultra-Orthodox publications are forbidden to show women in their print pages or websites. They have recent form in this area, editing out German Chancellor Angela Merkel and Kim Kardashian from of recent news stories.
This time it was the turn of Israeli Justice Minister Ayelet Shaked, Culture Minister Miri Regev and Minister for Senior Citizens Gila Gamliel to become airbrushed from view. Gamliel is also Israel's first-ever minister for gender equality.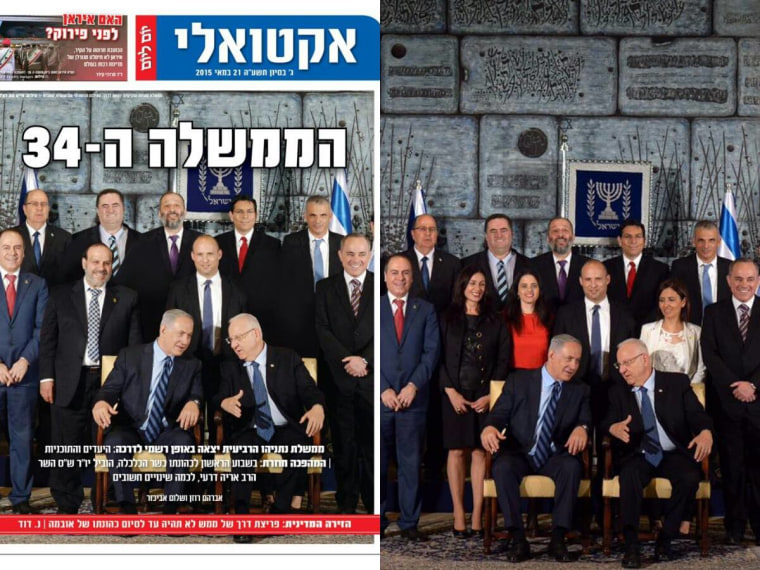 Some ultra-Orthodox news organizations merely declined to publish the new government's photograph. But the popular site B'Hadrei Haredim pixelated the women's faces — although, as liberal Israeli newspaper Haaretz points out, the website neglected to cover one of the female minister's bare legs.
Yomleyom, an ultra-Orthodox weekly newspaper run by the Shas political party, went further and digitally edited the photo so a male minister was put in place of one of the women. Zahav a Galon, who heads the left wing Mertz party, posted the 'before' and 'after' versions to Facebook, alongside the caption: "The newspaper of the Shas presents: The translucent."
Yomleyom's deputy editor, Rabbi Moshe Shafir, explained the decision to NBC News. "The Torah upholds the honor of women and their freedom," he said. "We honor the women specifically because of their special merits and we have reservation from looking upon women as an object."
He added that this even applied to "people that hold high ranks, and even with presidents in Israel and in the world."
Social media reacted angrily, with one person posting an alternative in which all the male faces were blanked out.
"This picture just hurts my stomach, and causes me to understand what many of my friends began to realize in recent years," another Israeli, Rana Raviv, wrote on Facebook. "Unfortunately, there is no future for this country."