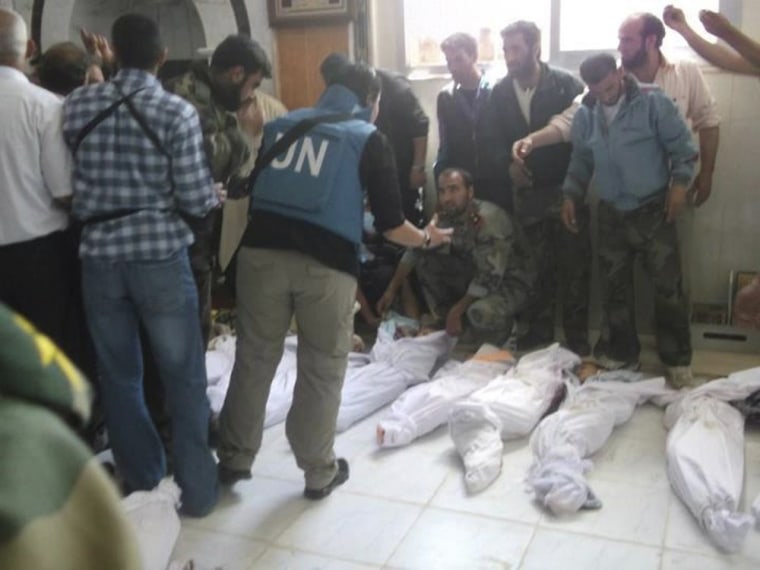 GENEVA - Syrian government forces and allied shabbiha militia have committed war crimes and crimes against humanity, including murder and torture, United Nations human rights investigators said on Wednesday.
Syrian rebels fighting to topple President Bashar Assad have also committed war crimes, including murder, extrajudicial killings and torture, but the violations "did not reach the gravity, frequency and scale" of those carried out by the army and security forces, investigators concluded.
"The commission found reasonable grounds to believe that government forces and the shabbiha had committed the crimes against humanity of murder and of torture, war crimes and gross violations of international human rights law and international humanitarian law, including unlawful killing, torture, arbitrary arrest and detention, sexual violence, indiscriminate attack, pillaging and destruction of property," said the 102-page report by the independent investigators led by Paulo Pinheiro.
Syrian state TV: Bomb rattles UN monitors' hotel
The shabiha are largely Alawite, the Shiite group that Assad and most of his inner circle hail from, and are accused of carrying out killings of Sunnis and opposition activists. 
The U.N. panel appointed by the U.N.'s 47-nation Human Rights Council blamed the government and allied militia for the killing of more than 100 civilians in the village of Houla in May, nearly half of them children, and said the murders, unlawful killing, torture, sexual violence and indiscriminate attacks "indicate the involvement at the highest levels of the armed and security forcesand the government."   
'Acted like I was dead': 11-year-old boy says he survived Syria massacre
The report covers the period between Feb. 15 and July 20 andinvolved 1,062 interviews, both in the field and in Geneva. But the panel members emphasized their lack of ability to carry out theirU.N. mandate within Syria hampered their investigation.   
Activists say more than 20,000 people have been killed since thestart of Syria's revolt, inspired by other Arab Spring uprisings against autocratic regimes in the region.   
The conflict has slowly changed into a full blown civil war that the panel says involves "more brutal tactics and new military capabilities on both sides."
Karen AbuZayd, an American expert serving as senior investigator alongside Pinheiro, told Reuters: "We have identified both parties as guilty of war crimes and of course a greater number and of bigger variety from the government side. 
Photos: Syria air strike hits Aleppo hospital
"What happened on the government side appears to be a policy of the state. It is not just widespread but similar large-scale complex operations, how they are carried out, the way the military and security work together," she said.  
The investigators said they would update their confidential list of suspects or units responsible for violations and hand it over to U.N. rights boss Navi Pillay next month. 
Reuters and The Associated Press contributed to this report. 
More world stories from NBC News: