Children now make up nearly half of the world's refugee population, according to a new report from the United Nations children agency.
The report published Wednesday comes not long after the image of a bloodied 5-year-old named Omran Daqneesh refocused international attention on the conflict in Syria, which has created millions of refugees.
"We must not forget that each child, each picture, represents many millions of children in danger at home — and many millions of children who have left their homes," the UNICEF report noted.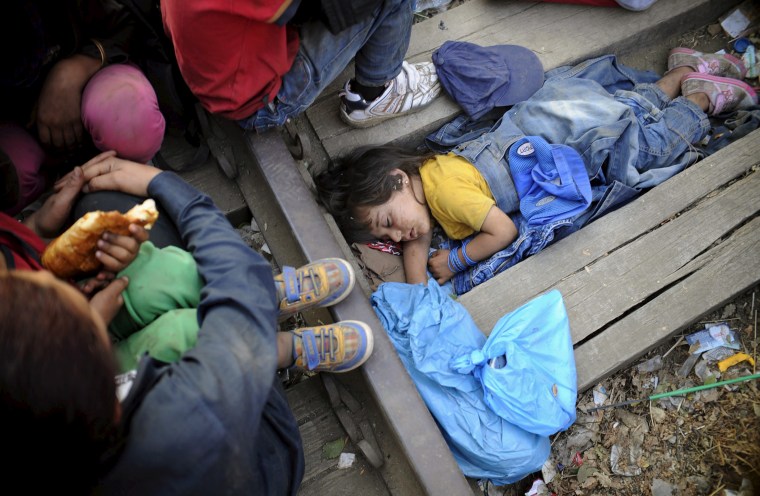 It said that some 50 million kids — a "conservative estimate" — have been uprooted from their homes, either within their country or abroad. Some 28 million of those children were forced from their homes by war and violence, UNICEF said.
Other figures uncovered by the report are just as stark.
Nearly one in every 200 children across the world is now a refugee, double the figure of 10 years ago. And just two countries, Syria and Afghanistan, accounted for around 45 percent of all child refugees.
And around 100,000 unaccompanied children filed claims for asylum across 78 countries in 2015 alone, according to UNICEF.
"Migrating and displaced children are at risk of some of the worst forms of abuse and harm," the report said. "Often dependent on human smuggling, they can easily fall victim to traffickers and other criminals. Many are subjected to extreme forms of abuse and deprivation during their journeys."
UNICEF urged governments to provide better protection for refugees and migrants, including training more social workers and clamping down on trafficking, as well as keeping kids in education and making sure families stayed together.
It also called for a greater focus on "the underlying causes of large-scale movements of refugees and migrants."