LONDON — Almost 300 United Airlines passengers slept on an airport floor overnight after their flight from Rome to Chicago was diverted to Ireland to offload a disruptive passenger late Saturday.
Their ordeal began when Flight UA971 made an unscheduled landing in Belfast, Northern Ireland, where a passenger was arrested.
The Boeing 777 landed at 6.59 p.m. local time (1.59 p.m. ET) Saturday and was refueled but flight crew reached FAA working hour limits before the journey could resume.
With not enough local hotel rooms available, the 269 passengers were forced to spend the night in the terminal — the second time in a week that United customers have been left stranded because of a diversion.
The disruptive passenger, a 42-year-old dual American-Italian citizen, was later charged with endangering the safety of an aircraft, according to a statement from Belfast International Airport.
A passenger from Chicago, Billy Saviano, said the flight was finally supposed to leave the airport at 1 p.m. local time (8 a.m. ET) but that got delayed to 5:50 p.m. (12:50 p.m. ET) Sunday — 23 hours after they landed in the U.K. and some 24 hours after they left Italy.
Before they were allowed into the airport, the travelers had sat on the tarmac for five hours, Saviano said.
After they "missed takeoff by two minutes because of FAA regulations of pilot times," Saviano said the United passengers were told "they were looking for hotels for us and that they called as far as Dublin."
But accommodations were apparently hard to come by and United "had us sleeping on the baggage claim floor and then moved us to departures," Saviano said. "They never sent us someone to explain what was going on."
Similar complaints were made last week when United customers flying from Chicago to London were diverted to Canada and housed overnight in military barracks.
Rick Sliter, 42, from San Diego, is traveling with his 70-year-old mom and two children, aged 8 and 10. He told NBC News that passengers had been given a $23 voucher for meals, later increased to $70, but that there were long lines at the terminal's limited cafes.
"The captain indicated that they had tried extremely hard and called multiple places but that there were not many hotel rooms available," he said.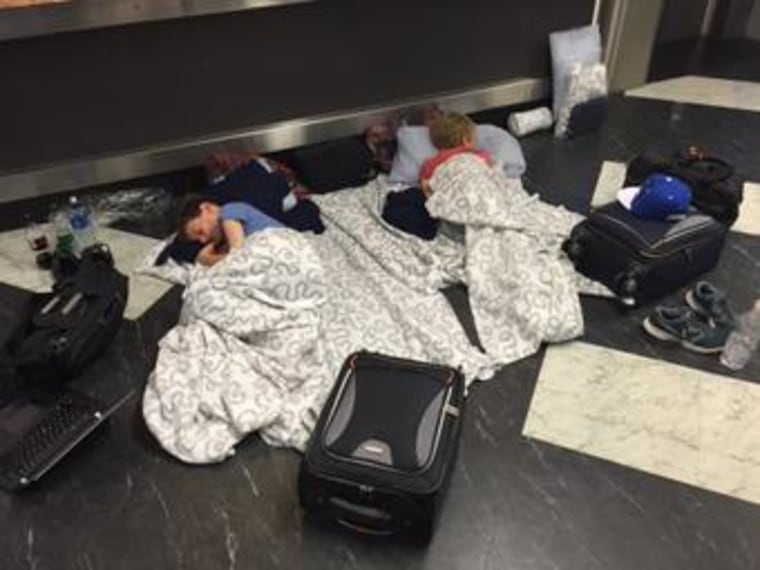 However, he added that the plane was moments from taking off again when the announcement was made that they would be stuck in Northern Ireland.
"I applaud the captain and crew for diverting the plane and I understand police had to take some time to remove [the passenger] from the flight, and potentially interview some of the passengers, but then everything was very calm, relaxed almost lackadaisical.
"At one point the crew were serving ice creams and sorbets to passengers. We were taxying out to leave, refueled, we were on the main runway — then the captain announced it was two minutes over the time they could do time in cockpit due to federal work regulations. People thought he was joking."
Sliter added: "I fully understand the compliance with FAA regulations but there was zero sense of urgency. Our bags are still on the plane. I can't imagine why they didn't a different crew in here as quickly as possible."
A spokesman for the Police Service of Northern Ireland said the male passenger accused of being disruptive was in custody at a police station in Antrim but could not provide further details.
Sliter said he heard from fellow passengers that the man had allegedly been "extremely verbally abusive" to a woman even before he boarded the flight in Rome.
"While he was on the flight he had constantly gone to the bathroom to change his shirt four or five times and was staring at people in a creepy way. My understand is that an air marshal notified the flight attendants who spoke with the captain who chose to land."
The flight had passed the west coast of Scotland and was heading over the Atlantic Ocean when turned around and headed to Belfast.
Sliter added that local airport workers had been "very helpful" and that a café had stayed open until 1 a.m. for people to buy snacks.
A United Airlines spokesman said: "United Flight 971, from Rome to Chicago, diverted to Belfast because of a disruptive passenger. Law enforcement met the aircraft and the passenger was removed.
"The crew then reached its maximum duty time, leading to the cancellation of the flight. We understand the inconvenience this causes our passengers and will accommodate them on a flight from Belfast to Chicago today at 4 p.m. local time."
The operations manager of Belfast International Airport, Rod Haskins, commended the stranded passengers for their lack of complaining during their stay at the airport. "It was absolutely remarkable how calm, understanding, grateful and gracious the passengers were," Haskins said in a statement.