An Islamist militant group disowned even by al Qaeda is finding few followers in the Syrian city it controls.
Members of the ultra-radical Islamic State of Iraq and the Levant (ISIL) recently started forcing Christians to live under 7th-century laws and have been known to cut off the hands of thieves in Raqqa.
Many Muslims in the city of 220,000 people told NBC News that ISIL's medieval interpretation of Shariah law had left people of all faiths disenchanted and fearful.
"They killed and tortured and arrested more Muslims than Christians here," said a Raqqa-based Muslim activist nicknamed Abo Amjad. "They even killed a number of leaders and members of the Free Syrian Army. There is no difference between us and the Christians here."
ISIL is among the rebel groups battling against the Syrian regime, but their goals are different than many other factions which primarily seek to drive dictator President Bashar Assad from power.
ISIL was originally known as "al Qaeda in Iraq" and experts say its "ultimate aim is to create an Islamic emirate from which to launch global jihad."
However, al Qaeda's general command cut ties with ISIL last month.
Another Muslim resident, who was too frightened to be named, said he hated ISIL "more than Bashar Assad."
He added: "They give the world an incorrect idea about the Islamic religion. Islam is a religion of love and tolerance, a religion of peace and not a religion of terrorists as they want it to be."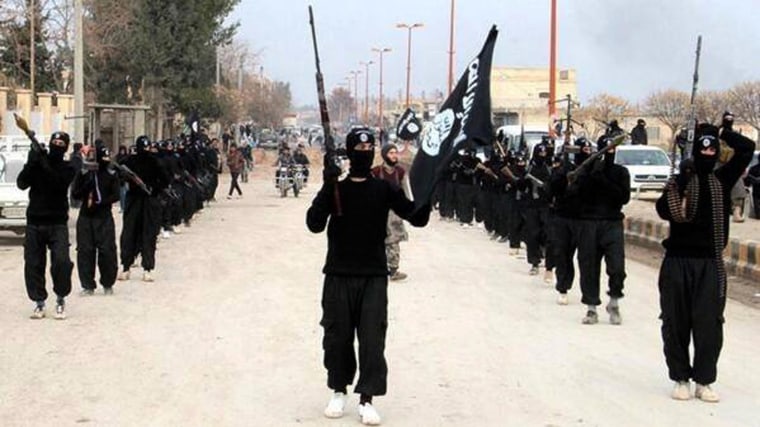 Raqqa fell into rebel hands last March, with ISIL among the strongest actors on the battlefield.
After repelling an offensive in January by rival Islamists and more moderate rebels, ISIL has turned its attention to setting up a state based on a radical interpretation of Islamic law.
But when al Qaeda threw its weight behind the similarly extreme Jabhat al-Nusra last month, ISIL found itself increasingly isolated and in their rivals' cross-hairs.
Raffaello Pantucci, a senior fellow at London's Royal United Services Institute think tank, said ISIL had recently been forced to withdraw to the city.
"They have strengthened their positions around Raqqa while they fight off the other groups," he said. "I think they were probably spread out over a large piece of territory, so maybe they want to strengthen their hold and consolidate their position."
While casualty numbers are difficult to verify, analysts believe that hundreds have been killed by the infighting. The United Nations estimates that more more 100,000 people have died throughout Syria's bloody three-year civil war.
"When they live-tweeted the chopping off of someone's hand last week, again this was their interpretation of Shariah"
Wherever they set up and whatever they call themselves, ISIL seeks to establish a parallel state based on Shariah law, Pantucci added.
"Their ultimate aim is to create an Islamic emirate from which to launch global jihad," he said. "So if you're doing that you need to create a respectable structure that parallels it, be it in terms of schools or setting up courts or some sort of legal system."
Pantucci added: "When they live-tweeted the chopping off of someone's hand last week, again this was their interpretation of Shariah."
Citing the Islamic precept of "dhimma," the group last month issued a 12-point decree commanding Christians to pay a levy in gold and curb displays of their faith in return for protection.
"Emerging fairly early in Islamic political thought, [dhimma] is a concept to describe the relationship between the majority Muslim state and the minority, specifically Jews and Christians, who are called 'peoples of the book,' " said Noah Feldman, a professor at Harvard Law School. "They are entitled to the protection of the state and simultaneously obligated to pay a poll tax, known as a 'jizya,' as well as to accept what we would call a second-class status."
Over the centuries, some Muslim communities have used dhimma to repress minorities. However, Feldman said it was applied very liberally in Muslim medieval Spain with Jews and Christians even serving in senior government positions.
Many Muslims believe the concept of dhimma dates to a 7th century peace accord offered to the Christians of Syria by Caliph Umar, a powerful ruler who was a friend of the Prophet Muhammad.
While there are elements of the medieval model in the decree issued by the ISIL, Feldman also questioned what the Christian community was getting in return.
"The classical Islamic model is that you got the protection of an existing state, which is pretty good," he said. "Here I imagine your odds aren't quite as good as that."
For Pantucci, however, the religious overtones were simply window dressing.
"If we look at their activities in Iraq, a lot of their money comes from extortion and criminal networks on the ground so in a way one could maybe see it in a similar light to that," he said.
In modern Raqqa, the strictly enforced laws have proved unpopular with many moderate Muslims who joined the revolution against Assad early on.
"When we came out against the Syrian regime, we asked for freedom and freedom includes freedom of speech, freedom of worship and religion, freedom of expression, freedom of movement," one Muslim told NBC News.
Members of the city's small Christian community were too terrified to speak out.
"They have no mercy," one said.