Remember after the 2010 midterms, when congressional Republicans promised a whole new day on Capitol Hill? GOP policymakers had heard the voice of "the people" and Congress, at long last, would be different.
And in a way, it is different. Congress, as an institution, has never been popular, but its standing has reached depths that were hard to event imagine.
Ten percent of Americans in August approve of the job Congress is doing, tying last February's reading as the lowest in Gallup's 38-year history of this measure. Eighty-three percent disapprove of the way Congress is doing its job.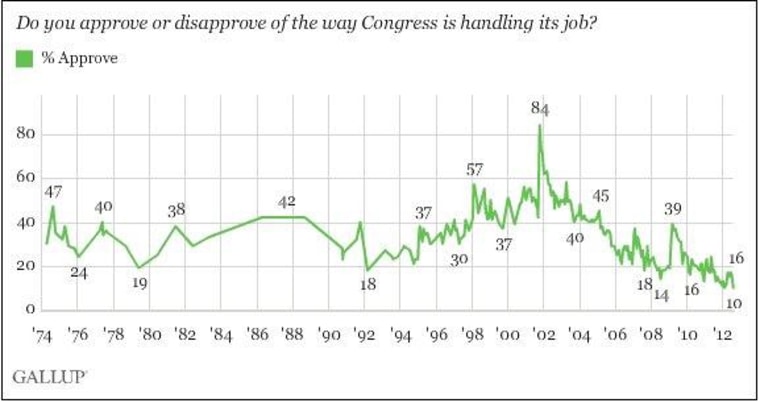 It's the worst Congress ever and its public standing now reflects its ignominious record.
Incidentally, it's against this backdrop that Mitt Romney thought it'd be a good idea to find a notoriously high-profile figure from this Congress and make him a running mate. I don't understand it, either.
As for the 2012 congressional elections, it's worth keeping in mind that when a public institution is reviled to such a degree, electoral volatility seems likely. The conventional wisdom seems to be that the House Republican majority will probably hang on, but we've never gone into an election with Congress this unpopular.
Why are some Republican members of Congress pretending to run as challengers, instead of the incumbents they are, hoping their own constituents are just dumb enough to fall for it? This poll goes a long way in explaining why.