An airstrike destroyed at least four historic buildings in a section of Yemen's capital dating back to before the 11th century Friday, drawing condemnation from the United Nations' conservation agency.
At least six people died in the early-morning raid in Sanaa, according to Yemen's state news agency Saba. "Rescue teams and citizens are still trying to rescue people from under the rubble," freelance journalist Zaid Elaya told NBC News at around 12:30 p.m. local time (5:30 a.m. ET).
Photo Gallery: Airstrikes Pulverize Historic Houses in Yemen
It was the first time the Saudi-led 11-week old bombing campaign apparently hit the capital's Old City, which has been inhabited for more than 2,500 years and is easily recognizable for its mud brick "gingerbread-style" houses.
The U.N. conservation agency UNESCO criticized the action, which it said turned a "magnificent complex of traditional houses" into ruins in the ancient and densely-populated Al Qasimi neighborhood.
"I am profoundly distressed by the loss of human lives as well as by the damage inflicted on one of the world's oldest jewels of Islamic urban landscape," UNESCO Director General Irina Bokova said in a statement. "I am shocked by the images of these magnificent many-storied tower-houses and serene gardens reduced to rubble."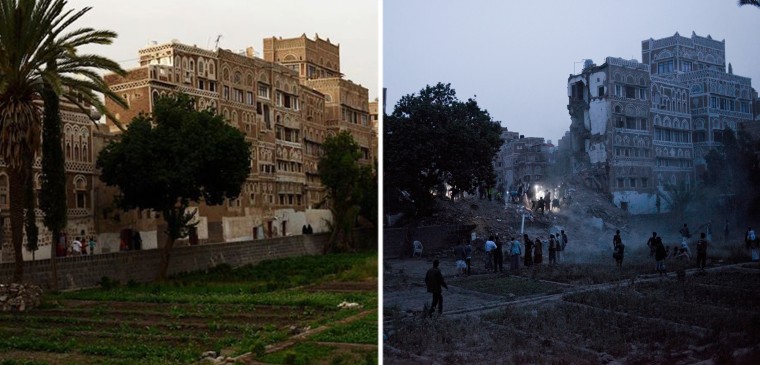 The Saudi-led coalition has been bombing Yemen for more than two and half months, after the Shiite Houthi rebel group made a play for power in the chaos-riven country.
According to UNESCO, there are 103 mosques and over 6,000 houses in the Old City that were built before the 11th century. It is "defined by an extraordinary density of rammed earth and burnt brick towers," the U.N. agency said.
Alex Potter, a 25-year-old Minnesota native who has lived in Sanaa for three years, told NBC News that residents had expected airstrikes after two days with no jets flying above the city.
"There was a thud and then a whoosh. I thought it was too flat sounding to be windows breaking and hoped it wasn't one of the houses," said Potter, who works in Yemen as a freelance photographer. "Everyone thought that this would be the last place that would be hit."
Officials in Saudi Arabia and Yemen were not immediately available for comment.