WASHINGTON — Russia forcefully denied at a U.N. Security Council meeting Monday that it aims to invade Ukraine, accusing the U.S. of whipping up tensions to foment war.
"The discussions about a threat of war is provocative in and of itself," Russia's ambassador to the United Nations, Vasily Nebenzya, said. "You are almost calling for this. You want it to happen. You're waiting for it to happen, as if you want to make your words become a reality."
The Russian ambassador's remarks came as the U.S. and allies confronted Russia over its military buildup on Ukraine's borders, calling the massing of troops a threat to the international order and urging Moscow to de-escalate tensions through negotiations.
In response to Russia's allegation, the U.S. ambassador to the United Nations, Linda Thomas-Greenfield, said she could not let the "false equivalency go unchecked."
While aggression on the border of Ukraine is "provocative," the U.S. "recognition of the facts on the ground is not provocative," she said. 
"The threats of action if Russia's security demands aren't met is provocative. Our encouraging diplomacy is not provocative," she continued. "The provocations are from Russia, not from us or other members of this council."
President Joe Biden warned in a statement released during the Security Council debate that Russia would face "swift and severe consequences" if it invades its neighbor.
"The United States and our allies and partners continue to prepare for every scenario," Biden said. "The world must be clear-eyed about the actions Russia is threatening and ready to respond to the risks those actions present to all of us."
Speaking to reporters later in the day, Biden said the U.S. is "ready no matter what happens." He also said his talks with Ukrainian President Volodymyr Zelenskyy last week were productive and that they are engaging in "nonstop diplomacy."
Monday also brought Russia's follow-up to a U.S. document last week in which the Biden administration responded to written demands from Moscow.
"We can confirm we received a written follow-up from Russia," a State Department spokesperson said in a statement Monday. "It would be unproductive to negotiate in public, so we'll leave it up to Russia if they want to discuss their response."
At the U.N., Thomas-Greenfield said after Monday's emergency meeting began that the situation in Europe is "urgent and dangerous" and Russia's actions are "as clear and consequential a threat to peace and security as anyone can imagine." The U.S. hopes Russia will ultimately choose the path of diplomacy over the path of conflict in Ukraine, she said.
"But we cannot just wait and see," she said, urging the Security Council to address Russia's aggressive and destabilizing behavior.
The U.S. ambassador repeated that Russia has assembled a force of more than 100,000 troops along Ukraine's border, including special forces, adding that it is the largest mobilization of troops in Europe in decades. As of late last week, there were at least 130,000 Russian troops near Ukraine's border, according to Ukrainian Minister of Defense Oleksiy Reznikov.
"If Russia further invades Ukraine, none of us will be able to say we didn't see it coming, and the consequences will be horrific, which is why this meeting is so important today," Thomas-Greenfield warned.
Nebenzya defended Russia's troop deployment, arguing that similar mobilizations had occurred before to varying degrees but had never caused "any hysterics."
The Russian diplomat said there was "no proof" that Russia would take military action against Ukraine in a few days or weeks and alleged the U.S. is whipping up tension and rhetoric and "provoking escalation."
Nebenzya also questioned where the U.S. got the 100,000 troops figure and said Russia has never cited or confirmed that number.
The confrontational meeting came as the U.S. and its allies step up pressure on Russian President Vladimir Putin, warning that his country faces "the mother of all sanctions" in the standoff over Ukraine. Moscow has denied planning any attack but issued bold security demands to the U.S. and NATO.
The U.N. Security Council, the organization's most powerful body, met at the request of the U.S. to discuss tensions over Ukraine for the first time. Any formal action against Moscow was unlikely, given Russia's veto power and its ties with other powerful council members, including China.
Moscow did not show much enthusiasm about the meeting, which Russia's deputy U.N. ambassador, Dmitry Polyanskiy, called a "PR stunt" by the U.S.
On Sunday, he mockingly accused Washington of viewing the Security Council as "a club of worried people with US telling them what to worry about."
Both sides are keeping diplomatic efforts alive, however, with Secretary of State Antony Blinken and Russian Foreign Minister Sergey Lavrov due to hold a phone call Tuesday.
Ukraine's foreign minister, Dmytro Kuleba, said Sunday that Russia must pull back its troops from Ukraine's borders if it's serious about not wanting a war.
"Diplomacy is the only responsible way," he said in a tweet.
Kyiv has consistently played down the threat of an imminent Russian invasion even as its allies sound the alarm.
On Monday, Kremlin spokesman Dmitry Peskov seized on that divide, blaming Western media for spreading what he called "distorted" information that "triggers hysteria in Ukraine, where people are almost starting to pack their bags for the front line."
Meanwhile, Russia conducted more military drills Monday after a flurry of exercises throughout the country last week, with the country's Northern Fleet vessels engaged in anti-submarine drills in the Norwegian Sea, the Russian Defense Ministry said on its website.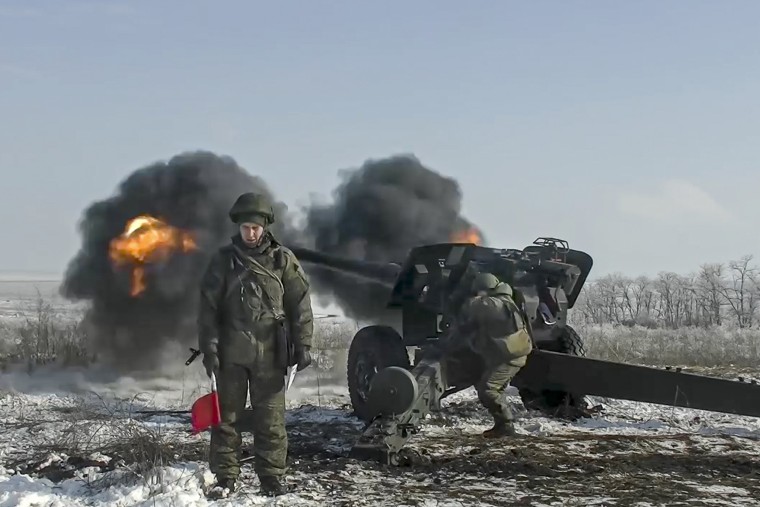 In Washington, U.S. lawmakers said Sunday they were nearing agreement on a package that amounted to "the mother of all sanctions" against the Kremlin.
Sen. Bob Menendez, D-N.J., the chairman of the Senate Foreign Relations Committee, said the measures would include "massive sanctions" against Russia's biggest banks as well as sanctions on its sovereign debt and more "lethal" assistance to Ukraine.
He told told CNN's "State of the Union" they were "on the 1-yard line" and hoped to move forward on the bill soon.
Some of the sanctions could take effect before any invasion because of what Russia has already done, Menendez added, including cyberattacks on Ukraine and efforts to undermine Kyiv's government.
Britain said Monday it will impose sanctions on companies and people with the closest links to the Kremlin if Russia attacks Ukraine. The warning comes after criticism that London, which became a hub for money from the region after the collapse of the Soviet Union, has been reluctant to take action against wealthy Russians with Kremlin links.