CAIRO -- A U.S.-based Egyptian-American said to be behind the anti-Islam film "Innocence of Muslims" and six other Egyptian Christians were sentenced to death in absentia by a court in Cairo Wednesday.
The film, which insulted the prophet Muhammad, sparked violent protests and attacks on U.S. embassies across the Middle East when it was released in September. Ambassador Christopher Stevens and three other Americanswere killed in what is now accepted as a terrorist attack during a protest at the U.S. Consulate in Benghazi, Libya.
"The seven accused persons were convicted of insulting the Islamic religion through participating in producing and offering a movie that insults Islam and its prophet,'' Egyptian Judge Saif al-Nasr Soliman said Wednesday.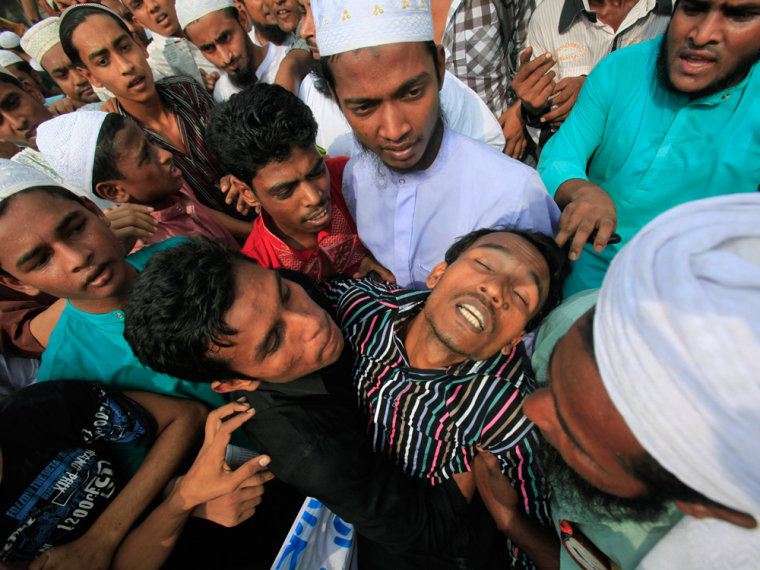 Hezbollah chief makes rare appearance, leads calls for protests over video
Those convicted included "Eli Basily," also known as "Nicola Basily," the court said.
A prosecution lawyer told NBC News that this referred to the man said by U.S. federal authorities to have been behind the film. He has been named in a U.S. court as Mark Basseley Youssef, a 55-year-old Coptic Christian.
The charges in Egypt included "intentionally committing acts to harm the unity of the country and peace of its land;" "calling to divide the country into small states on a sectarian basis and harming national unity;" and "using religion to promote extremist ideas resulting in religious division and disrespect [of] heavenly religion."
Any defendants convicted in absentia of a capital punishment crime in Egypt are granted an automatic appeal and thus a retrial upon returning to Egypt.
Florida pastor accused
Terry Jones, the controversial Florida pastor, is also facing charges in Egypt over the film. 
The prosecution lawyer told NBC News that the case against Jones -- known for encouraging people to burn the Quran -- would be heard on Dec. 29.
Pastor may not recognize lasting impact of Quran-burning plan
Earlier this month, Youssef was sentenced to a year in prison in California for violating the terms of his probation stemming from a 2010 bank fraud conviction. 
However, none of the violations had to do with the content of "Innocence of Muslims."
The crude, low-budget video, produced privately in California, lasted just 13 minutes. It portrayed the prophet Muhammad as a religious fraud, pedophile and womanizer. 
Cast members have said they were misled into appearing in a film they believed was an adventure drama called "Desert Warrior." 
Actress sues, says she was fooled into acting in anti-Muslim movie
U.S. federal authorities have not said whether Youssef was the person who posted the film online. Youssef wasn't supposed to use any name other than his true legal name without the prior written approval of his probation officer.
Several names have been associated with Youssef since the film trailer surfaced, including Sam Bacile and Nakoula Basseley Nakoula. Bacile was the name attached to the YouTube account that posted the video. 
Egypt's Coptic Orthodox Church did not issue an official comment on the Egyptian court's ruling, Reuters reported. 
"The church denounced the movie, which it has nothing to do with. As for today's case, it is a court ruling and the church does not comment on court decisions," a church source, who asked not to be named, told the wire service.
Christians make up around 10 percent of Egypt's 83 million people and many complain of discrimination in work and treatment. 
NBC's Charlene Gubash and Ayman Mohyeldin, Reuters and The Associated Press contributed to this report.
More world stories from NBC News: