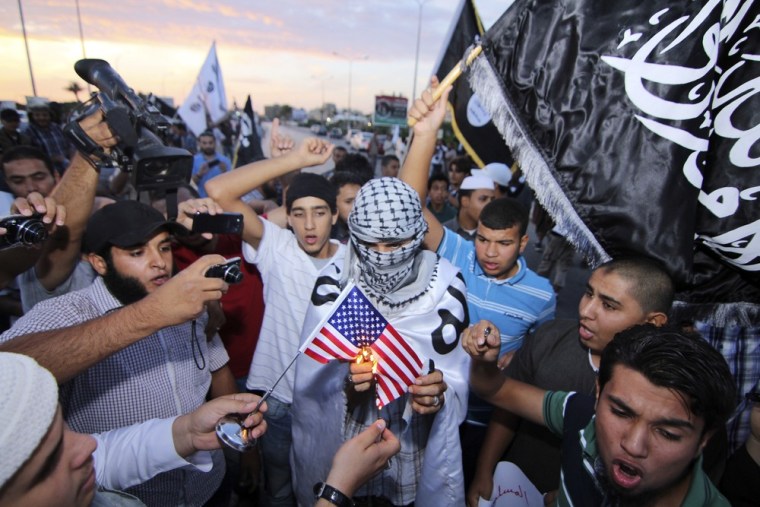 MISRATA, Libya — Islamic militants called for the kidnapping of US citizens in Libya and targeted attacks on American property following a raid by US special forces to seize a suspected al Qaeda leader from his home in the Libyan capital, Tripoli, over the weekend.
Abu Anas al-Libi, a suspect in the 1998 US embassy bombings in East Africa, was captured outside his house on Saturday and is now in custody aboard a US Navy ship.
The Libyan government has called on US officials to explain what it called the "kidnapping of a Libyan citizen," as scattered protests erupted in Benghazi.
One Islamic extremist group issued an online threat Tuesday. "Libya today is still a place of disbelief that is ruled by something other than the Shariah of Allah; thus, there is no security for disbelievers there," read one Facebook page, according to SITE internet monitoring service.
In messages posted on forums and social media, a group called the Revolutionaries of Benghazi accused Libyan authorities of assisting the American operation and vowed to fight "everyone who betrayed his country and involved himself in this conspiracy."
Further messages urged Libyans to target ships and planes and to kidnap US citizens living in Libya to exchange them for imprisoned jihadists.
"We're all concerned for the potential for reprisals or backlash against foreigners," said one long-time American development worker in Tripoli. "People have taken precautions, modified their behavior and are waiting to see whether this is going to be a slow burn that ends in some violent event."
Extremist groups have been on the rise in Libya since the Libyan revolution ended two years ago, particularly in the eastern cities of Benghazi, al Bayda and Derna, which have a long history of extremist groups and jihadi fighters linked to Al Qaeda.
However, among the majority of Libyans there is no broad popular support for Al Qaeda or any other extremist group within Libya.
"I believe that most Libyans would rather not have alleged terrorists living in their midst," added the US national, who has spent several years working across Libya since the revolution ended two years ago. "The anger is directed towards the way this seizure was conducted — one government acting unilaterally and undermining another sovereign nation."
On Monday, one group of Misrata youth, including ex-rebel fighters, discussed the raid with fury.
"If I saw these people [US troops] coming here I would have killed them quickly," said Absalam Bayou, 19. "We have commanders here. We have weapons. Why didn't the Americans approach our men and ask him to be handed over for questioning?"
Following similar statements from others in the group, Hassan Rahid disagreed.
"Yes, the US are wrong for doing this, but how can you blame them? The real responsibility lies with the Libyan authorities," he said. "Where were these commanders of ours when the US came to take this man? Where were our military? Our police? We don't have any real government here. The US can come in any time and take anyone they want. Who is going to stop them?"
In an interview in Tripoli Sunday, Jamal Bennor, a judge and a leader in the Coalition for the Revolution of the 17th of February, an influential group of lawyers and judges, told GlobalPost he was concerned over the consequences these actions would have both for foreigners and for the already precarious security situation in Libya.
"These events will encourage extremists to react against our civil rights," he said. "These extremists think by violence only. This presents a new obstacle in terms of our domestic life. I cannot predict what will happen."
Bennor warned that the incident could bolster support for Islamic groups across the country and further weaken its struggling democracy.
"I fear this may see us moving into a new stage of conflict with Al Qaeda," he said. "There is an urgent need to open new dialogue with Libyan extremist groups before there is violence."
While the revolution that began against the regime of Colonel Muammar Gaddafi was not overtly jihadist in nature, Al Qaeda and other jihadist groups were quick to capitalize on the unrest that followed.
While the existence of extremist factions with affiliations to Al Qaeda can not be denied, Bennor says, the situation is still manageable if immediate action is taken to integrate Islamic fundamentalist groups into the current system.
"Libya has a strict Islamic society. The people want Islamic law and an Islamic government, within a democratic structure," he said.
Bennor pointed to the importance of incorporating the principles of Sharia law into a new, draft constitution, meeting the demands of Islamic groups with a democratic compromise.
"If we can take this step we can withdraw the power from Al Qaeda here in Libya," Bennor said. "Our Islamic groups will turn back toward an internal solution rather than placing their hopes in Al Qaeda to establish an Islamic society."
By acknowledging the beliefs of all citizens, including the extremists, Bennor said they could add these groups to the community rather than dealing with them as a separate body.
"If we can integrate them, it will be a big victory for us."
A version of this article was originally published by NBC News' partner, GlobalPost
More from GlobalPost:
The shame of a 'dirty name in credit-crazy Brazil
Argentinian president has surgery for brain hematoma