KABUL, Afghanistan — ISIS is trying to establish a caliphate inside Afghanistan, the country's top U.S. commander said.
"Right now we see them very focused on trying to establish their caliphate, the Khorasan caliphate, inside Afghanistan," General John Nicholson said in an exclusive interview with NBC News.
The push is "principally a non-Afghan movement," Nicholson said.
According to Nicholson, the U.S. has seen foreign fighters, particularly Uzbeks from the Islamic Movement of Uzbekistan, joining the Islamic State Khorasan, or IS-K. The U.S. also sees many Pakistani Pashtun from the Pakistani Taliban who joined IS-K moving into Afghanistan to fight, he said.
Related: U.S. General Concerned About State of Afghan Security Forces
Nicholson said that the IS-K is "completely rejected by the Afghan people," and explained that the broader ISIL philosophy is "the antithesis of Afghan culture."
"With our Afghan partners, we've been able to reduce that territory significantly and inflict heavy casualties on them to include killing their leaders," he said.
Earlier in the day, Brigadier General Charlie Cleveland, the spokesperson for Resolute Support in Kabul, said that the IS-K presence in Afghanistan is primarily in Nangarhar Province and that it numbers around 1,000 fighters. A recent operation in southern Nangarhar wiped out 15 to 20 percent of the IS-K fighters there.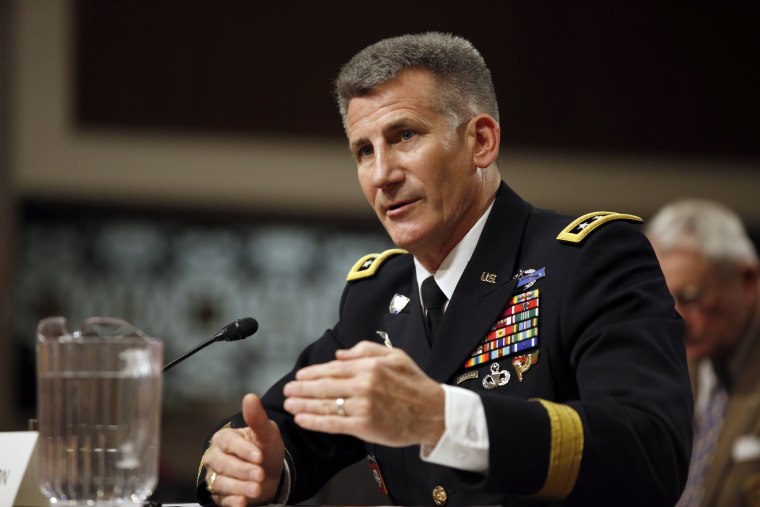 General Nicholson also acknowledged that the border region with Pakistan remains "very porous" and insurgents are able to move across in both directions. The fighters moving across are primarily Pakistani Taliban, Haqqani Network and IS-K.
The Afghan border police are there, but "the number of border posts probably needs to increase," he said, as does coordination between the Afghan and Pakistani security forces.
Brigadier General Cleveland said the military expects the number of high-profile attacks to increase in the near future as the Taliban and Haqqani network try to take and hold land — especially provincial capitals.
Nicholson said that most of the high-profile attacks in Kabul are perpetrated by the Haqqani network, which operates from across the border in Pakistan. The Taliban and Haqqani "still enjoy sanctuary in Pakistan," Nicholson said, adding that they are still able to conduct operations from that sanctuary.