/ Source: Associated Press
WASHINGTON — The U.S. and Japan unveiled plans Wednesday to strengthen their alliance to help counter threats from North Korea and China, which they called the greatest security challenge in the region.
In unusually blunt terms, the U.S. and Japanese foreign and defense ministers condemned China's increasing aggressiveness in the Indo-Pacific and elsewhere, called out Russia for its war with Ukraine and castigated North Korea for ramping up its nuclear and missile programs.
In a joint statement, Secretary of State Antony Blinken, Defense Secretary Lloyd Austin and their Japanese counterparts, Yoshimasa Hayashi and Yasukazu Hamada, said China presents an "unprecedented" threat to international order and vowed to redouble their efforts to counter it.
"China's foreign policy seeks to reshape the international order to its benefit and to employ China's growing political, economic, military, and technological power to that end," the statement said. "This behavior is of serious concern to the alliance and the entire international community, and represents the greatest strategic challenge in the Indo-Pacific region and beyond."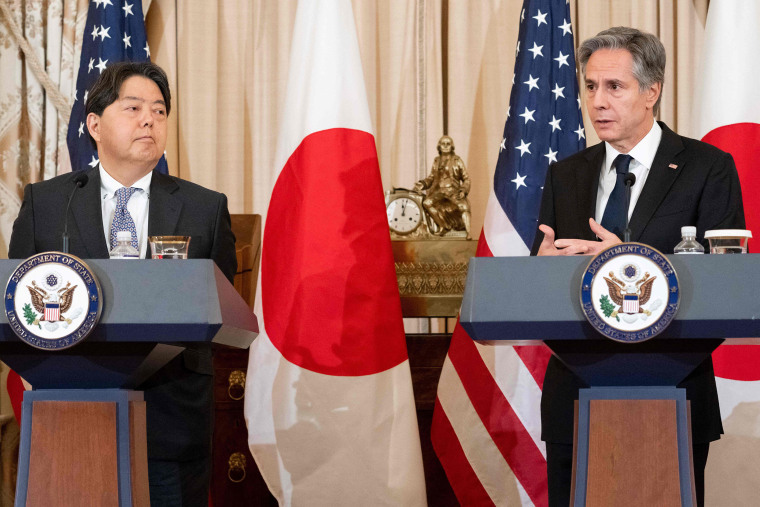 The four men agreed to adjust the American troop presence on the island of Okinawa in part to enhance anti-ship capabilities that would be needed in the event of a Chinese incursion into Taiwan or other hostile acts in the South or East China seas.
They also added a formal mention of outer space in the longstanding U.S.-Japan security treaty, making clear that "attacks to, from and within space" could trigger the mutual defense provisions of the treaty. That had previously been outside the scope of the agreement. In addition, the U.S. space agency NASA plans to sign a cooperation deal with Japan on Friday, they said.
Prior to the meeting, Japan's defense ministry announced it was ready to start construction on an uninhabited island where the two militaries will hold joint military exercises beginning in 2027.
Blinken said the agreement signed Wednesday reflects the two nations' effort to deepen cooperation "across all realms," including space, cybersecurity and emerging technologies.
He said the U.S.-Japan alliance has "been the cornerstone of peace and stability in the Indo-Pacific, ensuring the security, the liberty and prosperity of our people and people across the region."
Wednesday's discussions will be followed by a meeting on Friday between President Joe Biden and Japanese Prime Minister Fumio Kishida at which they will underscore the importance of the relationship.
Kishida, on a weeklong trip to visit allies in Europe and North America, signed a defense agreement with British Prime Minister Rishi Sunak on Wednesday that strengthens military ties between their two countries, also in response to China.
Austin noted that Wednesday's agreement affirms America's "ironclad commitment to defend Japan with a full range of capabilities, including nuclear" and underscores that Article 5 of the mutual security treaty applies to the Senkaku Islands. The disputed islands outside Japanese territorial waters are also claimed by Beijing.
Wednesday's agreements follow Japan's announcement last year that it would increase its defense spending to 2% of gross domestic product over five years. That would make its defense budget the world's third largest — a dramatic shift in Tokyo's priorities that reflects growing concerns about North Korea and potential Chinese military action against Taiwan.
"Japan is stepping up big time and doing so in lockstep with the United States, partners in the Indo-Pacific, and in Europe," national security adviser Jake Sullivan said, adding that Biden's engagement with allies is "paying huge dividends" for global security.
While there is a growing fear of a Taiwan emergency, many in the region are concerned that defense buildups by both China and the U.S. and its allies could increase the risks of getting embroiled in war.