TAIPEI, Taiwan — A bipartisan congressional delegation arrived in Taiwan on Thursday, a day after House Speaker Kevin McCarthy defied China by meeting with the island's president.
"Being here I think sends a signal to the Chinese Communist Party that the United States supports Taiwan and that we're going to harden Taiwan, and we want them to think twice about invading Taiwan," said Rep. Michael McCaul, R-Texas, the chairman of the Foreign Affairs Committee.
It was the delegation's third overseas stop after visiting U.S. allies Japan and South Korea.
The lawmakers arrived in the self-ruling democracy as China, which claims the island as its territory, is still fuming over a meeting Wednesday in California between McCarthy, R-Calif., and Taiwanese President Tsai Ing-wen. Tsai, who is transiting through the U.S. on her way back from a trip to Guatemala and Belize, is scheduled to return to Taiwan on Friday and meet with McCaul's delegation Saturday.
The flurry of visits comes amid dramatically worsening China-U.S. relations, as Beijing increases pressure on Taiwan, declines to criticize Russia's invasion of Ukraine and grows more assertive internationally. The sighting and downing of a spy balloon over the U.S. in February angered many Americans and soured ties even further.
China had criticized the McCarthy-Tsai meeting as a "provocation" and a violation of the one-China principle, under which Washington recognizes Beijing as the sole legitimate government of China while maintaining unofficial relations with Taipei.
The Chinese Foreign Affairs Ministry accused Tsai and McCarthy, the third most senior U.S. government official, of promoting Taiwanese independence through their meeting at the Ronald Reagan Presidential Library in Simi Valley, California.
"China will take resolute measures to safeguard its sovereignty and territorial integrity," spokesperson Mao Ning said at a regular briefing Thursday.
The White House says that visits by high-level Taiwanese officials are routine and that China should not use Tsai's travel through the U.S. as a "pretext" for greater aggression against the island.
As of Thursday evening, Beijing had not announced any large-scale military drills of the kind it held after Nancy Pelosi, D-Calif., McCarthy's predecessor as speaker, visited Taiwan in August, but Taiwan said it was monitoring some smaller movements.
The maritime safety administration of Fujian province, which is about 100 miles across the water from Taiwan, said Wednesday that it was launching a three-day joint cruise and patrol operation in the Taiwan Strait that could include "on-site inspections" of other ships. The Taiwanese government said it had lodged a strong protest with China over the operation and instructed shipping operators to refuse any Chinese requests to board.
Taipei was also watching a Chinese aircraft carrier that its defense minister, Chiu Kuo-cheng, said was about 200 nautical miles off Taiwan's east coast Wednesday. Chiu told reporters that although the carrier group was in the area for training purposes, the timing was "quite sensitive."
The Chinese Foreign Affairs Ministry declined to comment Thursday on the aircraft carrier.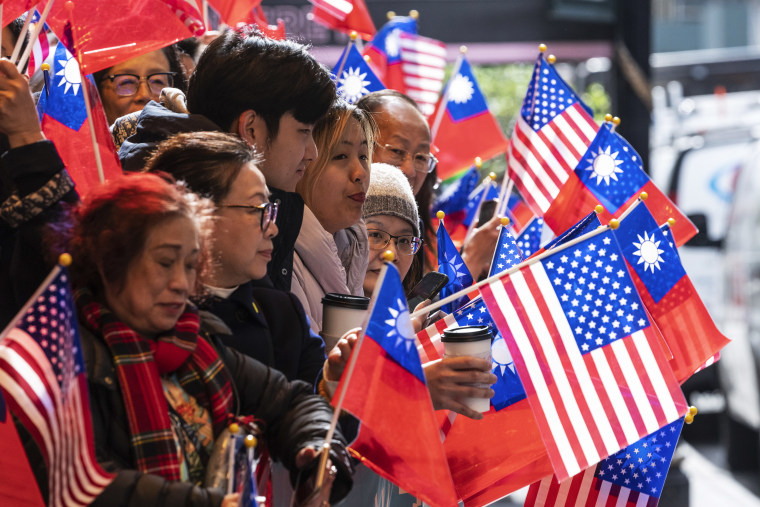 The U.S. delegation began its visit Thursday by meeting with Taiwanese Vice President William Lai, who is likely to be nominated by Tsai's Democratic Progressive Party to run as her successor in the presidential election early next year.
"I want to make it clear that the United States stands by you and will protect you," McCaul said in remarks before the meeting.
He later clarified, "We protect Taiwan by arming and training them — and by being prepared to defend them if necessary." 
Lai said Taiwan, which regularly buys defensive weapons from the U.S., would do its utmost to protect itself, as well.
"It is true that we need to prepare for a war in order to avoid one," he said, "and we need to be prepared to fight to stop a war."
In meetings with senior Taiwanese officials from Thursday to Saturday, the U.S. lawmakers will discuss bilateral relations, regional security, trade and investment and "other significant issues of mutual interest," according to the American Institute in Taiwan, which serves as the de facto U.S. embassy in Taipei.
Their visit "fully demonstrates the firm support of the U.S. Congress for Taiwan regardless of party affiliation," the Taiwanese Foreign Affairs Ministry said in a statement Thursday.
Other members of the delegation are Reps. French Hill, R-Ark., Michael Lawler, R-N.Y., Ami Bera, D-Calif., Young Kim, R-Calif., Nathaniel Moran, R-Texas, Guy Reschenthaler, R-Pa., and Madeleine Dean, D-Pa.
Courtney Kube reported from Taipei, and Jennifer Jett reported from Hong Kong.