The U.S. said it had offered a "diplomatic path forward" in the standoff with Russia over Ukraine. On Thursday, the Kremlin said it saw little grounds for optimism. 
With the ball now back in Moscow's court, the West was given little immediate sign that Russian President Vladimir Putin would seek to de-escalate tensions and allay fears of a deadly new conflict.
Russia warned it was pessimistic but indicated it would take its time to study the written responses from the U.S. and NATO before it decides how to move forward.
Kremlin spokesperson Dmitry Peskov said there were "few reasons for optimism" after the Western allies made it clear that they would not accede to Russia's key asks, but he urged against a rush to conclusions.
Foreign Minister Sergey Lavrov told reporters there was hope for "the start of a serious conversation" but clearly not on the fundamental issues raised by Russia, whose demands amounted to an effort to redraw Europe's post-Cold War security landscape.
Meanwhile, President Joe Biden spoke with Ukrainian President Volodymyr Zelenskyy on Thursday afternoon. After their call, Zelenskyy tweeted that they had discussed "diplomatic efforts on de-escalation and agreed on joint actions for the future," as well as the possibility of financial support to Ukraine.
He said he also thanked Biden "for the ongoing military assistance."
The White House said in a statement after the call that Biden "reaffirmed the readiness of the United States along with its allies and partners to respond decisively if Russia further invades Ukraine." It also acknowledged that the U.S. "is exploring additional macroeconomic support to help Ukraine's economy amidst pressure resulting from Russia's military build-up."
Emily Horne, a spokesperson for the National Security Council, said in a tweet that Biden told Zelenskyy "that there is a distinct possibility that the Russians could invade Ukraine in February," adding, "He has previously said this publicly & we have been warning about this for months."
Earlier Thursday, Pentagon spokesman John Kirby was asked at a briefing about sending additional weaponry to Ukraine. "We are in constant communication with them about their needs and capabilities," he said.
In a series of bold security demands last month, the Kremlin urged NATO to deny membership to Ukraine and other ex-Soviet countries and to roll back its military deployments in Central and Eastern Europe. They were issued as Moscow massed forces near its neighbor's borders and warned of "retaliatory measures" should there be "no constructive response" from the U.S. and its allies. Russia has denied planning any attack.
After Washington delivered its written response Wednesday, Secretary of State Antony Blinken said there was "no change" in the Biden administration's position that NATO maintains its open-door policy for countries to join the trans-Atlantic alliance. He did not offer specifics about the response, which he said would not be released publicly.
NATO also conveyed its written proposals to Russia, NATO Secretary General Jens Stoltenberg said late Wednesday.
Stoltenberg called on Russia to "immediately de-escalate the situation" but said the alliance was prepared to listen to Russia's concerns and engage in "a real conversation" about European security.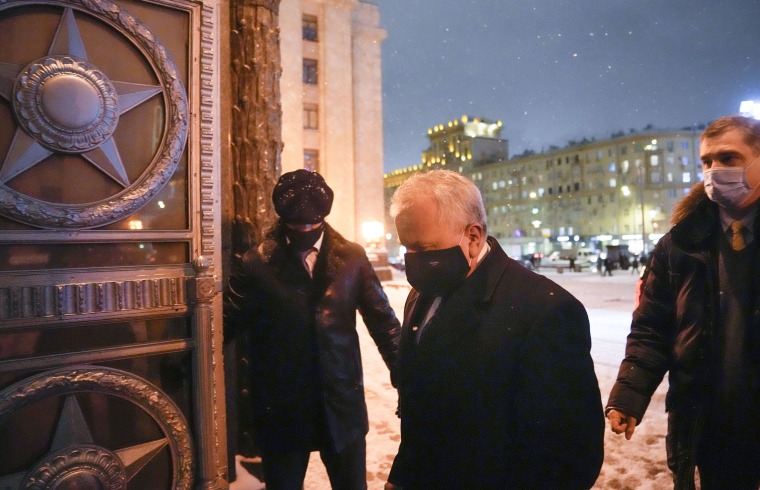 Former Russian President Dmitry Medvedev took a softer line as he also weighed in Thursday, saying Russia and the U.S. must engage in diplomacy to avoid war.
Medvedev, a trusted ally of Putin who was president from 2008 to 2012, told the state news agency RIA that it was "obvious here that the most important and single route is actually to come to agreement on security guarantees."
Some analysts took the reserved Russian reaction as a positive sign.
"The fact that the Kremlin is not immediately responding with bellicose statements but says it will study the response is already good news," said Andrei Kolesnikov, a senior fellow and the chair of the Russian Domestic Politics and Political Institutions Program at the Carnegie Moscow Center.
It will now be up to Putin alone to decide how to respond, Kolesnikov told Russia's TV Rain channel.
"Everything depends on the mood, rationality or irrationality of President Vladimir Putin — whether he wants to start a war or not, whether he will want to keep the stakes high or agree to some meaningful dialogue," Kolesnikov added.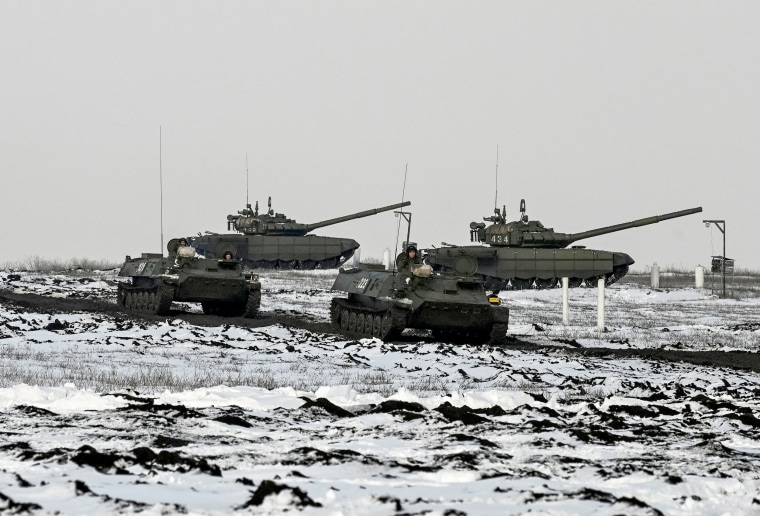 Diplomats from Ukraine, Russia, France and Germany also agreed to reconvene in two weeks after talks in Paris on Wednesday over the long-standing conflict in eastern Ukraine, in which Moscow has been supporting pro-Russian separatists.
That "means that Russia for the next two weeks is likely to remain on the diplomatic track," Ukrainian Foreign Minister Dmytro Kuleba said Thursday.
Kuleba also said on Twitter that Kyiv saw Washington's written response to the Kremlin before it was handed over and had "no objections."
But amid the diplomacy, Russia continued to enlarge its military presence near its borders with Ukraine, intelligence and defense officials said.
The officials said 62 Russian battalion tactical groups are now in the area, up from 59 at this time last week — with several more on the way. That does not include the Russian forces that have been gathering in Belarus. Moscow and Minsk, a close ally of Russia, say the troop movement is for joint drills next month, but the buildup along another of Ukraine's borders puts more forces in a position to join a potential military action, the officials said.
Intelligence officials have consistently said they do not know whether Putin has made up his mind to invade Ukraine, but they have continued to assess an increasing probability of invasion as the crisis has unfolded without a diplomatic resolution.