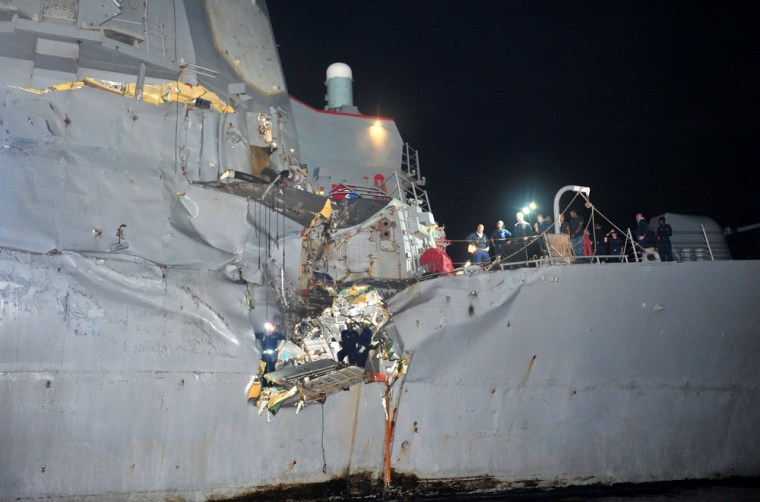 An oil tanker collided with a U.S. Navy destroyer near the Strait of Hormuz on Sunday but no one was hurt and shipping traffic in the waterway, through which 40 percent of the world's seaborne oil exports pass, was not affected, officials said. 
"Both vessels are okay and the Strait of Hormuz is not closed, and business is as usual there," an Oman coast guard official told Reuters, declining to be named under briefing rules. 
The collision nevertheless left a gaping hole in the starboard side of USS Porter, a guided-missile destroyer suffered, but no one was injured on either vessel, the U.S. Navy said in a statement. The collision with the Panamanian-flagged bulk oil tanker M/V Otowasan occurred at approximately 1 a.m. local time. 
The cause of the incident is under investigation, the Navy said, adding that there were no reports of spills or leakages from either the USS Porter or the Otowasan. 
US won't allow Iran to shut down Strait of Hormuz, Panetta vows
The USS Porter is on a scheduled deployment to the U.S. 5th Fleet, which is based in Bahrain. 
The Strait of Hormuz, located at the mouth of the Persian Gulf, is where one-fifth of the world's oil is routed. Tensions have risen there over Iran's threats to block tanker traffic in retaliation for tighter sanctions by the West. 
Three years ago, The USS Hartford, a nuclear-powered submarine based in Groton, Conn., collided in the Strait with the USS New Orleans, a San Diego-based amphibious ship. 
The New Orleans' fuel tank was ruptured and 15 sailors on the Hartford sustained minor injuries. The collision caused $2.3 million in damage to the New Orleans, and the cost so far of repairs to the Hartford is $102.6 million. 
Strait of Hormuz: Iranians, smugglers and fireworks
The commanding officer was relieved of his duties and the sub's chief of the boat, an adviser to the commanding officer, was reassigned. Several crew members were punished. 
Reuters and The Associated Press contributed to this report. 
More world stories from NBC News: