HONG KONG — The U.S. State Department on Monday ordered the departure of non-emergency U.S. government workers from the consulate in Shanghai, citing a coronavirus outbreak that has had the city on lockdown for weeks.
The order is a change from last week, when the department authorized non-emergency employees to leave on a voluntary basis amid the shutdown in the city of 26 million, China's biggest since the virus first emerged in Wuhan in late 2019.
"It is best for our employees and their families to be reduced in number and our operations to be scaled down as we deal with the changing circumstances on the ground," a U.S. Embassy spokesperson said in a statement.
The spokesperson said employees and their family members would leave on commercial flights.  
Download the NBC News app for breaking news and politics 
Residents in Shanghai, China's financial center and most populous city, have complained of difficulties obtaining food and medical care under strict Covid restrictions that bar people from leaving their gated residential compounds and sometimes even their apartments.
U.S. travel advisories have warned against going to Shanghai and the Chinese territory of Hong Kong because of pandemic-related measures, including the risk of infected children being sent to isolation facilities without their parents. The Shanghai government said last week that it would slightly relax the child separation policy, which has caused widespread outrage in China.
The Chinese government has defended its pandemic strategy, which it now calls "dynamic zero-Covid," as the best approach for the country. While acknowledging that some cases are inevitable, it aims to keep the number of cases as low as possible to prevent the health care system from being overwhelmed.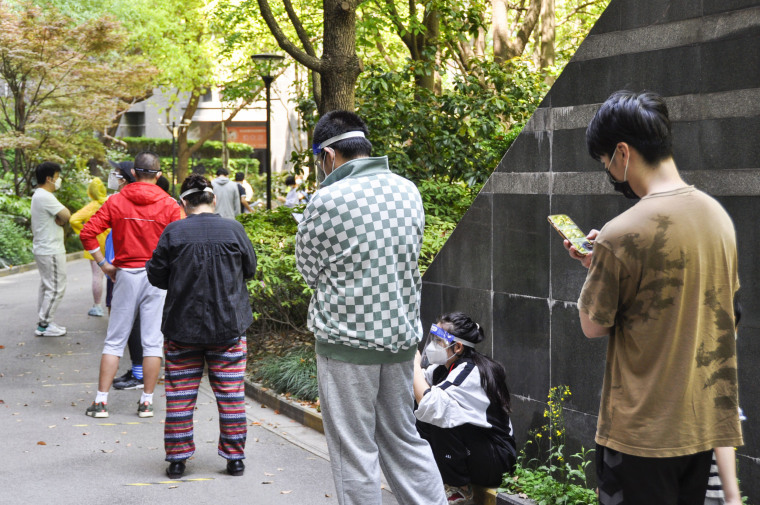 On Tuesday, Foreign Ministry spokesman Zhao Lijian said China's pandemic policies were science-based and effective, and that officials were confident that Shanghai and other parts of China would prevail over the current outbreak.
Zhao said Beijing had made "solemn representations" with the U.S. side over the evacuation order.
"The U.S. should immediately stop attacking China's anti-epidemic policies, stop politically manipulating the epidemic and stop smearing China," he said at a news briefing.
Shanghai reported more than 23,000 new virus cases on Tuesday, almost all of them asymptomatic. Officials said they would start easing the lockdown in some areas depending on the number of cases, though it could be reinstated if the virus re-emerges. The city has reported more than 200,000 cases in the current outbreak but no deaths.
Locked down, then locked out
The lockdown has come as a shock to Shanghai, a cosmopolitan city where residents like Josh Vaughn have spent most of the pandemic relatively free of restrictions. 
"For two years I lived my life, not a worry in the world about Covid," Vaughn, an American whose company makes eco-friendly sunglasses, told NBC News on Tuesday. "So it's just kind of caught up with me."
Late last month, Vaughn said, authorities taped off the door to his apartment after he was identified as a close contact of a positive case, placing sensors outside to alert community health workers if he crossed the threshold. Soon after he was taken to quarantine at one hotel, then another. 
When he developed a headache and a slight fever, he was taken to a hospital where he was tested for Covid before he could go inside. Vaughn said he waited in a tent for more than six hours before learning he was positive. But there were no beds available, so he was given a mat and a blanket and told to sleep outside.
After posting a video that gained attention on social media, Vaughn was admitted to the hospital, where he shared a room with two other Covid-19 patients. Once he tested negative, he was cleared to leave.
"I packed all my stuff up, I was celebrating," he said.
Then the hospital delivered the news: His residential compound wouldn't let him back.
"They just said they rejected me, so I'm not allowed to go back home," Vaughn said.
For now Vaughn is still in the hospital, even though he's not sick. Another option is to pay for a hotel, if he can find one.
"I'm at the point now where it's like I just want to be in my house," he said.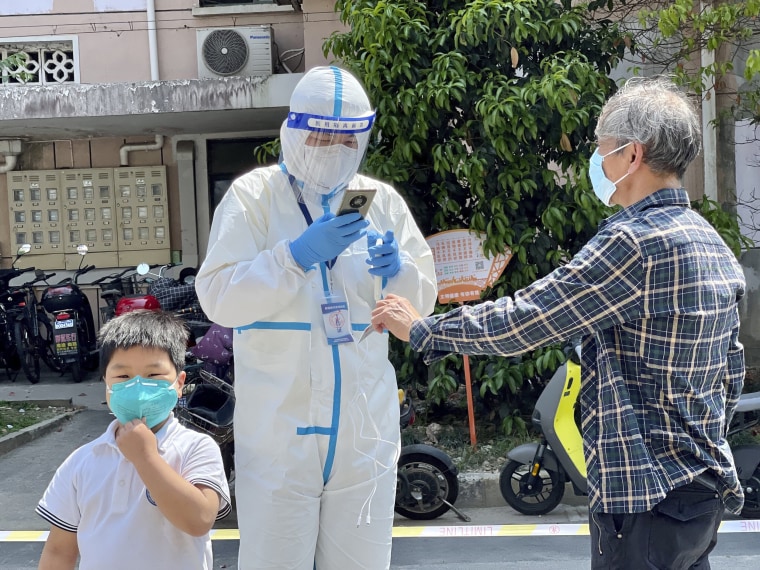 Health officials in Shanghai have said recovered Covid-19 patients should not be blocked from returning home.
"We hope their family and community will not worry about them or discriminate against them," Wu Jinglei, director of the Shanghai Health Commission, said Sunday.
Critics say that while China's policies have minimized Covid-19 cases and deaths, they have also caused needless pain.
On Monday, a prominent Chinese economist said his 98-year-old mother had died outside a hospital emergency room after waiting for her Covid-19 test results for four hours. The economist, Larry Hsien Ping Lang, said his mother was seeking treatment for kidney disease.
"According to the past diagnosis, just one injection and she will be fine," he said in a post on Weibo, China's equivalent of Twitter.
NBC News has not verified Lang's claims. The Shanghai Health Commission did not immediately respond to a request for comment.
Lang said he missed the chance to see his mother one last time because his own residential compound was on lockdown and it took time for him to get permission to leave.
"I hope this tragedy will not happen again," he said.
Jennifer Jett reported from Hong Kong, and Janis Mackey Frayer from Beijing.