U.S. personnel have been evacuated from the U.S. Embassy in Sudan's capital of Khartoum amid fierce fighting in the country, President Joe Biden said late Saturday.
"On my orders, the United States military conducted an operation to extract U.S. Government personnel from Khartoum," Biden said in a statement, adding that he was "grateful for the unmatched skill of our service members who successfully brought them to safety."
Biden said he was "receiving regular reports from my team on their ongoing work to assist Americans in Sudan, to the extent possible."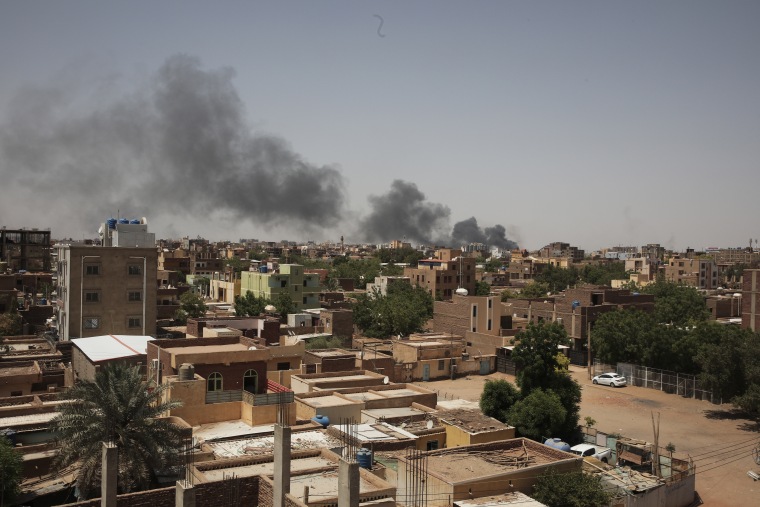 Calling for "an immediate and unconditional cease-fire," Biden said the "tragic violence in Sudan has already cost the lives of hundreds of innocent civilians. It's unconscionable and it must stop."
He added that the embassy was "temporarily suspending operations," but "our commitment to the Sudanese people and the future they want for themselves is unending."
In a separate statement, the State Department said dependents of embassy staff members had also been evacuated.
Secretary of State Antony Blinken said in the department's statement that "the widespread fighting has caused significant numbers of civilian deaths and injuries and damage to essential infrastructure and posed an unacceptable risk to our Embassy personnel."  
Suspending operations was a difficult decision, but the safety of American personnel is "my first responsibility," he said, adding that the risk of U.S. civilian casualties in Sudan was too great.
Secretary of Defense Lloyd Austin declared the evacuation a success, saying in a statement that it was led by the U.S. Africa Command in close coordination with the State Department.
He thanked Djibouti, Ethiopia and Saudi Arabia for their help, though he did not specify their roles.
The State Department reaffirmed a "do not travel" advisory for Sudan on Saturday, saying Americans could be subjected to "armed conflict, civil unrest, crime, terrorism, and kidnapping.
"The situation is violent, volatile, and extremely unpredictable, particularly in the capital city Khartoum," the advisory said.
At least one American has been killed in Sudan since the fighting began, the State Department confirmed Friday. The U.S. victim's name, gender, hometown and other details were not immediately disclosed.
On Sunday, France's Foreign Ministry also began an evacuation operation, saying in a statement that other European citizens and those from "allied partner countries" would also be assisted in leaving Sudan. No further details were provided. The U.K.'s Defense Ministry also tweeted Sunday that the British army had evacuated more than 1,200 personnel.
The evacuations came as thick, black smoke filled the sky over Khartoum's airport on Sunday, and gunfire could be heard in parts of the city, according to the Associated Press.
The military and its partner turned rival, the Rapid Security Forces, began battling for control of the large African nation's major institutions earlier this month.
The country's top commander and de facto ruler, Gen. Abdel Fattah Burhan, and his former deputy, Gen. Mohammed Hamdan Dagalo — a former camel dealer widely known as Hemedti who leads the Rapid Security Forces, had previously teamed up to co-orchestrate the coup that overthrew the government in October 2021.
Hopes were raised among democracy campaigners in December when both generals signed a framework agreement with some 40 civil groups in which they promised to move away from military rule.
But the alliance between the two military leaders has spectacularly broken down over how to manage the transition to a civilian government, a disagreement over how the Rapid Security Forces should be integrated into the armed forces and what authority should oversee the process.
The merger is a key condition of Sudan's unsigned transition agreement with political groups.
The bombardments, gun battles and sniper fire in densely populated areas have hit civilian infrastructure, including many hospitals. Several attempts at a cease-fire have so far failed.
The clashes have killed more than 400 people so far, the World Health Organization said in a statement Friday, although it emphasized the death toll would likely be higher.
The country at the crossroads of the Middle East and sub-Saharan Africa borders six nations and is known for its history of military coups and civil conflicts since it gained independence in the 1950s.
The U.S. placed Sudan under a trade embargo between 1993 and 2017, when the nation was designated a state sponsor of terrorism. Attempts to establish normalization since that point have been halting because of political instability, according to the State Department.